You are here:
Home › Global Focus › Mctelvins Boots A Touchdown Pass For Vulnerable Families
NFL star's boots a touchdown pass for vulnerable families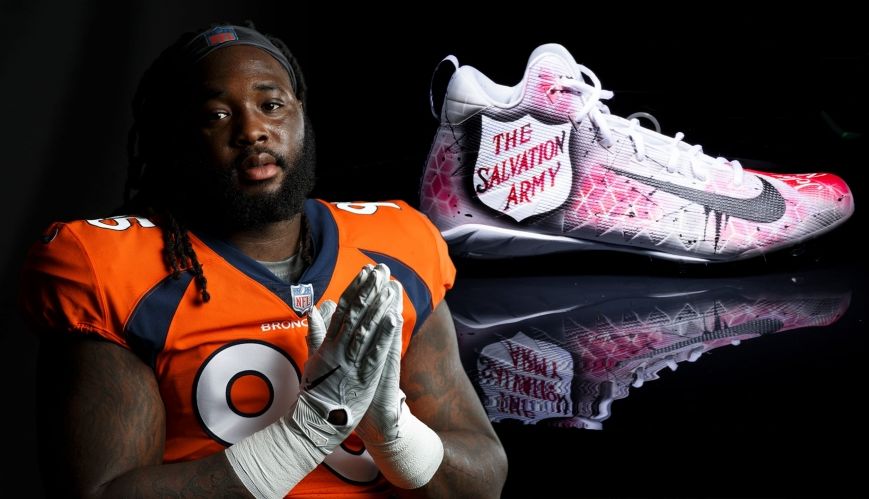 NFL star's boots a touchdown pass for vulnerable families
McTelvin Agim, a second-year defensive lineman for the American National Football League franchise, the Denver Broncos, is to auction the custom-designed boots he wore in a recent game. The money raised is to go to The Salvation Army in Texarkana, Texas.
McTelvin Agim has become a successful player in America's National Football League with the Denver Broncos but does not let his team commitments get in the way of his support of The Salvation Army.
McTelvin Agim warms up in his custom-designed football boots, which he is to auction on a fan site to raise money for The Salvation Army in Texas.
McTelvin says it was the Army who helped his family through "a rough patch growing up" so he understood the pressures and struggles many families faced in similar situations across the United States – especially at Christmas.
The 24-year-old 190cm, 140kg second-year defensive linesman says he remembers as a six or seven-year-old child the Christmases when he only got socks or when he and his family had to sleep in their car or seek refuge at the Army shelter in Texarkana, Texas.
"The Salvation Army just gave us sanctuary," McTelvin says. "I wouldn't be here without them. I can't ever repay them for that time; for how important that was for us, but to be able to do something and give back something to them is something I try to do every time."
As part of the annual NFL My Cause My Cleats campaign, McTelvin put up for auction one of the custom-designed boots he wore at a recent Broncos game. He had the Army shield printed on them and autographed them. The proceeds of the sale of the single boot are to go to the Army in Texarkana.
Texarkana Corps Officer Captain Juan Gomez said it "means a lot" to the Army for McTelvin to have the opportunity to give back to a community that helped him and his family through a difficult time.
Juan said he could identify with how important such a response was, having been helped by the Army when he was a child, too, as his family was once chosen from an Angel Tree: "I have gone from one side of the feeding line to the other," he said.
Angel Trees are a popular Christmas tradition where trees are decorated with angels bearing the name of a person or family on them, and people are invited to choose one or more and buy gifts or hampers for that person or family.
"It really is an opportunity for these children and for these families as a whole to be seen as valuable," Juan said.
McTelvin said that, by being part of the Angel Tree initiative himself, he represented his family and countless others like his who needed help.
As a six-year-old, McTelvin said he was old enough to feel embarrassed at being homeless and having to live in an Army shelter: "If somebody asked you where you live, you didn't want to say. I knew that much."
He said Army staff tried to make the communal living space homely and would take him and the other children on trips to the park or the basketball court.
McTelvin's surroundings may have changed with the Broncos having drafted him last year, but he knows he hasn't changed: "I don't think you ever forget where you come from. You don't ever forget the struggles, the trials; any of that. It's still fresh on your mind [but] you try to help as much as possible."
Captain Juan Gomez said, just as McTelvin had, the Army continued to provide opportunities where people could find hope.
"Every day, we have men, women and children who are coming through our doors, and we don't know who they are, and we don't know who they're going to be," Juan said. "We don't know what successes they're going to have in life or what struggles they're going to have in life, and the truth of the matter is none of that weighs on our decision to help them."
* Edited from an article written by DenverBroncos.com Managing Editor, Ben Swanson.