You are here:
Home › Global Focus › Officers Among First To Receive Vaccine In Ghana
Officers among first to receive vaccine in Ghana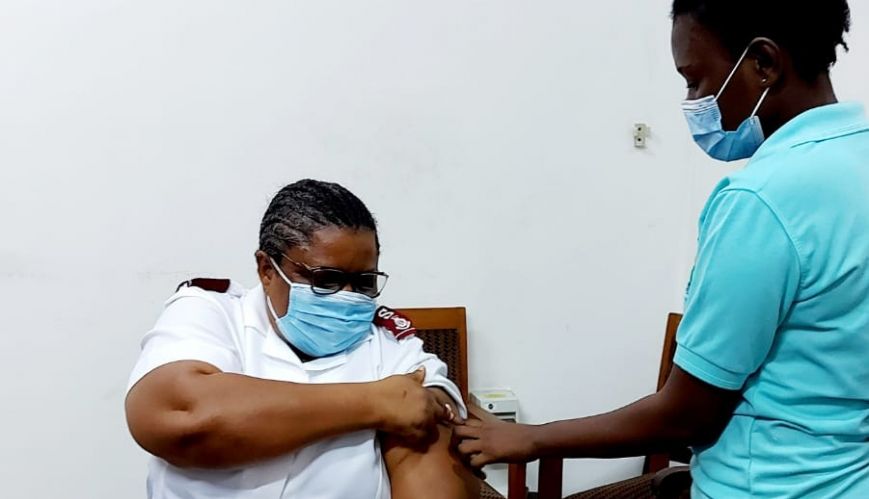 Officers among first to receive vaccine in Ghana
The Salvation Army Ghana Territory Secretary for Women's Ministries, Lieut-Colonel Glory Ayanam, receives the COVID-19 vaccine at the Urban Aid Clinic in Accra, Ghana. 
The Salvation Army Urban Aid Clinic in Accra, Ghana, has been working with other health agencies in the West African capital to administer the first COVID-19 vaccines in the country.
The injections and any necessary aftercare are being provided free of charge. 
The Salvation Army Director of Medical, Social and Community Services in Ghana, Major Agatha Essel, said the team was pleased to help the community this way.
"We are able to demonstrate Christ's healing ministry to people without discrimination and bring relief to the suffering and pain," Agatha said.
The first doses of the Oxford-AstraZeneca vaccine were provided over a 10-day period from the beginning of March to more than 2200 people in the Maamobi catchment area, a densely populated district of Accra and susceptible to the spread of disease.
The inoculation program in Ghana represents the first use of the COVID-19 vaccine provided through the COVAX initiative to ensure fair access to vaccines worldwide.
Vaccines are provided by COVID-19 Vaccines Global Access, an international scheme headed by the Global Alliance for Vaccines and Immunisations, the World Health Organisation and the Coalition of Epidemic Preparedness Innovations, alongside UNICEF.

Injections facilitated by healthcare professionals employed by the Army and partner organisations were administered based on Ghana's defined priority list.
The initial phase focuses on health workers, teaching staff, people aged over 60 and vulnerable people living with conditions that might leave them more prone to developing a life-threatening illness. 
Also vaccinated in line with government policy were the Army's territorial leaders for Ghana, Colonels Samuel and Hagar Amponsah and Lieut-Colonels Friday and Glory Ayanam. This was part of a campaign to demonstrate the safety and efficacy of the vaccine by inoculating prominent individuals in Ghanaian society, reassuring members of the public who might be hesitant or doubtful.
It follows the inoculation of President Nana Akufo-Addo, who became the world's first recipient of a dose from the batch of COVAX vaccine on 1 March. 
Preparations are now underway for the second and subsequent phases of the vaccination program.  
IHQ Communications
International Headquarters