You are here:
Home › Global Focus › Salvation Army Helps Protect The Homeless In Extreme Weather Around The World
Salvation Army helps protect the homeless in extreme weather around the world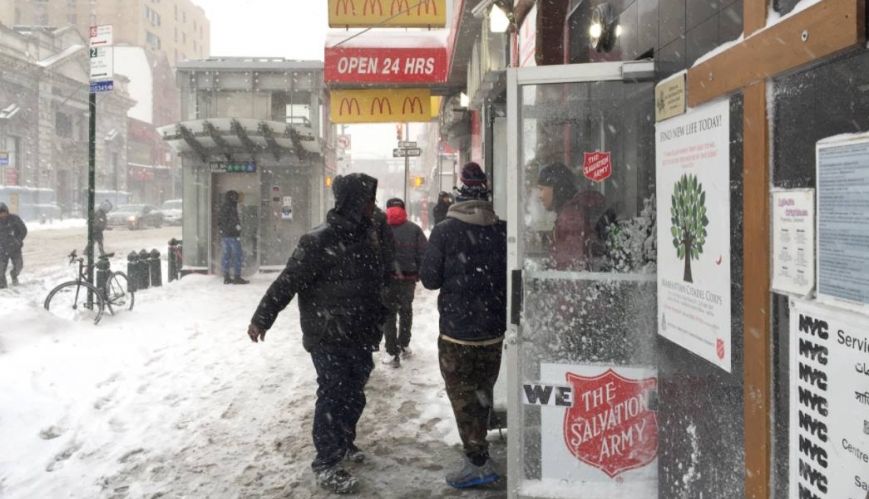 Salvation Army helps protect the homeless in extreme weather around the world
As the East Coast of the United States endures the icy effects of Winter Storm Grayson and historically cold temperatures, The Salvation Army Greater New York Division is taking action to help protect the homeless and others forced to be on the streets.
As the city braced for the onslaught of the storm, The Salvation Army's community centres around the Greater New York area were available as "warming stations" for those seeking respite from the snow and bitter cold.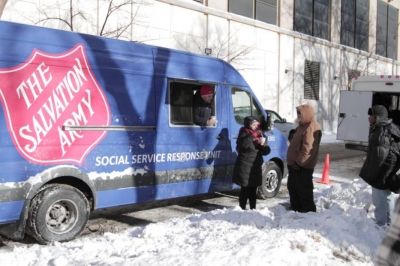 Salvation Army representatives at the centres have also been providing referrals to appropriate shelters in the area for those needing longer-term assistance.
In addition to its centres, Salvation Army vehicles are on the roads, distributing hot beverages and "heat sheets" – specially designed blankets able to hold body warmth – for anyone in need.
"The combination of the snow and bitter cold temperatures can be life-threatening to the homeless, or, for that matter, anyone who has to work or be outside for any prolonged period of time these next several days," said Major James Betts, General Secretary for The Salvation Army Greater New York Division. "The Salvation Army is committed to providing as much support as we can to those individuals."
Canada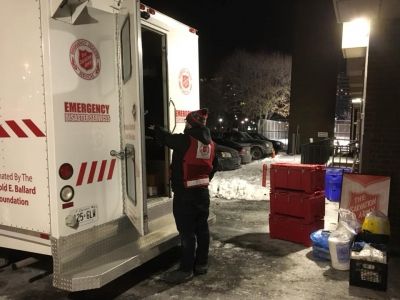 Eastern parts of Canada have also been facing extreme weather conditions, with shelters hitting capacity as the homeless, and other vulnerable people, seek protection from the severe cold.
In Eastern Ontario, Salvation Army shelters are at capacity, with more than 600 beds and temporary shelter beds being filled.
The Canadian Military facility, Moss Park Armoury, in Toronto, has opened its doors as a temporary shelter, and will remain open 24 hours a day over the next two weeks.
The Salvation Army is now active at the Moss Park Armoury, providing meals for breakfast, lunch and dinner as well as snack and hydration for those who will be utilising the temporary shelter services.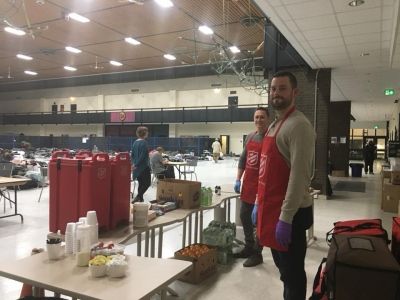 This ministry, though, is so much more than just a meal. It's about connecting with people, learning their story, offering a listening ear and providing hope.
"The Salvation Army is pleased to partner with the City of Toronto and we are grateful we can respond to the call for assistance providing meals," said Major John P. Murray, spokesperson for The Salvation Army.
"We will continue to provide meals, snacks and hydration as long as the city requires our assistance at Moss Park Armoury."
Salvation Army outreach teams continue to be out on the streets to check on the vulnerable to ensure that they are safe from dangerous weather conditions.
Melbourne
Meanwhile, in Australia, a searing heatwave is sending temperatures skyrocketing across much of the country. People experiencing homelessness are particularly vulnerable and at risk of heat-related illnesses.
As part of its heatwave response plan, the City of Melbourne provides pool pass, movie pass, rooming houses support, and cool places program to keep those experiencing homelessness, and other vulnerable people, safe and healthy during this period.
As part of its "Cool Places" program, the city has partnered with The Salvation Army's Project 614 to open its Hamodava Café as an overnight respite service in the event of an extreme heat event (it also acts as a respite from extreme cold in winter).
The café will remain open from 11pm to 7am until 9 February, with plans in place to open as required in response to extreme weather events until 30 April.
While visiting the café, people can access services including crisis support and intervention, and information and practical assistance, as well as enjoy a cool drink and a nutritious meal.
It is hoped that providing additional services will not only help prevent heat-related illnesses and deaths, it also gives service providers an opportunity to connect with people who have previously refused assistance and explore longer-term solutions to the issue facing the growing homeless population.