You are here:
Home › Global Focus › Salvation Army Social Bodies Celebrate 10th Anniversaries
Salvation Army social bodies celebrate 10th anniversaries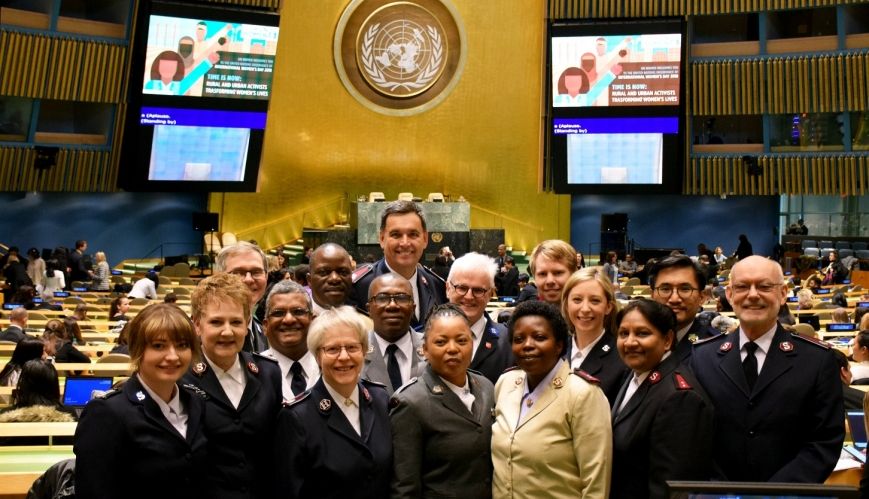 Salvation Army social bodies celebrate 10th anniversaries
Members of The Salvation Army's International Moral and Social Issues Council (IMASIC) at the United Nations General Assembly marking International Women's Day on 8 March.
By Simone Worthing
The Salvation Army International Social Justice Commission (ISJC) and International Moral and Social Issues Council (IMASIC) have just marked their 10th anniversaries – at the same time that the international community marked the 70th anniversary of the Universal Declaration of Human Rights last week.
To add to that occasion, and to ensure that Christians everywhere work to secure the future of human rights, IMASIC and ISJC have written and released a new book, Human Rights and The Salvation Army, that reflects on the past and suggests ways to secure the future of human rights.
IMASIC
IMASIC is a body of officers and Salvationists from across the world who meet twice a year and are responsible for developing positional statements for The Salvation Army that are based on principles derived from the Army's understanding of Holy Scripture, Christian wisdom and experience gathered throughout history and the Army's own ministry.
In recent years, IMASIC has begun initial work to develop positional statements on sexism, capital punishment and the creation of life. Discussions are also taking on issues related to human sexuality.
Casey O'Brien-Machado, The Salvation Army's Social Justice Coordinator based in Sydney, is a member of IMASIC.
The membership of IMASIC, which was set up in 2008, is currently formed by seven women and eight men; 10 officers and five soldiers from 15 territories and commands – from Rwanda to Australia, Bolivia to Norway.
Dr. James Read (chair) and Lieut-Colonel Dean Pallant (secretary) have been on the council since 2008, along with Dr. Roland Stettler, Corps Sergeant-Major at Basel Corps in Switzerland. Commissioner Marie Willermark (vice-chair) joined IMASIC in 2017.
An up-to-date set of International Positional Statements – including the statement on racism – can be downloaded here. 
ISJC
ISJC is part of The Salvation Army International Headquarters, and is based in New York City.
Colonels Janet and Richard Munn have been appointed as directors of the ISJC.
Colonels Janet and Richard Munn, officers of The Salvation Army Eastern Territory, have just been appointed as Directors, ISJC. They succeed Lieutenants-Colonel Dean and Eirwen Pallant, who will take up appointments in their home territory – the UK with the Republic of Ireland Territory.
The team at ISJC represents the 131 countries in which The Salvation Army is working, at the United Nations and other global forums. They research and develop expertise on relevant global issues in light of the Christian faith and share that information as widely as possible.
Focusing on Micah 6:8, ISJC aims to promote a vision of justice based on the life and teaching of Jesus Christ; to advocate and advise on social, economic, political issues and events which lead to the perpetuation of injustice in the world; and to amplify the voices of poor, marginalised and oppressed people and translate their real life insights into policies, practices and life-giving opportunities.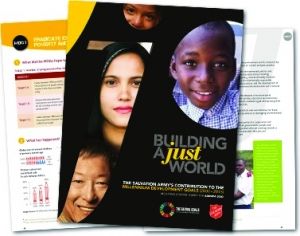 Samples of some ISJC publications available online.
The five goals of ISJC are:
Speak Raise strategic voices to advocate with the world's poor and oppressed.
Think Be a recognised centre of research and critical thinking on issues of global social justice.
Partner Collaborate with like-minded organisations to advance the global cause of social justice.
Lead Exercise leadership in determining social justice policies and practices of The Salvation Army.
Live Live the principles of justice and compassion and inspire others to do likewise.
For more information, publications, research papers, current campaigns, news and other resources, click here.