Salvation Army staying strong for Ukraine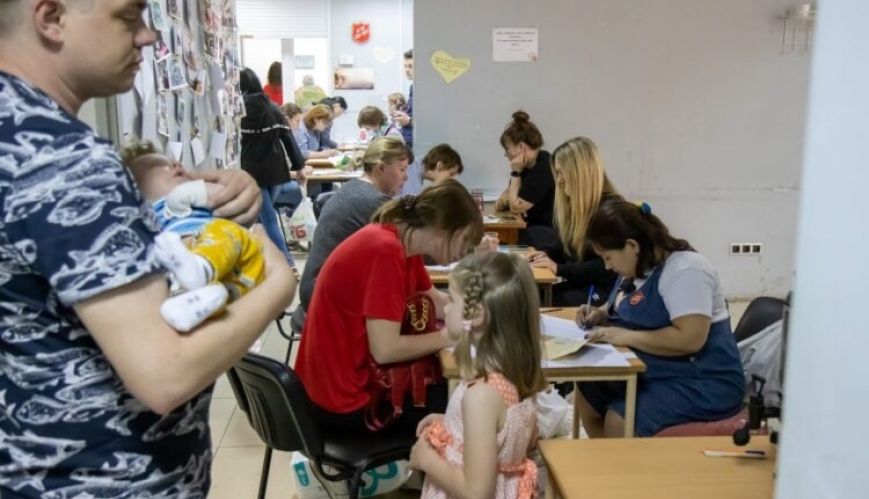 Salvation Army staying strong for Ukraine
Salvation Army centres throughout the war-torn regions are continuing to support people coming in for assistance.
By Tim Green
With the conflict in Ukraine showing no signs of ending, Salvation Army officers, employees and volunteers are continuing to play a vital role in supporting those affected.
While much of the world's attention is focused on towns and cities in Ukraine under attack, other parts of the country are having to deal with an influx of refugees as millions seek safety away from their homes. It is estimated that up to 15 million people have been forced to flee.
Kropyvnytskyi in central Ukraine is one such place, and Salvation Army officers are leading the way in assisting the new arrivals.
Captains Daniil and Valeria from Kropyvnytskyi Corps, Lieutenant Tetiana from Nove and Captains Dmitry and Daria from Dnipro are heading up The Salvation Army's response.
War is nothing new to the four officers who were called into action in 2014 when Russia invaded Crimea.
Dannil said: "Our experience in 2014 meant we could understand how we could be useful to the community and how we could help people. When the war started, we gathered together with the whole church to decide our plans. We knew people would need food, hygiene and a place to sleep."
The quartet set about buying food packages, blankets and mats and converting their church into a hostel and a safe place to sleep.
Daria said: "We have been communicating with people, trying to comfort them and helping them find other places if we can't provide for them. We are praying for people and with people.
"Some people didn't even have spare clothes. One family left home in clothes, so they were very cold when they arrived. We gave them everything to feel more comfortable. Also, we welcomed a number of newborn babies who came here for a safe night's sleep. Some nights it was like a kindergarten.
"Because of the stressful situation, some mothers were unable to breastfeed their children, so we had to buy formula. The mothers were very thankful."
New arrivals in Kropyvyntskyi faced a challenge in finding accommodation for themselves and their families.
Valeria said: "Some families had to rent an apartment with no pillows or blankets for the children. People were sleeping, covering themselves with coats and using bags as pillows. Apartments are expensive – quite often, two or three families will cram into one room."
Although Kropyvyntskyi has seen little in the way of military action so far, the team are all aware that the situation could change at any time. Dimitri and Daria relocated to Kropyvyntskyi from Dnipro, which had come under heavy bombardment.
The couple said their faith had kept them and their colleagues going throughout.
Dimitri said: "Faith is very important at this difficult time. Without God and our faith, we wouldn't be able to do as much as we are doing. When we had a gathering with refugees, we were all praying together, and they asked us to pray for them. Almost all those who came wanted to get a New Testament or a piece of paper with a prayer on it – nobody wanted to go home without one."
Daria said prayer has proved particularly powerful.
She said: "A lady from Mariupol came because she wanted to get packages for her and her daughter even though she did not know whether they were alive. She started to cry; we prayed together and then called and spoke to her daughters, who were fine."
The team stressed they would continue to serve as long as they needed.
Dimitri said: "At the beginning of the war, a big wave of refugees needed a place to sleep – Now people are slowly coming back home. People will need support from us for a long time yet."
Tim Green is part of The Salvation Army United Kingdom and Ireland Territory