You are here:
Home › Global Focus › Salvation Army Wheels Out First Ethical Shopping Truck
Salvation Army wheels out first ethical shopping truck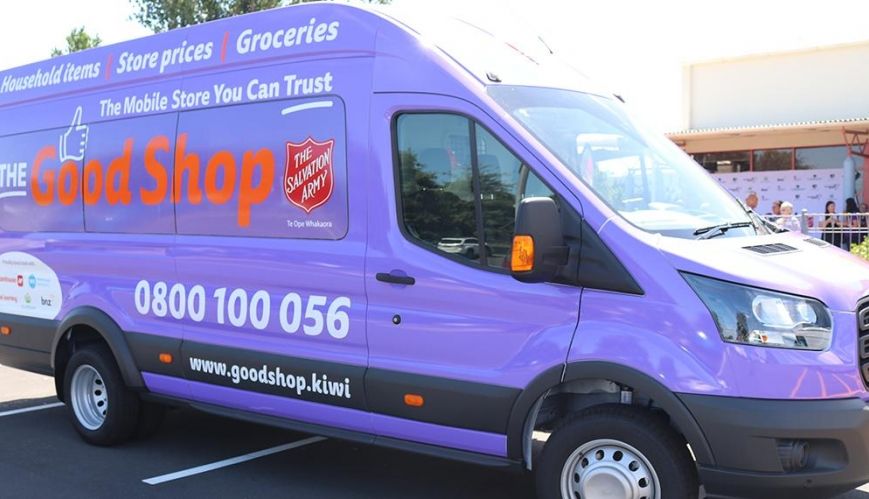 Salvation Army wheels out first ethical shopping truck
The roving Good Shop truck, launched recently in Auckland, offers vulnerable consumers access to honest financial advice and quality goods at no interest.
A new initiative from The Salvation Army in New Zealand aims to reform the damaging effects of problem debt and fringe lending in low socio-economic areas across the country by providing an ethical shopping alternative.
In a bid to curb unethical lending in New Zealand's most vulnerable areas, The Salvation Army recently launched a new shopping truck in South Auckland.
The Good Shop is a roving truck offering vulnerable consumers access to honest financial advice and quality goods at no interest – a stark contrast to the 800 per cent terms that The Salvation Army has seen in some mobile lending operators' contracts.
The predatory lending industry is booming, growing 39 per cent or by $1.5 billion in the past five years. With multiple reports about unscrupulous lenders and following Prime Minister Jacinda Ardern's 2018 announcement to regulate and place an interest cap on non-bank loans, The Salvation Army says its decision to invest time and resource on an innovative ethical option will bring solutions directly to people and offer financial literacy advice.
"We knew we needed to start reform now," said Jodi Hoare, The Good Shop Project Manager.
"Every day we see people trapped in a cycle of debt by these loans, with no other options open to them and often with limited economic understanding. The Good Shop will positively disrupt the current mobile trading business model that can have extortionately high-interest rates and repayment plans that exploit our people.
"The Good Shop will provide a safe alternative solution to people who may struggle with transport, are unable to make upfront payments or cannot obtain credit from mainstream stores to purchase what they need."
This initiative wouldn't have been possible without the delivery partners The Warehouse Group, BNZ and Countdown, and additional financial support from the Ministry of Social Development, The Tindall Foundation and Nikau Foundation.
"Not only will the initiative bring fair and ethical credit directly to the streets, but it will also increase public exposure to financial education and undo some of the damage that has been done by predatory loan services in the community."
Essential household items such as food, furniture, electronics, appliances, white goods and baby items will be available via online shopping technology on board the truck. Salvation Army workers will be on hand to assist clients plus provide referrals to other services and welfare that may benefit them, including budgeting advice.
Through The Good Shop, consumers will be able to access The Salvation Army's interest-free loans supported by BNZ and Good Shepherd NZ to buy cost and energy-efficient items at competitive prices.
Credit will not be extended to groceries given it is an ongoing consumable expense, however, supporting people to access food at standard supermarket prices is a key role of The Good Shop.
"Thanks to the generosity of our partners, a significant number of people in need have an opportunity to avoid the problem debt cycle as we start to build financial capability in these communities," Jodi said.
The Salvation Army plans to roll out the initiative across more communities with high deprivation and where The Army currently has a strong presence providing social services, with a second vehicle already planned for Wellington in mid-2019.
* This article was first published by The Salvation Army New Zealand. See the full version here.