You are here:
Home › Global Focus › Saving Souls By Saving Goals At The Homeless World Cup
Saving souls by saving goals at the Homeless World Cup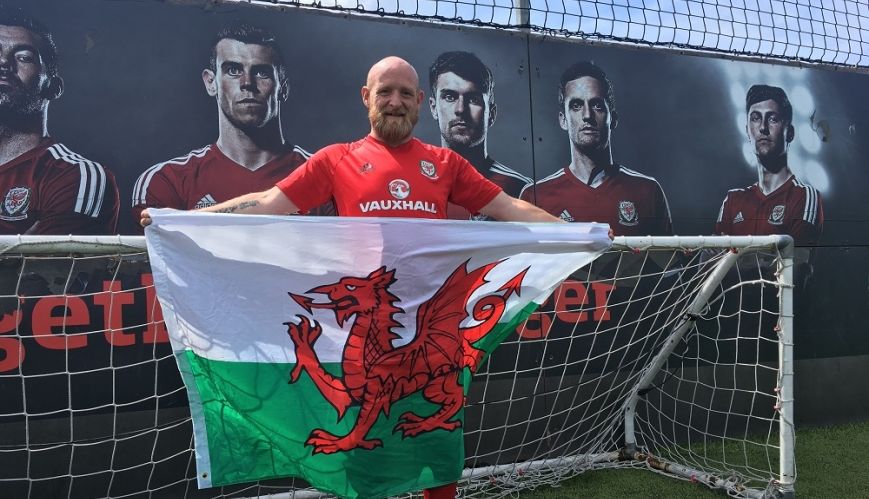 Saving souls by saving goals at the Homeless World Cup
Mark Atkinson, a resident of a Salvation Army centre in Cardiff, is proud to be playing for Wales in the Homeless World Cup that begins on 27 July.
Welshman Mark Atkinson will fulfil a childhood dream when he represents his country at football's Homeless World Cup that kicks off on Saturday in the Welsh capital, Cardiff.
More than 500 players who are all experiencing homelessness, representing more than 50 countries across the globe, will compete in the eight-day tournament at Bute Park in the city centre.
Mark, who will play goalkeeper for Wales, is a resident of The Salvation Army Lifehouse centre – better know as Ty Gobaith – in Cardiff.
Ty Gobaith is a supported residential facility for adults over the age of 18 who have found themselves homeless and need help to rebuild their lives in a safe and supportive environment. It is open 24 hours, seven days a week.
Mark is on the Bridge Program at Ty Gobaith where he is receiving support to stay sober. He started playing football during his stay.
"I got involved with the football purely by accident, really," Mark said. "I happened to be sitting around in the day room in Ty Gobaith, and I was asked if I wanted to come along to a training session and I had nothing else to do and so with a 'nothing ventured, nothing gained' sort of attitude, I went along and I thoroughly enjoyed it. It was a good afternoon and I've been playing ever since."
"The football is there for everybody who's in Ty Gobaith and I'm one of those who chose to take [it] up. If they hadn't given me that opportunity, I wouldn't be representing my country in the World Cup and I thank Ty Gobaith a lot for that, and the support I get from all the members of staff there is incredible.
"It's an honour and a privilege to play for my country, especially at my age. It's something I didn't think would happen but thankfully it has. It's every boy's dream to play for their country and I'm fulfilling my dream."
Mark's coach, Wayne Ellaway, a Homeless World Cup veteran, is also a former resident of Ty Gobaith. He has played for Wales in the Homeless World Cup in Amsterdam and now is coaching the national team for the Homeless World Cup in Cardiff.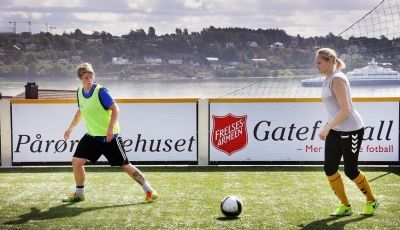 The Salvation Army played a key role in the Homeless World Cup in Norway in 2017.
In the build-up to the tournament, both men have been speaking about how the facility helped them turn their lives around through football. 
"I got involved in football through playing for The Salvation Army at Ty Gobaith on Bute Street," said Wayne. "When I went to Ty Gobaith, I was isolated, addicted and I had no hope, no future and no purpose. I was financially and emotionally broken – I was crippled.
"I moved into Ty Gobaith in December 2013, then I found Street Football Wales through Ty Gobaith in 2014. I was very physically and emotionally unwell at the start, but I came to a few matches and really enjoyed it. I loved the atmosphere, loved the people and got on really well with everyone. Ty Gobaith were fantastic.
"Through football, I got a sense of belonging, a sense of purpose. I came along, enjoyed it and when I decided I wanted to commit to playing football in 2015, I got picked for the Welsh Dragons for the Homeless World Cup in Amsterdam.
"Football doesn't mean everything, but it is a massive part of my recovery. I don't depend on it, but it's the enjoyment and it's like a family – it's more than just football, but football is the basis of it and I wouldn't be where I am today without the support of Ty Gobaith."
Captain John Stark is the chaplain at Ty Gobaith and Northlands Lifehouse [also in Cardiff] and brings residents to play football at Street Football Wales sessions. 
"I'm very proud of Mark and Wayne and what they've achieved and it's great to see Mark doing so well after all the support we've given him," said John.
"The guys in The Salvation Army football team get a boost for their self-esteem, there's also the camaraderie and support they give each other and it also improves their confidence and teaches them how to be around other people. And there's also mutual support, understanding and appreciation of everyone's situation – it really is 'the beautiful game'".  
The Homeless World Cup is taking place between 27 July and 3 August.
This is an edited version of an article that first appeared on the website of the United Kingdom with the Republic of Ireland Territory 2019.