Ship comes in for the homeless in Paris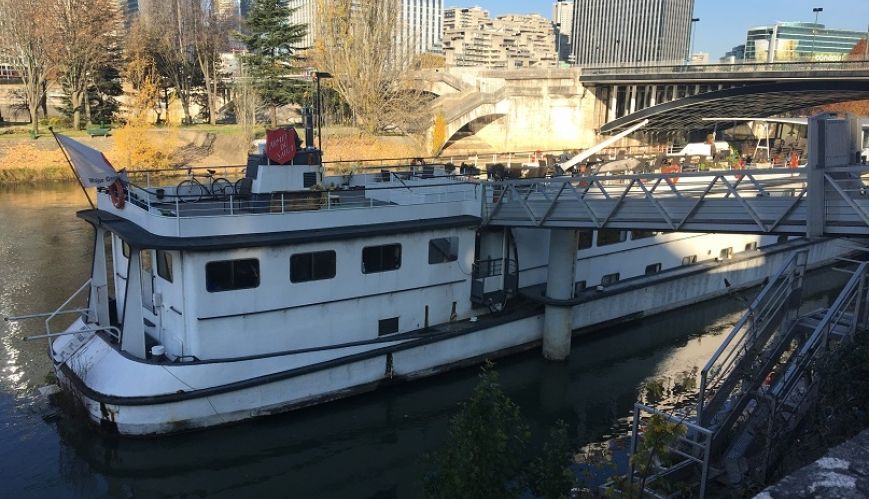 Ship comes in for the homeless in Paris
The Salvation Army's "L'Amirale Major Georgette Gogibus" is a former cruise ship permanently moored on the banks of the Seine River in France, which accommodates people experiencing homelessness.
The ship has been transformed into a residential and social integration centre, and is situated at Pont de Neuilly in Paris.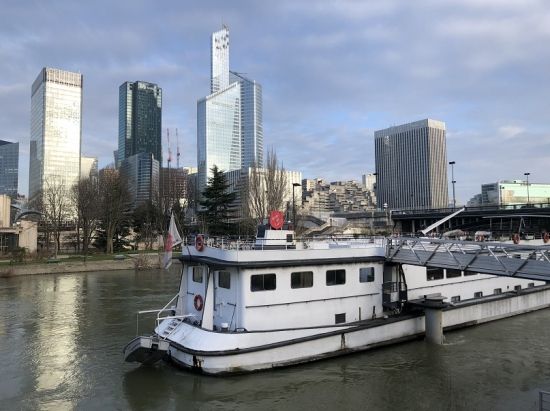 Since 2010, it has offered temporary accommodation to up to 80 individuals and couples experiencing homeless. It is also a safe place where desperate people receive care, comfort, spiritual guidance and hope.
Four Salvation Army social workers engage with clients on L'Amirale, focusing on increasing their life skills and social integration. Volunteers also offer their services – a doctor, a French teacher and two others, who all focus on building social links between residents.
On board, old cabins have become single or double rooms, each fitted with showers and toilets. Other areas of the ship have been refurbished and include a common room, activities area, dining room, kitchen and laundry. There is a furnished terrace on the upper deck of the ship. L'Amirale is also fitted with an environmentally friendly wastewater treatment plant.
Others Online spoke to Samuel Coppens, Director Relations Publiques, Communication, and Resources and spokesperson for The Salvation Army in France, about this unique ministry.
Q: How did The Salvation Army come to have a homeless shelter on a ship?
A: In the late 1920s, the then-leader of The Salvation Army in France, Albin Peyron, decided to buy a ship to transform it into a shelter. Similarly, in 2009, The Salvation Army acquired a cruise ship on the bank of the Seine River, which has been completely refitted to serve as a residential and social integration centre. This choice was made given the high cost of real estate in Paris. Living on the banks of the river has also proven to calm the psychological pain of our residents.
Q: Who are some of the residents on board?
A: Almost 80 people live on L'Amirale. They are aged between 18 and 55 plus, and are either single or in a relationship.
Most of the clients have been homeless for more than 10 years and in precarious situations. Around 90 per cent have problems with alcohol. The consumption of alcohol is authorised on the ship but not in the rooms. Many clients are trying to cure this health problem with the help of social workers. Residents are unemployed and have been far from the working world for a while.
Residents on board enjoy the soup festival in December 2017.
Q: How does The Salvation Army find and support these clients?
A: Residents are referred by the 115 "Samu social", a municipal humanitarian emergency service in several cities in France, and worldwide, whose purpose is to provide care and medical ambulatory aid and nursing to homeless people and people in social distress.

Q: What programs are available for the residents?
A: Residents of L'Amirale can have food and shelter free of charge. L'Amirale assists them materially and or financially, and provides access to hygiene and or immediate care. Social workers help residents to re-establish their independence. They help them to manage daily life and encourage their participation in making the ship a place to call home. Over time, they help the residents to the path of autonomy by taking into account their holistic needs.
Q: How are the clients supported spiritually?
A: Having spiritual support is as important as having food and care. Being next to people who are in an ocean of social distress, enables them to find hope and a meaning to life. The spiritual support is also available for employees who also need to debrief and share their thoughts. In 2017, several meetings of spiritual supporters were held and 32 individual meetings and 50 group meetings took place on L'Amirale.
Q: What happens to the clients when they leave the ship?
A: Residents rarely leave the ship. Most of them stay until their last breath. Those who leave are often referred to other services: 50 per cent to other centres for housing and social integration such as boarding houses; 10 per cent are hosted by family or friends; 15 per cent manage to live independently; around five per cent live in hospitals; and some return to the streets.
Q: What are some of the challenges of having a shelter on a ship?
A: The main challenge is geographic. The ship is located in the richest city in France and there are often issues about the ship in the local area. It can also be used for political purposes. Climate can also be a problem especially when the level of the Seine rises, as it did this year.
Q: What are some of the rewards and benefits of being on a ship?
A: It is so different from most other homeless shelters that exist in France. Being on the ship also calms psychological pain and provides a very positive environment.
Q: What other homeless programs are available in France?
The Salvation Army in France runs several centres for people experiencing homelessness and in social distress. For example, the Palais de la Femme provides shelter mostly for women in Paris; Cité de Refuge, which is also a centre for housing and social integration in Paris, and Le Hameau, a shelter in Marseille for those experiencing homelessness. The Salvation Army's social inclusion programs enable people – the homeless, migrants, pregnant women, low-wage workers and others, to find food, shelter, and, for some, employment. The main purpose is to help people to live a normal and peaceful life again.