You are here:
Home › Global Focus › Social Issues God In Warsaw Childrens Hip Hop Video
Warsaw children star in hip-hop video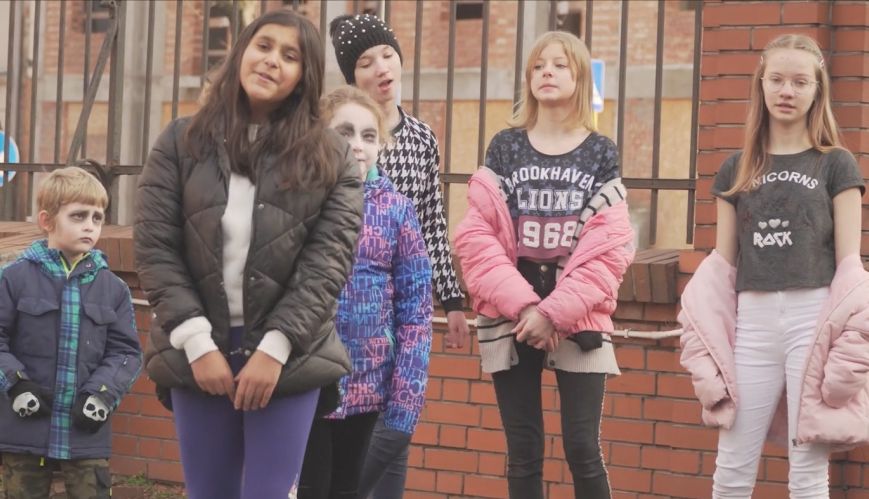 Warsaw children star in hip-hop video
Some of the children from The Salvation Army's Praga-Północ after-school club in Warsaw, Poland, in the video that they produced with musician Mateusz Wilkoń.  
As a creative arts project, young people who are part of The Salvation Army's Praga-Północ after-school club in Warsaw, Poland, have released a hip-hop video about social problems, human lives and God.
The video was produced in collaboration with professional musician Mateusz Wilkoń, who is a specialist in hip-hop, rap, beatbox and street art. The project was supported and funded by Warsaw's City Hall, as part of an initiative to develop children's passions and give them a voice.
Praga-Północ Corps Officer Captain Oleg Samoilenko, who oversees the program with the corps' coordinator of children's activities, Tetyana Ouerghi, said all the children in the program were "from poor families". Some of the parents are in prison or suffering from substance abuse.
The after-school club, which was given a Warsaw Best Charity Program of the Year award in November, supported about 20 school students in the Praga-Północ area by providing a safe place to be and a range of homework support and fun activities.
COVID-19 regulations meant those who worked on the hip-hip video could do so in small groups of up to five at a time. 
Collaboration with Mateusz was the first phase of the project where the young people developed the lyrics which incorporated their own experiences, hopes and dreams.
It was not the first time Mateusz has worked with the Army: "I think they are amazing. Their projects are always about something 'more'.
"The young people involved in this music initiative wanted to sing about social problems, human lives and God," Mateusz said.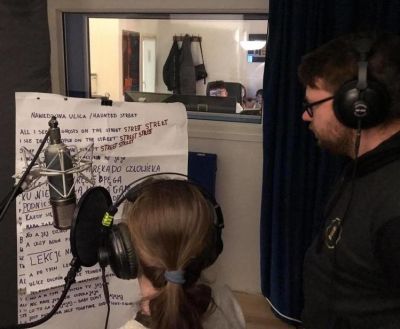 Professional Polish musician Mateusz Wilkoń helps out in the recording studio.
The resulting text – in a mix of Polish and English – speaks of the "dead people" seen on the streets of Warsaw.
Oleg said the lyrics reflected how much the young people cared about what was happening around them. "People just hurry from place to place, concentrating on their phones rather than what they see around them, Oleg said. "When the intention is on getting from one place to another – without looking up, noticing and responding to the social needs either side of them – it can seem like people don't care. It's great that these young people do."
The lyrics were based loosely on the well-known Army motto "heart to God and hand to man" and is entitled 'Nawiedzone Ulice' (Haunted Streets). 
Once the words were agreed upon, the young people worked on the performance and accompanying media. This included time in a recording studio with Mateusz mixing and processing the vocals and instrumentation. The video was filmed and produced just before Christmas. 
Angelika, one of the young people involved in the project said: "I love that I can take part in this project. We want to share with people how important everybody's life is and to value it accordingly." 
Sylwia, another involved in the project, said: "Singing is my biggest hobby … and I want to use it to praise God. I also want people to think about how important it is to be kind and to treat everyone well."
To watch the video, click here: vimeo.com/salvationarmyihq/nawiedzoneulice