You are here:
Home › Global Focus › Soup Soap And Sanitiser For Covid 19 Patients In India
Soup, soap and sanitiser for COVID-19 patients in India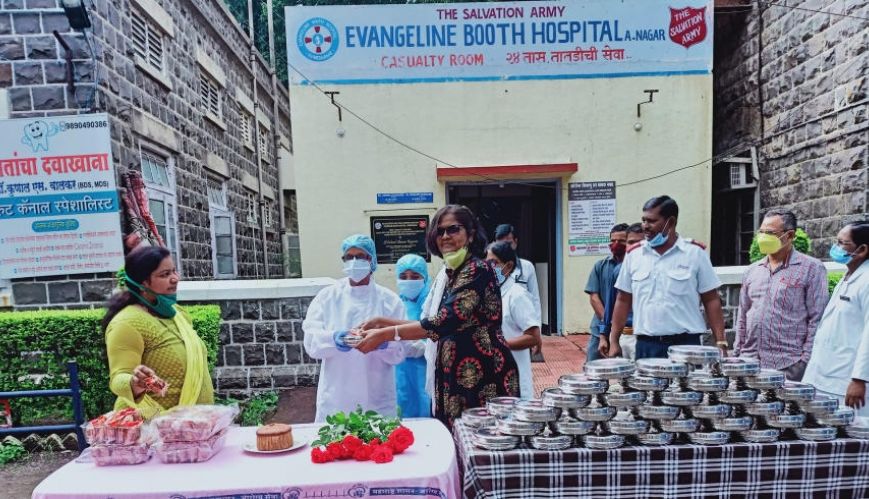 Soup, soap and sanitiser for COVID-19 patients in India
Teams from The Salvation Army and staff from Evangeline Booth Hospital are handing out welcome kits to COVID-19 patients. 
The Salvation Army in western India has been handing out specially-prepared welcome kits of food and personal items to Evangeline Booth Hospital patients who have the COVID-19 virus.
To ensure biosecurity at the hospital in Ahmednagar, Maharashtra, patients are not permitted to receive food or other items from friends or family so the Army has been providing the welcome kits, which comprise mineral water, a toothbrush and toothpaste, soap, sanitiser, a face mask and an energy drink. Hot tea and food – including soup, boiled eggs and cookies – are given to each in-patient three times a day. Every patient has access to purified water and an electric kettle.
Many of the patients at the hospital already are considered to be vulnerable.
The facility is one of five large Army-run hospitals in India. Ahmednagar is the largest district in Maharashtra state in western India. It saw its first case of COVID-19 on 124 March and, since then, has adapted its procedures to meet the needs of more than 3200 patients with coronavirus symptoms.
A peak in admissions was reached in September 2020, with 163 patients testing positive to the virus. So far, no hospital staff have tested positive to the virus. Capacity at the hospital was increased by reopening the old children's ward and renovating it to specifically care for patients recovering from COVID-19.
Patients must go through a sanitising spray tent before entering the hospital property. This tent was set up by the Defence Research and Development Organisation, which is part of India's Ministry of Defence.
Patients are required to sit in a reorganised admissions area outside the hospital and maintain social distance from others while waiting to be seen by a medical professional and police support hospital staff to manage the flow of arrivals.
The admissions team takes each patient's temperature, blood pressure and oxygen saturation along with other clinical details to evaluate the urgency of specialist intervention. Patients are admitted on the basis of medical need or, where appropriate, transferred to nearby healthcare facilities, with the Evangeline Booth Hospital providing the necessary paperwork.
Doctors make a clinical assessment of each patient according to World Health Organisation guidelines and any medicines necessary are prescribed.
As well as addressing a patient's physical condition, their mental health is also considered. Team members speak regularly with every patient to mitigate the emotional effects of isolation and social distancing.
The team of medical professionals works closely with the hospital's housekeeping and hygiene staff in order to coordinate most effectively and provide wrap-around care around the clock.
Staff members are also being cared for with vitamin supplements provided free in order to boost their immune systems. 
As well as the relationship forged with the DRDO, similar relationships have also been fostered with the municipal government, mayor, police, water and electricity authorities and roads service. Assistance has been provided in installing a new, more robust underground electricity supply along with street lighting, security cameras and an improved road within the compound.
In a community where many different faiths are practised, the Army's team has been described as "angels of God", with extensive coverage and testimonies from recovering patients reported in regional newspapers and television news.
In addition to the high-quality care and excellent recovery rate (only one patient has died), the hospital has become a "platform of social connection" – with many COVID-19 patients going on to fundraise for the clinic among their own business and community contacts. That, in turn, ensures that the provision of diligent service and care continues to be offered – free of charge – to all who need it, without discrimination.
Edited from an International Headquarters Communications release