You are here:
Home › Global Focus › South African Cell Multiplies In Mission And Ministry
South African 'cell' multiplies in mission and ministry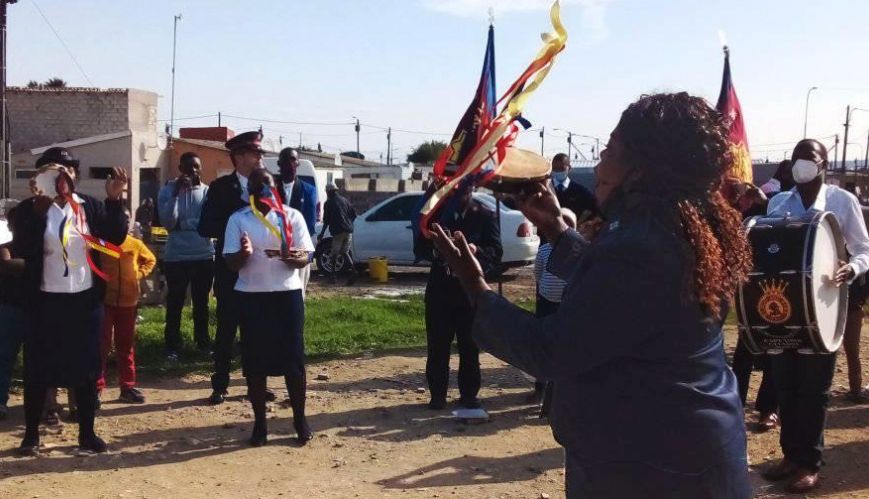 South African 'cell' multiplies in mission and ministry
Timbrellists play at the open-air meeting that launched the Strand Outreach in suburban Cape Town in The Salvation Army Southern Africa Territory Western Cape Division last year.
By Darryl Whitecross
The South African seaside resort town of Strand is known for its white, sandy beaches, restaurants, good schools, and a laidback lifestyle. But there is another side to what most see.
Lieutenants Mpumelelo and Desire Dathini with the first cohort of senior soldiers enrolled as part of the Strand Outreach in South Africa.
While it is a popular playground for tourists with its expensive residential areas on the fringe of the City of Cape Town, the poor and vulnerable live in a variety of housing, including government-funded properties and 'shack' dwellings.
Lieutenant Mpumelelo Dathini, from Bonteheuwel Corps and Educare in Cape Town, said it was against that backdrop that a small congregation of Salvationists was transforming lives and serving suffering humanity.
Mpumelelo said that a small cell group, started by Divisional Envoy Owen Mutize about five years ago in the Zola area of Strand, had grown into a recognised outreach. (In South Africa, for a faith community to gain status as a corps, it first must meet specific criteria to gain outreach status, then gain outpost status and, eventually, become a corps.)
Mpumelelo said the Strand faith community was granted outreach status by the Western Cape Division of the Southern Africa Territory in June last year.
He said the Strand Outreach began as a cell group with its members travelling by train to attend Sunday worship services at Bonteheuwel Corps, about 30 minutes away. After the train service was stopped, Mpumelelo said soldiers began using taxis to get to worship once a month, but that became "very expensive for low-income families".
In 2020, travel restrictions and regulations were introduced to stop the spread of COVID-19. This prevented the soldiers from travelling to church altogether, so the Army looked at ways to support them. Mpumelelo said that, during lockdown, officers and corps folk from Bonteheuwel would take food and other aid to Strand once a month, which soon developed into a Bible study.
"From there, we felt that it was not fair for them to be paying so much to attend church, so we felt: 'let's go over to Strand once a month and do a service' so, under the leadership of acting Corps Sergeant Major Eunice Mbofana, we held the Bible study at her house," Mpumelelo said.
He said the Bible study "grew so fast" as Eunice invited an increasing number of people to attend. "God opened up an opportunity for us to continue to minister with the Strand," Mpumelelo said.
Lieutenant Desire Dathini said within 12 months the numbers attending the weekly studies grew from about 10 people to about 60 people and between 50 and 90 at Sunday worship. Soldiership classes were also begun.
Desire described as "phenomenal" the growth in the ministry in Strand.
She said a "massive" open-air meeting and march of witness was held on launch day, led by Divisional Commander Lieut-Colonel Solomon Mahlangu, and 15 people were enrolled as senior soldiers, 13 as junior soldiers, and a baby was dedicated. "About five or six people got saved at the open-air meeting, too," Mpumelelo said. "It was such a powerful ministry."
Mpumelelo said 18 people had since been enrolled as senior soldiers, 15 as junior soldiers, and 13 babies had been dedicated. Eunice's daughter, Anesu, who had been the recruiting sergeant, was also accepted as a candidate for officership to enter officer training college on 24 January.
He said the Strand Outreach was looking for land to have a more permanent meeting and worship facility: "Meetings are currently held under a tree."
"It has been an amazing team effort [to see the Strand ministry grow to reach outreach status]," Mpumelelo added. "By January, the outreach will run on its own, led by Eunice, reporting straight to DHQ (Divisional Headquarters)."