You are here:
Home › Global Focus › The Life Of A Relief Worker Isnt Always Exciting
The life of a relief worker isn't always exciting!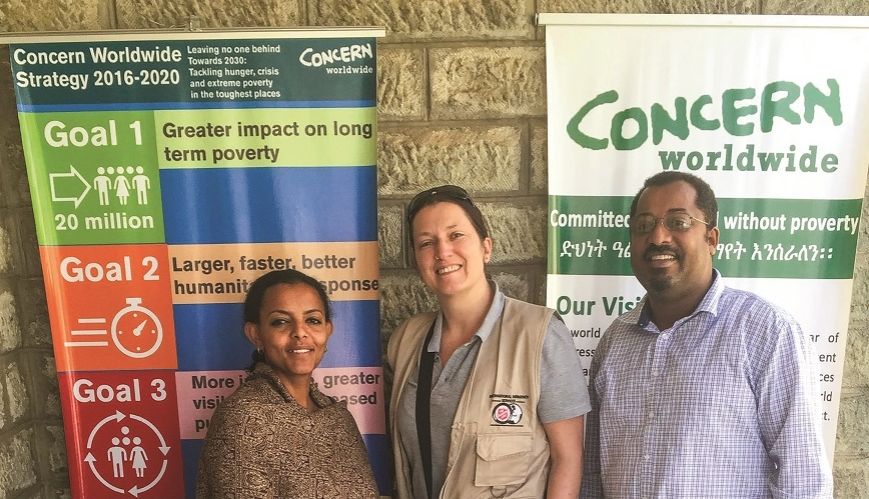 The life of a relief worker isn't always exciting!
Humanitarian worker, Damaris Frisk (centre) with Haimanot Kabede (left) and Mulugeta Terfa from Concern Worldwide, in Ethiopia.
By Damaris Frick
The alarm clock on my mobile phone rings at 4am. Not a great time to get up, but the driver is ready to take me to the airport to catch a plane from the Kenyan capital Nairobi to its Ethiopian counterpart, Addis Ababa.
I'm travelling with Richard Bradbury, the Project Officer for The Salvation Army Kenya East Territory, and over the next two days we'll be meeting various stakeholders, such as the non-governmental organisation (NGO) registration office, the United Nations Office for the Coordination of Humanitarian Affairs (OCHA), the Ethiopian Red Cross, and several others.
This "early bird" behaviour is nothing new – the day before we had to leave the house at 6am ahead of a several-hour car ride to a project location.
A school cook prepares meals on an energy-saving stove.
People sometimes assume that being a humanitarian worker – especially as part of The Salvation Army's International Emergency Services – is rather glamorous and that we spend all our time racing from place to place, perhaps leaping in and out of helicopters, before handing out rice in a community or pitching tents for displaced people; digging boreholes or repairing damaged buildings.
The reality is often more ordinary (maybe even dull!) with countless hours spent at airports or on planes, in cars or on trains.
Another aspect of my work that people don't really imagine is the hours I spend in meetings! In Ethiopia, where The Salvation Army is not yet registered, Richard and I will spend the majority of our time in meetings.
In order to gather information, avoid duplication of services and generally provide the best possible support to disaster-affected communities, organisations such as The Salvation Army have to make an effort to coordinate, network and partner with each other.
It is a vitally important part of my work to ensure that – as an organisation – we coordinate well but, again, it sounds much less exciting than what people might believe my day-to-day job to be!
There are also a lot of administrative elements to the job in order to make sure that disaster-affected people get the school meals, bags of rice or other relief items they so desperately need.
Many questions need answering before you can even start the work:
• Who is affected and how many people or families are our organisation dealing with?
• How do we find out what people actually need and what things are already provided by other organisations?
• What do people actually eat and how much does one person need per day? (There's no point supplying rice if people can't cook it, for instance.)
• Who is going to pay for it?
• How do we get money into that country?
• Where can we buy the relief items?
• Will the supplier have the quantities we need?
• How do we ensure the quality?
• Where do we get beneficiary lists and how do we involve the affected communities in decisions that affect their lives?
• What about storage, transport, security concerns and the challenges of actually organising distribution?
• How do we ensure transparency and accountability?
• What about reporting and dealing with finances?
• What about the long term? Will our actions have a negative impact on ongoing development efforts or the community's resilience?
As you can see, lots of aspects need to be considered in order for the "bags of rice" – or other appropriate relief items – to reach their intended target population.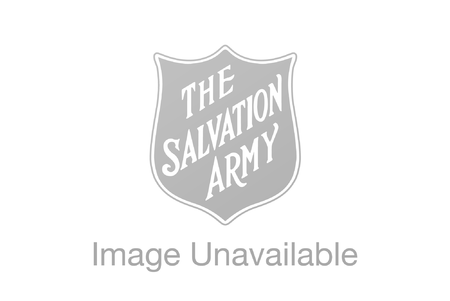 A Salvation Armyinstalled water harvesting system at a primary school in Kenya.
Don't get me wrong, I do sometimes do the "exciting" work, like distributing food. As a matter of fact, on the early-start journey I mentioned at the beginning of the article, we went to visit some project locations including schools that provide meals to children in a drought-affected area.
Most of it was handled by the cooking women – as happens normally – but they did ask me to serve food for a while (keeping a sharp eye on me to ensure that the portions were neither too big nor too small!).
The relief program in these communities in Kenya will only be going for a few months to bridge the current drought situation, but it runs alongside an ongoing WASH (water, sanitation and hygiene promotion) program that has installed water harvesting units, built toilets and enhances the hygiene and health in several schools.
For many of these kids, the school lunch might be the only meal they receive that day so it was great to see the implementation and hear stories from the children, their parents and teachers. They shared with me how the children's health, school attendance and performance have improved in the past term due to nutritious food, safe and sufficient drinking water and the promotion of hygiene.
After 11 years as a humanitarian worker I still love my job, knowing that I am privileged to be involved in this amazing and humbling area of work.
Yes, there is paperwork, tiresome journeys, often on very bad roads, and seemingly endless meetings, but there are also moments when I am directly involved in the implementation of projects or when I get to see the hard work done by my local colleagues all around the world.
There are the occasions when I meet some of the people benefiting from this work and when I get to see how the less exciting parts of my work are changing their situation for the better.
I am inspired and blessed by the goodness and resilience I see in people – and this makes every minute that is spent completing mundane but vital tasks completely worthwhile.
Damaris Frick is Deputy Coordinator of The Salvation Army's International Emergency Services.
This article first appeared in The Salvation Army's All the World magazine, April-June.
When International Emergency Relief programs go for an extended period they often become part of the ongoing international development projects some of which are administered by Australia's Salvation Army International Development (SAID) team.