You are here:
Home › Global Focus › Unusual Donations Keep Red Kettles Boiling In The Us
Unusual donations keep red kettles boiling in the US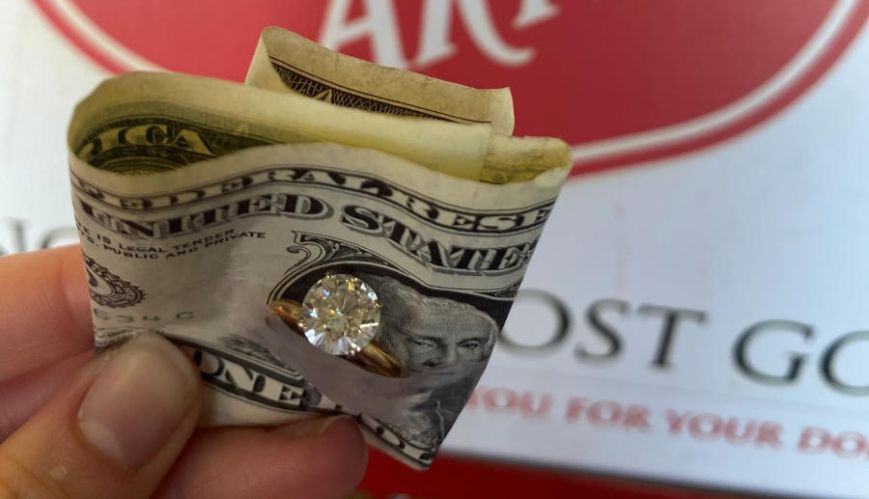 Unusual donations keep red kettles boiling in the US
In Jacksonville, Florida, volunteers from The Salvation Army, sorting through donations as part of the annual Red Kettle Christmas Campaign, found that an anonymous donor had dropped a dollar bill into one kettle with a diamond ring taped to it.
By Darryl Whitecross
The Salvation Army across the United States usually receives many thousands of dollars in donations at Christmas through its 130-year-old Red Kettle Campaign.
But last year was different due to COVID-19, and when the pandemic started taking hold in the US, The Salvation Army knew donations would be down and had to quickly come up with another approach. In an effort to maximise donations, the Army launched its Christmas campaign early and branded it 'Rescue Christmas'.
An online appeal was also run as the traditional bell-ringers, who stand with the red kettles to draw attention to their location, were limited or non-existent because of COVID restrictions.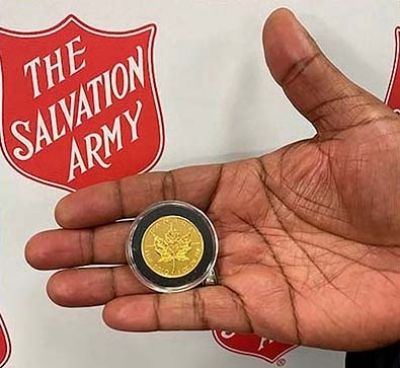 In Las Vegas, a Canadian Gold Maple Leaf coin was dropped into a kettle. The face value of the Royal Canadian Mint coin is $CAD50 but could be worth up to $US2000.
Despite the gloomy forecast on donations, the public responded and, once again, the Army discovered that more than cash was dropped into the kettles – from jewellery to collectable gold and silver coins – even a gold tooth! 
The Salvation Army's Red Kettle Campaign dates back to 1891 in San Francisco. Gold and silver coins donated to The Salvation Army Red Kettles have become a much-anticipated holiday tradition. Similar to the Red Shield Appeal in Australia, the Red Kettle Campaign helps provide year-round services and programs such as emergency disaster relief, clothing assistance, transportation, shelter, food assistance, youth programs, financial assistance, and Christmas assistance across the United States.
Throughout the US, reports have been coming in of a variety of 'non-cash' donations as part of the Rescue Christmas campaign.
In Jacksonville, Florida, while sorting through the change and notes, US Navy Captain Kirk Lewis found a dollar bill with a diamond engagement ring taped to it.
"It was a solitaire engagement ring," said Kirk, a long-time volunteer for The Salvation Army. [Sadly, Captain Kirk Thomas, a retired veteran, passed away not long after.]
The ring was valued by a jeweller in San Marco, who indicated it was worth between $US8000 and $US9000*.
In the Twin Cities area of Minneapolis–Saint Paul, a secretive philanthropist who is dubbed 'St Grand', for the 10th year spreading holiday cheer, dropped $1600 in a North Metro red kettle. The Army said the same person gave more than $12,000 last year and had given more than $139,700 in the past 10 years.
In Chicago, there were a string of gold donations, with 13 coins and bars placed, worth about $11,200 in total. Four coins valued around $US3000 in total were dropped into kettles in Huntley, Crystal Lake, Bartlett (1oz 2005 $50 American Gold Eagle) and Mundelein. Lieutenant Scott Smith, an officer for The Salvation Army Tri-City Corps said: "We are continually overwhelmed by the generosity of our community."
South African krugerrand coins are a regular donation in red kettles across the US. Such coins are valued at between $US1800 and $US2000 depending on the price of gold at the time.
The krugerrand was first minted mid-1967 to help market the country's gold and produced by Rand Refinery and the South African Mint. They now are one of the world's most recognised 1oz gold bullion coins.
In Kroger, Detroit, a 1980 krugerrand was dropped into the Warren Community Centre red kettle. The Army said it was the eighth time the same anonymous donor had made a similar donation.
In Costal Bend, bell-ringers in Corpus Christi found a krugerrand in one of its kettles. Corps officer Captain Patrick Gesner said such a donation "truly is a message of hope for those in need".
In Springfield, another krugerrand was donated, this time wrapped in a $US50 note. Ryan Ray, the development director at Springfield Corps said the coin was an "investment in the work we are doing in the community. It has never been more needed than it is this year."
A couple of days later on Chicago's northside, bell-ringers discovered a 1919 Swiss coin worth $US350. Lake County Corps Officer Captain Daniel Paredes said the donor had a "huge heart". A 1oz krugerrand was donated in Naperville along with a 1919 20-franc Swiss coin, worth an estimated $US350. Also in Chicago, the Army's Katie Heinz Pfingsten said a gold bar valued around $US1900 was dropped into a kettle.
In Round Lake (Geneva, Illinois), someone dropped five gold coins into a kettle. The Army's metropolitan division said the coins, in separate plastic sleeves, were valued at $US3000. One of the coins was a 1oz American Gold Eagle coin worth an estimated $US1890. The others were one-tenth-ounce gold Mercury Dime coins, valued in total around $775.
In Maryland, among the coins and notes dropped into a red kettle in downtown Annapolis was a 1oz Canadian cold coin, also valued at $US1800. Annapolis Corps Officer Captain Ryan Vincent said stories of such donations were regular "but you really never expect it; especially in a year like this. It was a surprise and a shock. With all this going on and you see a donation like this, it lets those struggling know that the community is here to help. They aren't content watching people struggle; they are here to help people."
In Lee County, each year until 2017, an anonymous donor had dropped a collectable $20 gold Liberty Eagle coin into a kettle with a note wrapped around it saying: "In loving memory of Mimi." The coins fluctuate in value depending on the gold price but fetch around $US1500. The annual drop has become a legend.
In Carlisle, an anonymous donor gave a set of gold coins – a 1oz US Eagle and half-ounce gold proof coins from 1987, valued in total around $US3100 – in memory of his mother who passed away recently. The Army's Lauren Sheeler said the donor took the coins to her office since they were too large to fit into a kettle.
In Las Vegas, Southern Nevada Corps Officer Captain Anthony Barnes said an "incredible anonymous donation" of a Canadian Gold Maple Leaf coin was dropped into one of its kettles. The face value of the Royal Canadian Mint coin is $CAD50 but could be worth $US2000.
In Tulsa, Oklahoma, the corps described as "something special" a variety of gold coins in five kettles around the city valued at $US14,586.
In the final days of the campaign, bell-ringers in Rockford, Winnebago County, discovered a 1000 Shilling Austrian gold coin in a kettle. An anonymous donor also dropped a 10oz silver bar in a kettle in the county last month.
David Jolley, Director of Communications at the Army's US national headquarters (NHQ), said there was not a comprehensive list of all the 'different' valuable items donated as local corps, centres and missions across the country were not required to report them to NHQ and handled the valuation and trading-in of those items.
In Waterloo/Cedar Falls, Iowa, the Army is to hold an auction of the special items found in its red kettles during the Christmas season.
These include 12 1oz US American Gold Eagle coins, a 1oz American Silver Buffalo coin, 10 Mercury Winged Liberty Head dimes, a 1922 Silver Peace dollar, a 1928 G Series $2 bill, a Ronald Reagan 1984 Double Eagle coin and a Thomas Jefferson $1 coin.
* At time of publication, $US1 was worth $A1.29, i.e. $US8000 would be about $A10,285.