You are here:
Home › Global Focus › Us Riding Into Year Of Innovation With Mash Getting Traction
US riding into year of innovation with MASH getting traction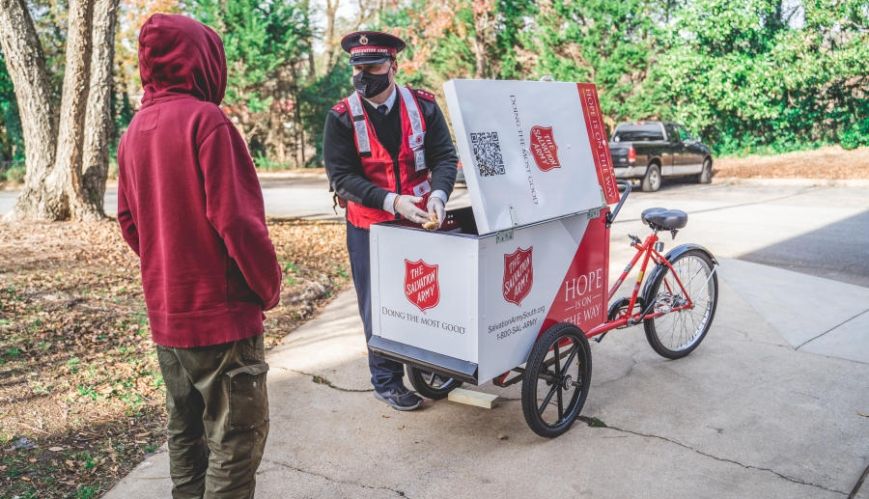 US riding into year of innovation with MASH getting traction
United States Southern Territory mission specialist Captain Rod Dolby speaks with a person in the greenway space near the Atlanta Temple Corps in Georgia, using a Mobile Army Service Hub tricycle. The greenway space, which has a bikeway, is relatively new to the city but already has become home to a number of 'rough sleepers' to whom the corps is seeking to minister.
By Darryl Whitecross
Planes, trains and automobiles ... and now MASH carts are being used by The Salvation Army to help with Local Mission Delivery around the world to spread the word of the Lord.
In the United States Southern Territory, Mobile Army Service Hub (MASH) tricycles are the latest tool being used to deliver practical resources and the Gospel to the community.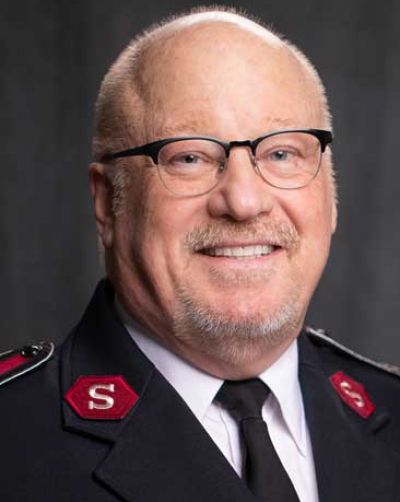 US Southern Territory Secretary for Program Lieut-Colonel Edward Hobgood.
Lieut-Colonel Edward Hobgood, Secretary for Program, said the idea for using the carts came after one of its 'Over and Above' mission projects in the South America East Territory.
The US Southern Territory was asked by the South Americans to become part of its 'Sirviendo con Amor' (Serving with Love) initiative and sponsor the purchase of several of the carts that would be used to serve hot food (mostly soup) during winter and sandwiches and cold items in summer.
"We loved the way they were taking an item that you see in large cities and flipping it for ministry," Eddie said. "We were looking at a way to help our corps serve in ways that we haven't before or in places and situations we haven't been able to do as easily.
"Disaster services was a big one, as you can't always drive a canteen into some of the affected areas but you could a bike. Captain Rob Dolby, who serves on my team, within one minute thought of a dozen ways the carts could be used in practical ways as well as mission."
Rob soon found a company that could produce the carts economically and a dozen were ordered. The carts were to be presented to corps at the US Southern Territory Congress but the COVID-19 pandemic stalled the project and supply lines dried up as the manufacturer could not get the necessary parts from overseas. The congress was cancelled, too. Eddie said that put the project several months behind.
Since then, the manufacturer located parts suppliers within the US "and we are back up and running", Eddie said.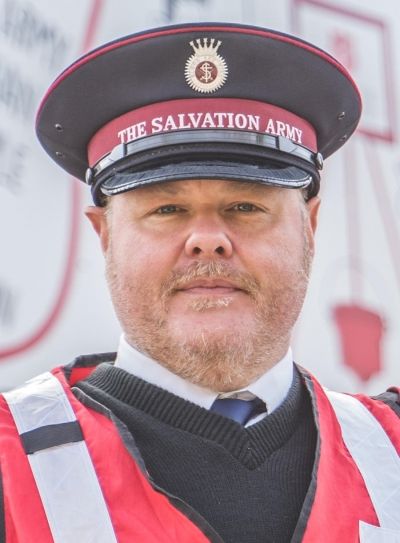 US Southern Territory mission specialist Captain Rod Dolby.
Each division in the territory is to be presented with a cart. "We will then start taking orders," said Eddie, adding that social media had generated "a ton of interest". "We've been amazed at the number of corps that want one and have already figured out how to use it. Each cart costs less than $US3000 ($4000).
Rob said he would work with the corps and the supplier to get orders filled and help in their use in outreach, "sidewalk Sunday school" and vacation Bible schools.
"They are beautiful and the graphic work is in line with what's on our disaster units. We love that they all say: 'Hope is on the way'," Eddie said.
Rob said that 2021 would be "a year of mission innovation" in the territory.
"The MASH units are part of the territory's hope to get corps from all over the territory to share their innovative ideas of how they are preaching the Gospel and impacting their communities," Rob said.
"One innovative idea embedded within the tricycles is the QR code on the lid. Each unit will have a GPS on it and, when scanned, the mobile device will take them to an online landing page that includes local corps programs, worshipping services and immediate practical resources.
"As this mission tech grows, we are close to being able to provide immediate bed availability in shelters, appointment times with a social worker and further pastoral care online with a virtual crisis chaplain. There are currently 22 retired officers serving in this way in our Nashville command."
That technology could connect someone with a shelter bed "on the spot", having the ability to "ping" a taxi service to take them.
"The vision is that, from the point of engagement, we could literally offer soup, soap and salvation' all connected to a mobile unit and then can continue to serve the individual and family through the mission tech and long-term community follow up," Rob said.