You are here:
Home › Global Focus › Warm Welcome Guaranteed To Refugees At Coffee And Conversations Group In Zurich
Warm welcome guaranteed to refugees at 'coffee and conversations' group in Zurich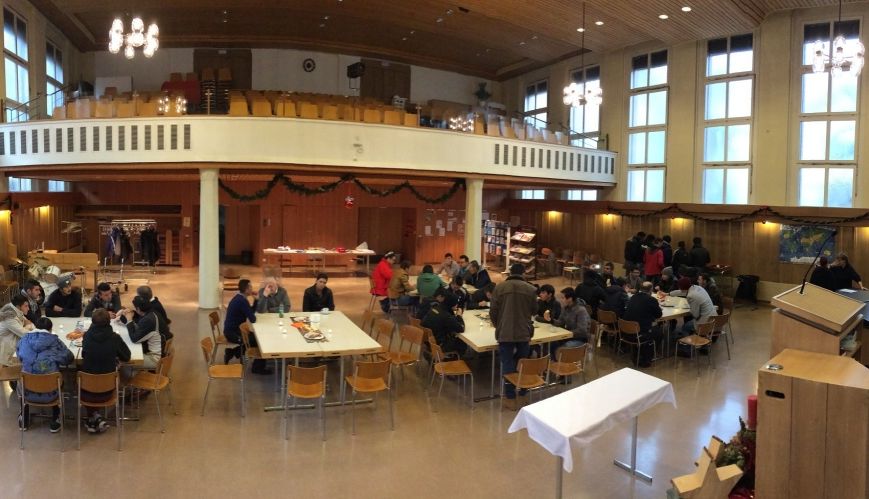 Warm welcome guaranteed to refugees at 'coffee and conversations' group in Zurich
Members of the Zurich Central Corps in Switzerland have taken to heart the words of Jesus through a new program to support refugees housed in the city.
In Matthew 25:35-36, Jesus says, "For I was hungry and you gave me something to eat, I was thirsty and you gave me something to drink, I was a stranger and you invited me in, I needed clothes and you clothed me, I was ill and you looked after me" (New International Version).
Forty-five men, mainly from Afghanistan, as well as a few women and children, have accepted an invitation to attend the corps every Friday afternoon for "Coffee and Conversation". There they are served hot drinks and snacks, with an opportunity to take away warm winter clothes that have been donated by corps members – some of whom attend as hosts and supporters, teaching the men German to help them to settle in their new home.
Franziska Bates-Steck and Cornelia Zürrer Ritter, from Zurich Central, are excited that helpful relationships are developing between corps members and their visitors from other cultures. They write: "We meet [the men] respectfully and with appreciation. We learn from each other and remove fears and prejudices. As a result of this we show them that they are welcome in our country. We meet each other like Christ meets us – at eye level. We accomplish Christ's assignment – and that of The Salvation Army – to be on hand for each other and to welcome strangers among us. The idea is simple and low-threshold – anyone can help.
"Our refugees have become our friends and 'Coffee and Conversation' has turned into much more than a German class; we help with writing CVs, we support them in finding jobs and a place to live, we accompany them to their second interview with the migration authorities and some of them have even started to take part in corps activities, such as corps weekends, summer camps, sports events, a refugees' brass group and a Bible group.
They conclude: "We do not know yet where our work will lead. We do not know how long these men will be living nearby. But we are prepared to offer our time and our passion to go along with them and to care for them."