We do whatever we can
We do whatever we can
The Salvation Army is helping Venezuelan refugee, like the man above with his newborn child, who are facing desperate situations and are in need of urgent assistance.
By Lieutenant Paula Mazzini Mendes
We had just arrived in the heat and crowds of the small Brazilian city of Boa Vista – 'ground zero' for the Venezuelan refugee response. We had barely settled into our work on the streets when we met Juan, a young boy selling handicrafts.
A woman making bread in a refugee camp.
We stopped to have a conversation with him. When he saw we were not from the region, he asked the reason for our visit to Boa Vista (which is certainly not a tourist town). We explained that we were from The Salvation Army and that we were beginning our engagement with the refugee response.
He introduced us to his sister, who was not much older than him – and nine months pregnant. Both of them, he said, were sleeping on the street under some discarded cardboard.
Juan explained that they were renting a room, but when the landlord noticed the pregnancy he was afraid they would not be able to pay. So he evicted them. They had no alternative, so they ended up on the streets.
We had been working with the United Nations High Commission for Refugees (UNHCR), so we were able to refer them to a shelter the same day. What could have been an even greater tragedy than these young people had already faced cost us a taxi trip of a couple of dollars to address.
Refugee response
Our ministry in the Venezuela refugee crisis was quickly becoming apparent – we do whatever we can to help those that cross our path.
Refugees and economic migration are not unfamiliar to Brazil. Over the years the country has received waves of Germans, Japanese and Italians. Most recently it has welcomed Bolivians, Syrians and Haitians.
Over the past year, thousands of Venezuelans have fled their homes and crossed into the little border state of Roraima, which separates the two countries.
Refugees wait to take part in a Salvation Army program.
The reasons for the largest migration of people in Latin American history are well documented. It is estimated that more than 85,000 refugees have passed through the border – some just to buy food and medicine. But most are trying to find a way to survive. The UNHCR reports that three million people have fled Venezuela, with the majority seeking safety in a neighbouring country such as Brazil.
The Salvation Army has been in Brazil for almost 100 years, and in many regions. Until now, however, there was no ministry in Roraima. The nearest corps is in Brasília, accessible only by a four-hour flight.
However, as the refugee crisis developed, it became clear that The Salvation Army had something to contribute, and could fulfil the need for a Christian presence in a desperate situation.
Difficult places
The Brazil Territory stepped out in faith to respond and now, with the support of International Headquarters, The Salvation Army World Service Office and other Salvation Army territories, representatives from Brazil are doing what they can to support their neighbours.
The international and Brazilian response to receive the Venezuelans is not insignificant. Ten shelters have been constructed and aligned with military precision, housing a minimum of 500 people each. Coordination and assistance are the responsibility of the Brazilian military in partnership with the UNHCR.
Refugee children participate in Salvation Army workshops.
But it is not enough. The refugees and migrants continue to come and we continue to meet them while they are on the streets.
The Salvation Army has been invited to work in the shelters. One day we were in a shelter when the manager asked for our help to assist a seven-year-old girl who had recently been diagnosed with severe myopia (short-sightedness). The child simply needed glasses, but the shelter could not help and the girl's mother had no resources with which to pay.
We searched three medical facilities before we found a program to assist vulnerable children. More importantly, this girl could be a part of the program.
The day of the delivery of the new glasses was a time of celebration. We gathered the children of the shelter together and explained the situation. We asked them to be understanding and help their friend to adapt. We wanted to use this as an opportunity to teach children to show respect to one another.
We showed them a funny and educational video about people who wear glasses. Then we gave each of them plastic glasses and had a party to celebrate the occasion. Again, we were put into a situation where 'something' needed to be done. It cost nearly nothing
– just some time to visit doctors and a few dollars to buy plastic glasses.
The shelters are difficult places.
Families are given a tent (which is often divided between two families), water access, general support, food and security. But there is nothing for them to do. The city is impacted with refugees, and it was actually quite underdeveloped prior to the crisis. But those in the shelters are much better off than the hundreds of people living on the streets just trying to survive and waiting for a solution to what appears to be a hopeless situation.
Serving the most vulnerable
Our work is carried out by a small staff of four officers. Because of our specialised work with vulnerable women and children, only women participate on the team. We are grateful for participants of the ELAMI program in Latin America who have come to help us.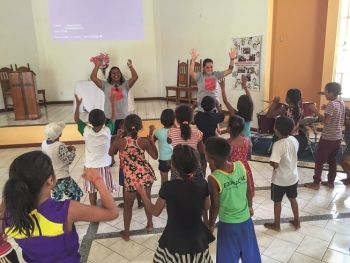 Salvation Army workshops bring joy and hope to children.
We can't do much to help the refugees to find jobs, return to their homes or find new places to live. So our ministry is to help them through the crisis of these days. We use the CLAVES methodology – which is a Christian curriculum based on strengthening family relationships. We run workshops for children, teens and parents. The subjects seem simple (body care, hygiene, respect for old people and the environment) but these children and their mothers are living in desperate and high-risk situations.
We also provide recreational activities, music and games. "You are a real salvation for us," one shelter manager said. Our presence in the shelter was the best time of the week for the children.
Beyond our intervention to work with children, and the small acts of mercy to those who cross our paths, we are finalising an implementing partnershipwith UNFPA (United Nations Population Fund). This will be the first time The Salvation Army has been an implementing partner with this agency of the United Nations. Our work will change slightly as we will be concentrating our efforts more specifically on areas of concern within the shelter system. But we will nevertheless continue to look out for those who need help.
It's gratifying to be able to make a difference in the lives of some people, although we are very aware that they are just grains of sand on a beach of needs. We are constantly reminded that we are in a humanitarian crisis. Each day that we are at the market we are faced with people asking us to include in our shopping some garlic or onions. We know these people need help so we include what we can. We won't give up.
To not get involved with this is to neglect the mission God gave us. I was thinking recently, if The Salvation Army's Founder, William Booth, was living today and seeing the millions of migrants searching for a better life, would he have included in his 'I'll Fight!' speech a line saying: "While there is a refugee crossing the border in search of survival,
I'll fight!"? We'll never know – but for us, we will continue to fight.
Lieutenant Paula Mazzini Mendes is District Youth Secretary in the Paraná and Santa Catarina District of The Salvation Army's Brazil Territory.
This article first appeared in All the World.