When Santa came to town
When Santa came to town
For centuries, Rovaniemi, in Finland's north, enjoyed a fairly anonymous existence. Despite being the administrative and commercial capital of Lapland, it was a small city and very few people outside Finland would have been able to point to it on a map. It certainly wasn't considered much of a tourist destination ... and then Santa Claus came to town.
Santa's decision to move to Rovaniemi, from his traditional home at the North Pole, has its origins in a post-World War Two visit to the city by Eleanor Roosevelt, the former First Lady of the United States. In 1950, Roosevelt made her way to Rovaniemi, allegedly saying she wanted to see Santa Claus while in the Arctic Circle. In response, the city hastily constructed a cabin, and Santa's Village was born.
It wasn't until the mid-1980s, however, when companies began packaging pre-Christmas trips to the Lapland capital, that the city's tourism industry really took off. Rovaniemi (pictured right) is now recognised as the official home of Santa, and the Santa Claus Village attracts around half-a-million visitors each year. 
The Salvation Army has a corps at Rovaniemi and has seen the demand on its services rise in parallel to the increase in tourism. It is the most northerly corps in Finland, although technically it is located just outside (approx. 6km) the Arctic Circle.
"The Christmas season is a very dark period near the Arctic Circle because daylight time is so short," says Captain Teija Heikinheimo, who is the corps leader at Rovaniemi. "During Christmas time, Christmas kettles can be seen on the streets and the corps also arranges many Christmas parties for various kinds of groups.
"Many tourists from Europe and from all over the world come to see Santa Claus and the magical Finnish winter, with reindeers and the Northern Lights. At this time the Rovaniemi airport is the second busiest airport in Finland, with flights from all over the world landing there in the lead-up to Christmas."
Captain Heikinheimo, whose husband, Alpo, is a soldier at the corps, says many of the city's immigrants have found their way to the Army in Rovaniemi.
"There are a lot of foreign students [the University of Lapland is located in the city] and other immigrants in Rovaniemi and they all need a place where to learn the language and the habits of their new homeland," she says. "The Army can provide a helping hand and indeed it arranges things such as Finnish language study at the corps. Many of these immigrants are from Central America and the Middle East. Rovaniemi Corps is one of the most international corps in Finland at the moment!"
The corps also provides welfare assistance, including food, to those who are facing difficult circumstances and regularly works in partnership with Haaparanta Corps, 125km away in Sweden.
"There are a lot of activities at Rovaniemi Corps," says Captain Heikinheimo. "Open doors events invite new people to attend the corps and many have indeed found their spiritual home in the corps community. New members have been enrolled during the past few years, with many of them in the 20-40 age bracket. There has been new life at the corps."
It would seem that there are plenty of reasons for Salvationists at Rovaniemi to enjoy a merry, albeit busy, Christmas this year.
STUDENTS REVITALISE JYVÄSKYLÄ CORPS
It's not just in Rovaniemi that The Salvation Army has a flourishing ministry with international students. In Jyväskylä, in Central Finland, the student population numbers about 30,000. Many
 of these have come from other countries.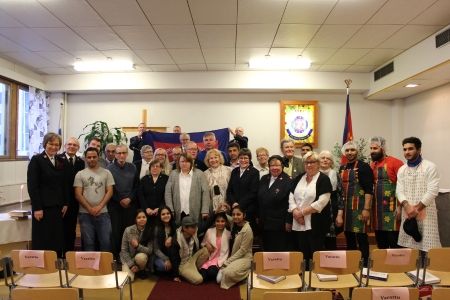 Jyväskylä Corps (pictured right) organises youth activities for these students, attracting about 40-50 young people to worship services and "Nice Friday" evenings. Some of these students have become senior soldiers or adherents.
The corps also arranges special events, especially during national holidays. At Christmas, Finnish families get together to celebrate, and foreign students, unable to be with their own families, are offered fellowship and support at these times. Among the many special activities provided for them are learning how to ski and ice fishing. Many of these students are also enthusiastic helpers with the Christmas kettle collection.
According to Jyväskylä Corps, young foreign students have played a big part in revitalising the corps program.