Around the territory with our leaders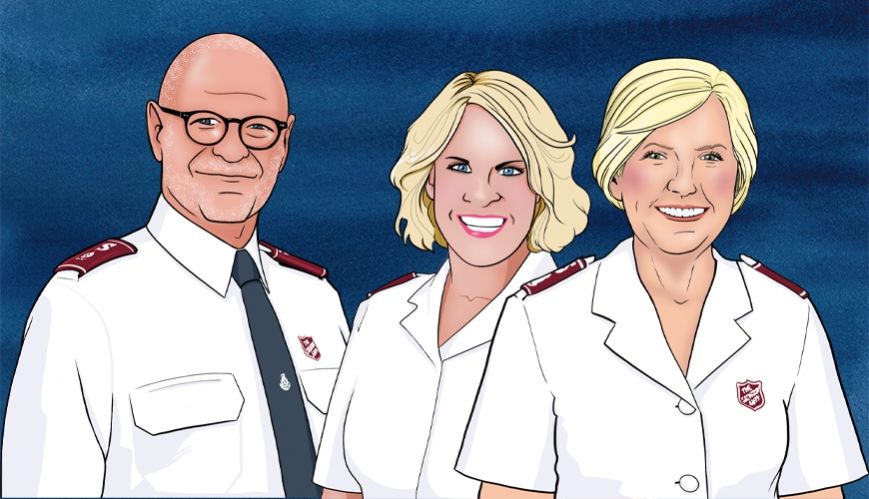 Around the territory with our leaders
Our territorial leadership – Commissioners Robert and Janine Donaldson, and Chief Secretary Colonel Winsome Merrett. Artwork: Rod Allen
Commissioners Janine and Robert Donaldson


Coming 'together' at Sydney Congress Hall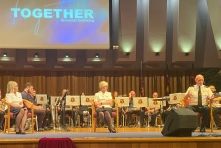 Commissioner Robert Donaldson at Sydney Congress Hall with Commissioner Janine Donaldson (far left) and Colonel Winsome Merrett (middle). 
The Salvation Army has 'a whole gospel for a whole person!' declared Commissioner Robert Donaldson during his challenging yet encouraging message on Sunday 1 May at Sydney Congress Hall as part of the NSW/ACT Division's special 'Together' meeting. 
Commissioner Robert made it clear that in this ever-changing world, The Salvation Army needed to be innovative and relevant with its methods and strategies regarding how the whole gospel was delivered.
As an example of how the good news of Jesus could be effectively and relationally shared, he referred to the NSW/ACT Divisional Plan of Gathered Worship, Communities of Hope and Kingdom [Community] Tables that provided multifaceted worship and ministry options.
Chief Secretary Colonel Winsome Merrett, Divisional Commander Lieut-Colonel Miriam Gluyas, Major Kylie Collinson and Sister Susan Gong then shared some uplifting stories of people of all ages coming to Jesus, vulnerable people being lifted through assistance that built their capacity to not only survive but to flourish, and disciples being mentored.
A highlight of the meeting was a praise song and dance led by a 20-strong group from Canterbury Salvos, which is a new collaboration of four corps.
---
Centring on God at Ringwood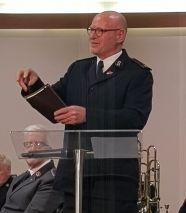 Commissioner Robert Donaldson shares his message at Ringwood Corps.
Commissioner Robert Donaldson led the worship service at Ringwood Corps in Melbourne on Sunday 24 April, which included Anzac Day reflections followed by a community lunch.
The Commissioner's teaching was on the 'Centrality of God', based on John 15:5: "I am the Vine; you are the branches. If a man remains in me and I in him, he will bear much fruit."
He shared a story of how, during COVID-19 restrictions, he and Commissioner Janine went out for a coffee, sat down in a cafe and chatted to people about their dogs. Over a few weeks, conversations moved to a more general conversation with these cafe regulars, which led to people asking the Donaldsons what they did for a living. This allowed the Commissioners to share the love of God with their new acquaintances.
Commissioner Robert then prayed that we would become more and more like Jesus so that others won't see us but see Jesus in us. The community lunch was a great time of fellowship and a chance for many to speak with the Commissioner.
---
Kids steal the show at Rouse Hill opening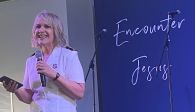 Commissioner Janine shares with the Rouse Hill congregation.
It was a time of celebration for all ages at the official opening of the Rouse Hill Corps' new complex in Sydney last month.
But the kids were the stars of the show when it came to greeting their territorial leaders, Commissioners Janine and Robert Donaldson, who were the special guests.  
During the Sunday morning service, senior soldier Randy Wood interviewed junior soldier Lily and several other children, giving them the chance to ask the Donaldsons a question.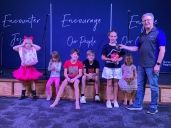 Randy Wood interviews Lily during question time.
Georgia, 4, asked: "What is your favourite healthy food?" Commissioner Robert answered: "We can't think of one, but we like to eat healthy food."
Evangeline asked: "You do stuff for The Salvation Army, but what job do you do to earn money?" Commissioner Janine answered: "I do what I love and get paid for it!"  
And still, another questioned: "What's your favourite continent?" Commissioner Janine answered: "Africa and Australia because they both begin with 'A'."  
After the service, some Rouse Hill kids enjoyed sitting in the sunshine in the new courtyard.
---
And just a thought ...


Robert: Since Easter, I have been reflecting on Jesus as the sacrificial lamb and, at the same time, our eternal high priest, as described in the book of Hebrews. The resulting invitation is wonderful: we should "boldly come to the throne of our gracious God" (Hebrews 4:16).
Janine: Easter is a reminder that there is always an opportunity for light and hope to enter our darkness. Just as a small candle can brighten up even the darkest of rooms, the light of Jesus can shine brightly into all of life's dark places. And the good news is that Jesus' light is brighter than anything else. "I am the light of the world. Anyone who follows me will never walk in darkness. They will have that light. They will have life" (John 8:12, NIRV).
There is no dark place you will ever go where Jesus is not present. Even in death! In the darkest moments, Jesus is there to save and restore life in the brightness of the presence of God. To restore relationships. To bring hope and deep peace. To you, to me.
---
Colonel Winsome Merrett, Chief Secretary


On tour in Queensland and Northern NSW

(Clockwise from left) Colonel Winsome Merrett at the Red Hill bicycle recycling workshop; visiting Northern Rivers Corps Officers Captains Donna and Phil Sutcliffe; some of the flood-damaged properties in Lismore.
Colonel Winsome Merrett set a course across parts of Queensland and Northern NSW throughout April, visiting flood-affected regions and dropping in on local corps and centres.
In Brisbane, she got the wheels turning by meeting the bicycle recycling team at Red Hill Salvos Stores. She followed this up by visiting Woolloongabba E-Plus, Brisbane Streetlevel, Moonyah Drug and Alcohol Services and Cairns Aged Care Centre at Chapel Hill.
Winsome also joined in worship at Lockyer Valley Corps, which takes in a number of smaller rural communities such as Grantham, Laidley, Helidon and Withcott. Many of these communities had been affected by the recent flooding.
Corps Officer Captain B.J. Moulder said the Chief Secretary preached on Luke 18:31-43. "It was a great morning of worship, God was glorified, we were blessed, and good old country hospitality was laid out on the table and feast was had by all," B.J said.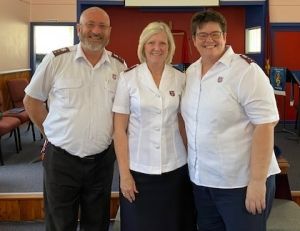 Colonel Winsome Merrett with Captains B.J. and Rick Moulder at Lockyer Valley.
Heading down to NSW, Colonel Winsome visited Northern Rivers Corps at Lismore and was briefed on the ongoing work of The Salvation Army in evacuation centres, recovery hubs and through various services.
"[I am] thankful for the amazing resilience and leadership of Captains Donna and Phil Sutcliffe, especially over these last five weeks through the flooding at Lismore and surrounds," she said.
"The devastation hits home when you see it on the ground. The flood level was another two metres above the highest measure on one building. [I am thankful] for all those who have volunteered in recent days at evacuation centres and recovery hubs, serving these impacted communities." 
Moving down to Central and Southern NSW, she was present for the dedication of the new Bathurst/Mudgee Mission House and the dedication of a commemorative plaque at 'The Flat' in Dennilquin, recognising the historical relationship between Australia's First Nations peoples and The Salvation Army in the region.
Later in April, Colonel Winsome headed to Tasmania, joining Kingsborough/Huon Corps in a Good Friday Service. After seeing their combined community and worship centre, she joined Clarence City Corps on Easter Sunday. 
---
And just a thought ...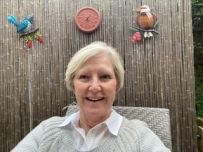 I enjoy sitting in the courtyard at the back of our place – one of my favourite places during the COVID-19 pandemic. There's lots of fresh air, and a view of trees and sky or stars, depending on the time of day.
The leaves around our courtyard are beginning to change colour and fall. It is a reminder to me that regardless of the changing seasons, God never changes. His love and compassion are new and fresh every morning. He is a faithful, unchanging God.