Better Together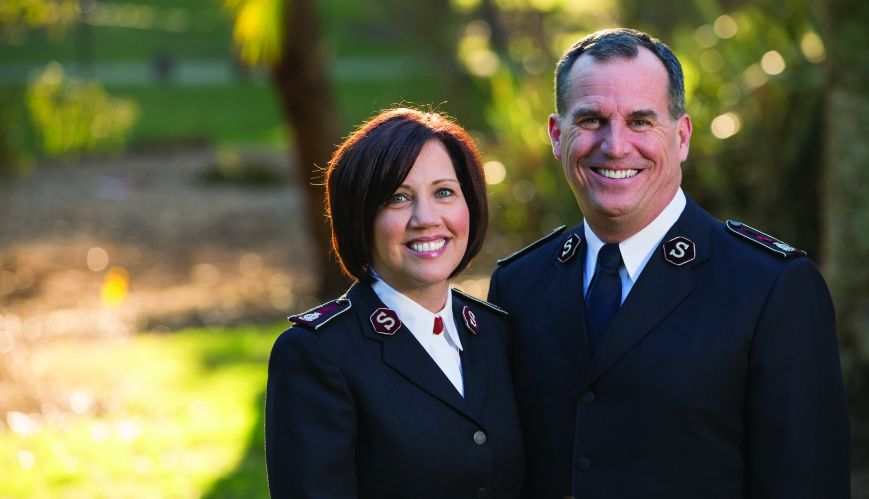 Better Together
21 April 2016
The Salvation Army in Australia will return to a one territory operation after almost 100 years of having two separate territories. Officially announced on 1 March, by International Chief of the Staff Commissioner Brian Peddle, unification of the Australia Eastern and Southern territories will begin to take tangible effect when a National Commander begins work on 1 June from a headquarters in Canberra. Work will then begin on bringing all departments and mission expressions of each current territory together to fit the one territory model in time for a 1 January 2019 official start date.
Current Australia Southern Territory commander Commissioner Floyd Tidd will become National Commander. His wife, Commissioner Tracey Tidd, will become National President of Women's Ministries. Australia Eastern Territory leaders, Commissioners James and Jan Condon, are due to retire at the end of next month.
With the Condons in retirement and the Tidds moving to the national roles, the current Australia Eastern Territory Chief Secretary, Colonel Mark Campbell, and Australia Southern Territory Chief Secretary, Colonel Graeme Rigley, will assume day-to-day leadership of their territories until the end of this year. Colonel Julie Campbell will remain Australia Eastern Territory School for Officer Training principal and will add Territorial Secretary for Women's Ministries to her responsibilities for the rest of 2016. Colonel Karyn Rigley will remain Australia Southern Territory Secretary for Women's Ministries.
On 1 January 2017, Colonel Mark Campbell will become National Chief Secretary and Colonel Julie Campbell will become National Secretary for Women's Ministries. Decisions on how current operations within the two territories will be merged and staffed will be made over the next two years. These will include the location of a permanent national headquarters.
The Salvation Army in Australia was last one territory in 1921, when the Australia Eastern and Australia Southern territories were formed. From 1886, Australia was part of the Australasian Territory, which incorporated all of Australia and New Zealand, with headquarters in Melbourne. New Zealand became a single territory in 1912, leaving Australia as a stand-alone territory until the formation of the separate Australia Eastern and Southern territories on 1 January 1921.
Active discussion on the return to one territory for Australia has been going on for the past 25 years between leaders of the two current Australian territories and International Headquarters, according to a document titled Australia One and prepared to explain the decision and process. Retired Canadian officer Colonel Glen Shepherd began an independent review of the proposal in 2015. Colonel Shepherd consulted with territorial and divisional leaders, members of territorial advisory boards, key employees and officers.
In January, the two current territorial leaders and Colonel Shepherd recommended to the International Management Council that the two territories commence the amalgamation process. The International Management Council agreed with the recommendation and General André Cox gave his approval.
In a joint statement within the Australia One document, Commissioners James Condon and Floyd Tidd say: "This decision can best be summarised by our shared conviction that we are better together." They acknowledge the announcement will raise many questions. Answers will be developed over time. They commit to an open and consultative process with all affected officers and staff. Counselling and pastoral care services will be made available as officers and staff deal with anticipated changes. External consultants will be engaged to assist in the unification process.
Further information is available at: mysalvos.org. au/AustraliaOne. Questions can be emailed to: AustraliaOne@aue.salvationarmy.org