Indian women gather for leadership seminar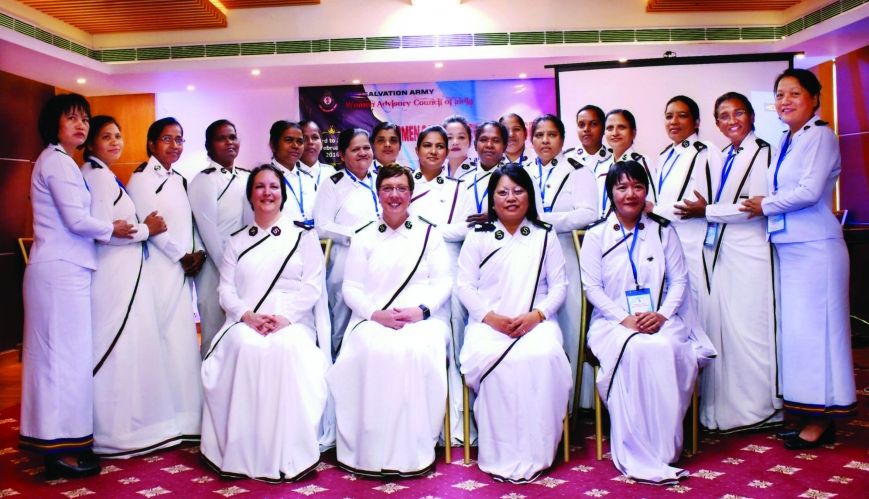 Indian women gather for leadership seminar
28 April 2016
Nineteen women delegates from across The Salvation Army's six Indian territories gathered in Thiruvananthapuram, Kerala, for a capacity leadership development seminar. Special guests included Commissioner Rosalie Peddle (World Secretary for Women's Ministries), Commissioner Nu-i (South Asia Zonal Secretary for Women's Ministries) and Major Margaret Booth (International Headquarters). The delegates shared together in learning, fellowship and worship.
Subjects under consideration included "Leadership and self-esteem", "Taking your leadership to a higher level", "Hospitality" and "Reaching out". Other classes taught practical skills in crafts and handiwork.
In a seminar about empowering women officers for leadership, Commissioner Peddle shared experiences from her own leadership development, focused on aspects of understanding who God has created the delegates to be as women leaders, and encouraged them to embrace all that God is calling them to do as they serve faithfully and joyfully through their calling and covenant.
A spiritual meeting was conducted by Commissioner Nu-i, with the Bible message given by Commissioner Peddle. The world secretary addressed the seminar's theme, "Life In All Its Fullness", as she shared about the experiences of Esther, as recorded in the Old Testament.
She encouraged the delegates to "dare to be different" as, through their leadership, they impact and influence their people with the love and compassion of Christ who continues to make the impossible possible. The meeting concluded with all the delegates kneeling in prayer, dedicating their lives in renewed commitment to God.