General rallies US soldiers to be 'mobilised'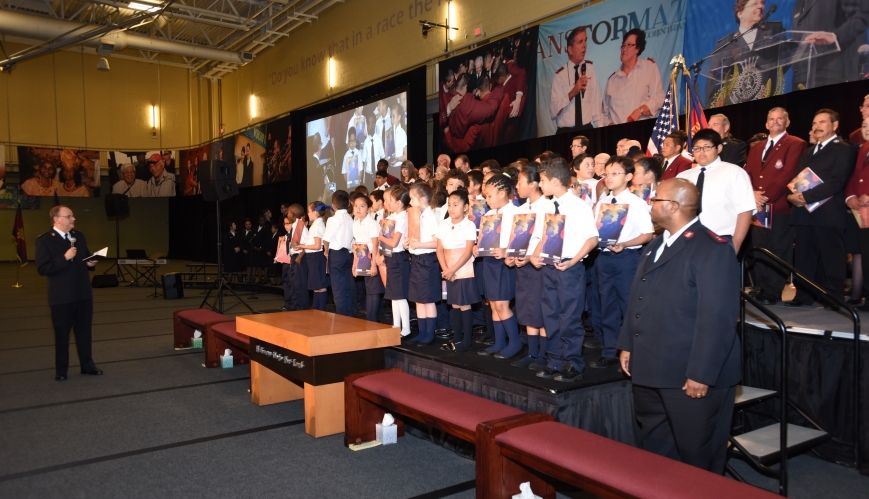 General rallies US soldiers to be 'mobilised'
17 June 2016
The Salvation Army's world leader, General André Cox, told Salvationists from the Southwest Division of the USA Western Territory that they were "born to be mobilised". His words of challenge came during a Beyond Boundless divisional soldiers rally in Phoenix, Arizona, that was held after the conclusion of the National Advisory Organisations Conference in the same city, at which the General and Commissioner Silvia Cox (World President of Women's Ministries) had been special guests.
The international visitors, USA National leaders Commissioners David and Barbara Jeffrey, territorial leaders Commissioners James and Carolyn Knaggs and almost 1500 Salvationists from across the division were welcomed by Divisional Commander Lieut-Colonel Joe Posillico. Music support was provided by the USA Western Territory Staff Band.
The diversity of the division was celebrated from the beginning through opening prayers in English, Korean and Spanish. One of the highlights of the meeting was the triple enrolment of 44 junior soldiers, 35 senior soldiers and 14 adherents from corps across the division.
Picking up on the Beyond Boundless theme, the General recalled the Boundless International Congress in July last year. "It was not about patting ourselves on the back," he said, "but giving glory to God for what he has done through the Army. I am amazed what God has done through his imperfect Salvation Army. But have we become complacent, too ready to enjoy ourselves in comfortable halls? An Army confined to barracks does not make sense. We were born to be mobilised, to bring change and transformation.
"Where The Salvation Army is growing, it is out in the community, visible. That's what we were designed to be. God knows our feelings of inadequacy as well as the difficulties. But in the messiness, dangers, uncertainty and problems God reveals himself to us and grants us the grace to continue to stand."