You are here:
Home › News › 2016 › 06 › 24 › Army Leader To Tell His Story At Public Forum On Refugees
Army leader to tell his story at public forum on refugees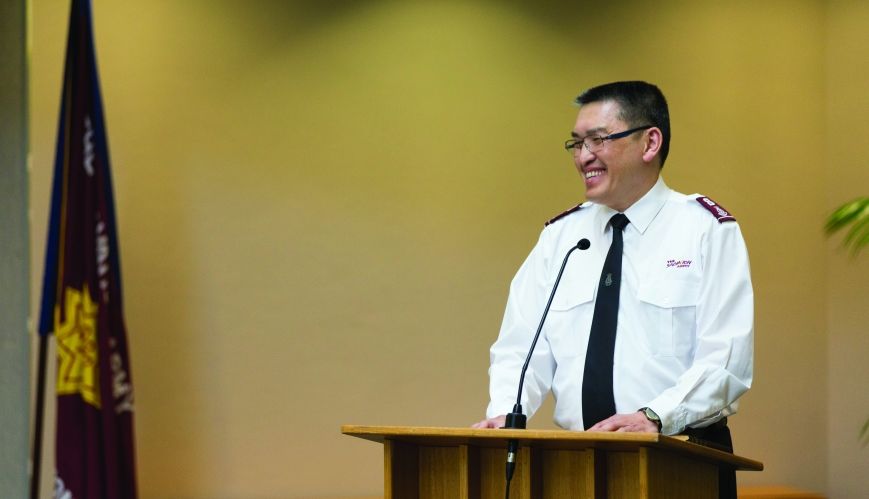 Army leader to tell his story at public forum on refugees
24 June 2016
The Salvation Army's National Secretary, Lieutenant-Colonel Samuel Pho, will share about his experiences as a refugee at a public forum on the global displaced persons crisis at St Stephen's Uniting Church in Sydney on Tuesday 28 June.
A number of Christian denominational leaders will speak alongside Lieut-Colonel Pho at the forum, which is entitled "I was a stranger and you invited me in".
Forced to flee persecution in Vietnam at age 21, Lieut-Colonel Pho left behind his family and escaped in a fishing boat without knowing his final destination. He knows too well the emotions association with loss and the fear of the unknown. Through sharing his story at the forum, Lieut-Colonel Pho hopes to shed light on the worldwide refugee crisis.
"There's a lot of similarities between my experience and the asylum seekers now. Fleeing for life," he said. "It's very hard to leave everything behind and uproot yourself, where you have no idea where you're going. That was very, very hard. Normally people don't do that. They know where they're going. There's no guarantee whatsoever so we're playing with our lives really. You don't make this sort of decision lightly. People have got to understand that."
Lieut-Colonel Pho would like encourage Australians to re-think the way they view refugees. "We sometimes look at refugees as a group. But if you look at them as individuals, you change your mind. They have a story to tell." He also believes the Army is showing the way in refugee crises. "I think the Army has always seen people as human beings, nothing else."
The forum is open to the public and begins at 6.30pm at St Stephens's Uniting Church, located at 197 Macquarie Street Sydney. For further information, email smansour@ncca.org.au or phone (02) 8259 0819 or 0418 713 733.
Read Samuel Pho's full story HERE.