Tonga welcomes General on first-ever visit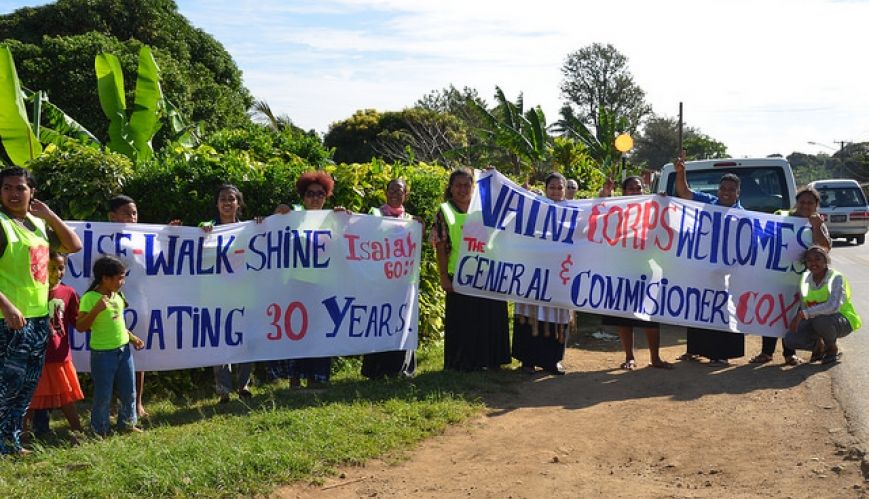 Tonga welcomes General on first-ever visit
13 July 2016
Excited officers and soldiers gathered at Tonga's Fuaʻamotu International Airport, enjoying music from New Zealand's Hamilton City Corps Band, as they waited for General André Cox and Commissioner Silvia Cox (World President of Women's Ministries), on what was the first visit to Tonga by a Salvation Army General.
The international visitors were accompanied by Commissioners Robert and Janine Donaldson, leaders of the New Zealand, Fiji and Tonga Territory, who were visiting to lead The Salvation Army's 30th anniversary celebrations last week.
While at the airport, the General was introduced to Tonga's Prime Minister, the Hon Samuela 'Akilisi Pohiva. Tonga's regional leaders, Captains Sila and Malia Siufanga, are the first indigenous leaders of The Salvation Army in Tonga. Captain Sila Siufanga commented: "We are part of an international Salvation Army, but we have been here 30 years and we want to belong locally – to be a truly Tongan Salvation Army!" He added, "Even though Christianity has been in the Kingdom of Tonga for a century, it still needs to be lived out in people's lives. It's not just about dressing up for Sunday – it's about God living in us, and us helping to bring the full life of Jesus to others."
A Tonga cultural performance was part of the 30th anniversary celebrations.
Celebrations got off to a great start with a Saturday morning march through the streets of the capital city of Nuku'alofa. In the meeting that followed, the General urged people not to become complacent, compromise their faith or rely on past experiences. 'This isn't a time to sit down,' he said, "this is a time to rise up, because God has a work to be done in this Kingdom of Tonga!" More than 50 people moved to the mercy seat to pray after the General finished preaching.
Saturday evening was a spectacular celebration of Tongan culture. Commissioner Cox reminded people that the message of The Salvation Army was one of freedom and hope. "It is a message worth proclaiming,' she said, 'and it is our duty to do so. Let us arise and shine for Jesus!"
On Sunday, the General enrolled 30 junior soldiers and 30 senior soldiers – an increase of 20 per cent in the region's soldier ranks. A large number of people also indicated their willingness to serve as officers. Tonga has just tightened its law prohibiting most commercial business on the Sabbath. The General asked if Sunday worship was so respected and routine that Salvationists took it for granted. "If we neglect the Word of God,' he cautioned, 'then slowly we will become dry in our soul, and we will die." In the afternoon, the international leaders met officers over lunch, and later enjoyed a pizza dinner with some of the region's young adults.
The General also presented certificates of appreciation to four Salvationists, including the territory's longest serving soldier, Siua Palu. In bringing the 30th anniversary celebrations to a close, Territorial Commander Commissioner Robert Donaldson said: 'In a territory made up of New Zealand, Fiji and Tonga, because you are the youngest part and the smallest nation, maybe sometimes you feel the least important. But if only the rest of the territory could have Tonga's heart and commitment!'
Visit to Western Fiji
Men from Saweni Village who served in the wake of Tropical Cyclone Winston.
The Army's international leaders then headed to western Fiji to thank some of the people involved in the Army's relief work after Tropical Cyclone Winston struck in February. The cyclone was the largest recorded in the Southern hemisphere. "When people's hopes are dashed, we roll up our sleeves and we go out," the General said of The Salvation Army's response to tragedy. "Thank you for being a living example of Christ as you reached out to people who were hurting. Our hearts should always be open and tender to meet the needs of those around us." A group of young men from Saweni Village received special recognition because of their dedication to the cyclone relief effort.