Campbells installed ahead of leaders gathering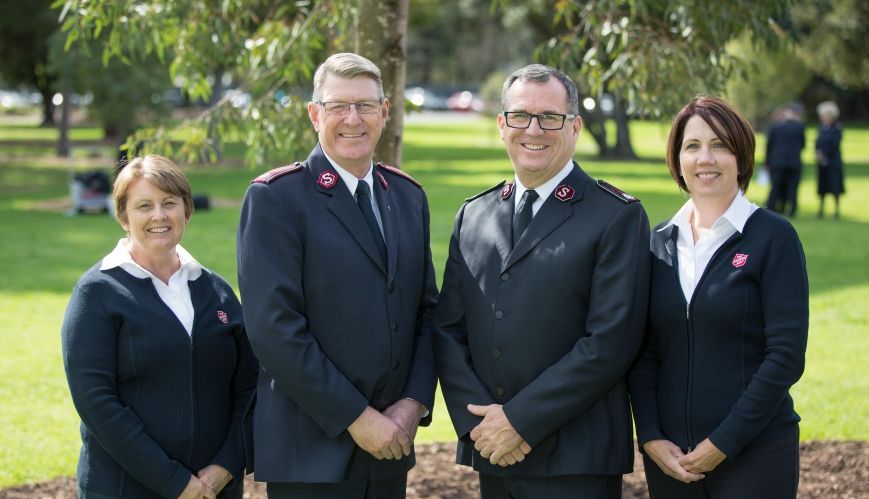 Campbells installed ahead of leaders gathering
27 January 2017
Colonels Julie and Mark Campbell will be installed in their new national leadership roles this Sunday, ahead of an Australia-wide gathering of Salvation Army leaders in Geelong next week.
Salvation Army leaders across Australia are joining together for a National Leadership Conference in Geelong from 29 January to 1 February. The installation of Colonel Mark as National Chief Secretary and Colonel Julie as National Secretary for Women's Ministries will be live streamed on Sunday 29 January, enabling Salvos across the nation to watch this significant moment.
"[The live stream is] important for the people of the East, who know Mark and Julie well, to be able to celebrate and support them in prayer and people from the South to meet them in that setting," said National Commander, Commissioner Floyd Tidd.
Amongst the conference guests includes the national leadership team, and cabinet members, divisional leaders and training college leaders from both the Australia Eastern and Southern territories. The conference is the second time leaders from across Australia have met in this setting, the first being two years ago, prior to the Australia One announcement.
Following the installation of the Campbells on Sunday evening, a half-day of prayer will take place the next day, which will set the direction for conference. Over the following days the conference will focus on the Australia One project.
"Primary purpose is to align vision with everyone, bring an update and understanding of where we are in the Australia One project, get feedback from a divisional perspective, and allow them to speak into the development of Australia One. Also, to take messaging back to their own settings," said Commissioner Tidd.
In particular Commissioner Tidd hopes this conference will be an opportunity for Australian leaders to unite as one national team. "Divisional leaders can feel a long way from the centre of what's happening and out of the loop of conversation and so coming together ensures that they feel part of the leadership team. My personal view on THQ and DHQ function is we're one leadership team. Coming together enables that to become stronger in the awareness and development of one leadership team."
The Campbells' installation on 29 January will begin at 7.30pm (NSW, VIC, ACT, TAS), 7pm (SA), 6.30pm (Qld), 6pm (NT) and 4.30pm (WA). Go to australiaone.info/live