You are here:
Home › News › 2017 › 01 › 30 › Salvation Army In Australia Launches New National Magazine
Salvation Army in Australia launches new national magazine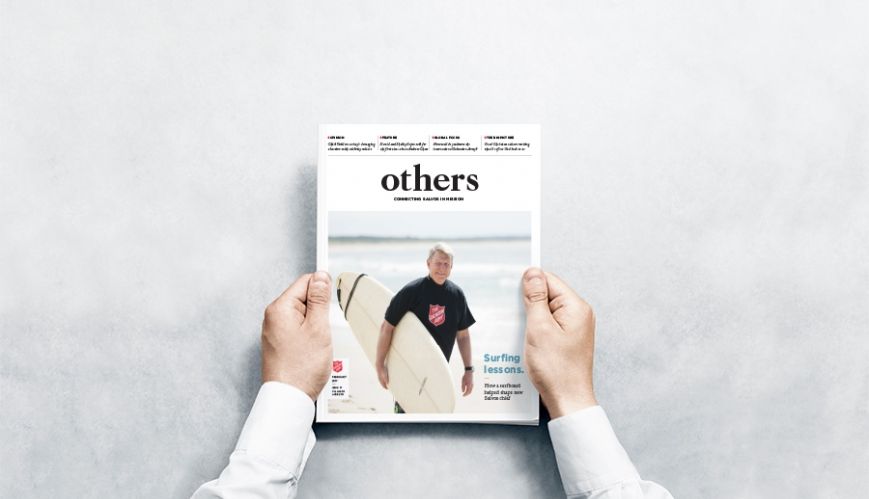 Salvation Army in Australia launches new national magazine
30 January 2017
Mention the word "others" in a Salvation Army context and it will usually bring to mind the story of General William Booth's famous one-word telegram to Salvation Army officers.

It is said that Booth, the founder of the Army, sent the telegram to officers around the world at Christmas-time 1910 to remind them what, or who, should be the focus of their work. The accuracy of the story has long been the subject of much conjecture, but whether true or not, that single word –"others" – has shaped the culture of an entire organisation. 

Through the years, the word has appeared as a slogan in many different settings, and several writers have described it as "The Salvation Army's DNA". In other words, it's a name that is deeply rooted and that points towards our foundation. Catherine Booth, wife of William and co-founder of The Salvation Army, summed it up wonderfully: "You are not here in the world for yourself," she said. "You have been sent here for others. The world is waiting for you!"
 
Today (30 January), The Salvation Army in Australia enters a new and exciting phase in the development of its editorial publications, with the launch of a new national internal magazine, Others. The selection of a name for the new magazine has been a considered process; much thought and discussion has taken place, and feedback on name options sought.

What has been fascinating about the feedback is just how polarised people's views can be. Strong opinions have been expressed, with many adamant that certain words reflecting who we are as an Army, must appear in the new name.

The choice of the name Others, however, from among dozens of prospective candidates, is deliberate. Yes, it does borrow from the famous story of William Booth and his telegram, but its purpose runs much deeper. Having it as the masthead for The Salvation Army's monthly internal magazine in Australia will be a regular visible reminder to Salvationists of why God has raised up the organisation. And the subhead we have given the magazine – 'Connecting Salvos in Mission' – serves to sharpen this focus.

A subscription to the hard copy magazine will cost just $2 per month, delivery included. Readers can subscribe online by going to others.org.au/subscribe

You can also be notified of when the free online version of the magazine is available to read simply by going to others.org.au/read-magazine and sending us your email address. The first issue of Others will be available to read on Wednesday 1 February. Additionally, sign up for our 'The Week in Review' summary of the top stories on the website by going to others.org.au/TWIR

How to connect:
Read Others online at others.org.au
Subscribe to the hard-copy magazine for $2 a month at others.org.au/subscribe
Connect with us on social media at www.facebook.com/OthersAU
www.twitter.com/OthersAU
www.instagram.com/Others_AU

"We should not be as concerned about who attends our corps from the community, but more concerned about how our corps attend the community," said National Commander, Commissioner Floyd Tidd, at the official launch of Australia One in September last year. In other words, it's all about, as it has always been for Salvationists, Others.