You are here:
Home › News › 2017 › 02 › 06 › Welcome Service Introduces New Cadets Territorial Leaders
Welcome service introduces new cadets, territorial leaders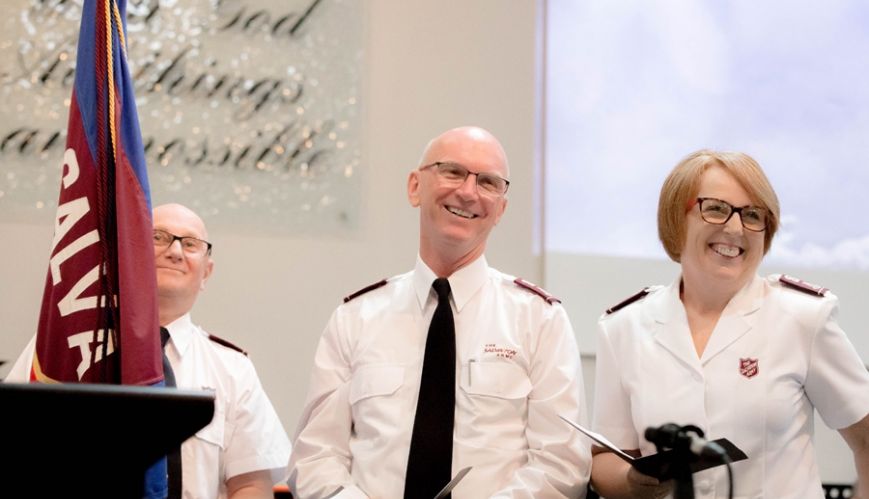 Welcome service introduces new cadets, territorial leaders
6 February 2017
Seven new Salvation Army cadets, from the Messengers of Compassion session, were officially introduced during a welcome service at Hurstville Corps in Sydney last night.
Lieutenant-Colonels Kelvin and Cheralynne Pethybridge also received a public welcome during the service, being officially installed into their new roles – Lieut-Colonel Kelvin as the Chief-Secretary-in-Charge for the Australia Eastern Territory and Lieut-Colonel Cheralynne as the Territorial President for Women's Ministries.
National Commander, Commissioner Floyd Tidd, opened the ceremony by welcoming the Messengers of Compassion and the Pethybridges to their new leadership opportunities. "We are seeing him [God] raise up new leadership, to lead those who are responding."
Territorial Candidates Secretaries, Captains Scott and Sharon Allen introduced to the congregation the seven cadets, and their children – Cadets Rita and Ashley Biermann, Cadets Peter and Andrea Martin, Cadet Hayley Cooke, Cadet Star Conliffe and Cadet Charlie Jung.
"Scott and I are very confident you will see, in this session: calling, character and capacity. A group of people who are willing to be stretched by God, who chose to surrender to God in order to be all that he has created them to be and people whose hearts want to connect more with the heart of God. We believe that these cadets will wear the mantle of their sessional name – Messengers of Compassion – well," said Captain Sharon.
Seven new cadets, from the Messengers of Compassion, have begun their studies at the School For Officer Training college in Sydney.
The newly appointed National School For Officer Training Principal, Major Greg Morgan, shared about the future training of Salvation Army officers. On 25 January, Commissioner Floyd announced the relocation of The Salvation Army's National School For Officer Training facility to Catherine Booth College in Melbourne from January 2018.
"On behalf of the National School For Officer Training staff, I want pledge to you [future cadets] our best efforts. We will do the best we can to give you every opportunity to pursue God's call for your life," he said.
During the service, two cadets – Ashley and Andrea – shared their testimonies and recalled the moments when they were called to ministry. Both shared how God's plans for their lives were different to what they expected.
Commissioners Floyd and Tracey Tidd then installed Lieut-Colonels Kelvin and Cheralynne in their new appointments.
Following the instalment, Lieut-Colonel Cheralynne reflected on God's vision for her life as she stepped in her new appointment. "It is my desire that people will see that my reliance is on God and his leading. My constant prayer throughout every appointment, and this current one is no exception, is that people see Jesus in me."
Lieut-Colonel Kelvin then brought a sermon, speaking about the importance of meeting both physical and spiritual needs in the lives of people, while drawing from the Bible passage, Acts 3. "We need to get actively involved, through a spiritual lens, in people's lives," he said.
Throughout the welcome and installation service, the Sydney Staff Songsters and Hurstville Band led the congregation in worship.