You are here:
Home › News › 2017 › 02 › 20 › Salvo Officer Uses Cooking Lessons To Teach Kids Life Skills
Salvo officer uses cooking lessons to teach kids life skills
Salvo officer uses cooking lessons to teach kids life skills
20 February 2017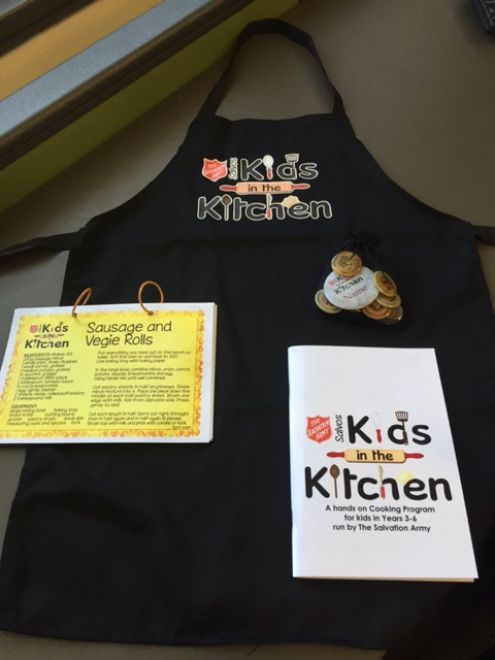 Major Cathryn Williamson is teaching children how to cook through her new program, "Kids in the Kitchen".
A new program that teaches children to cook has been created by The Salvation Army's Major Cathryn Williamson.
Major Williamson, who the Corps Officer at Cowra in Central West NSW, has spent the past eight months developing the program, "Kids in the Kitchen". Launched earlier this month, the 10-week course takes 19 school-age kids, from years three to six, and teaches them to cook 10 different dishes. They also learn food safety tips, budgeting, healthy meal planning, kitchen cleanliness, and teamwork.
"Parents are so busy that they don't have time to teach kids how to cook. I think there's a dependence in our society on takeaway," said Major Williamson.
"They [the children] will be encouraged to make healthy food choices, to experiment with new foods and foster creativity, confidence and self-esteem. Kids will be equipped with skills to make meals from scratch and select ingredients that they need to make healthy choices and tasty food for the whole family."
Since the launch of Kids in the Kitchen, Major Williamson has received positive feedback from the families involved. Many of her students have even started cooking meals at home, under the supervision of their parents.
As well as teaching the children practical life skills, Major Williamson also educates them about spiritual life skills. Because most of the students don't come from a church background, Major Williamson felt prompted to include a spiritual education aspect to the program. Each week, the class includes a devotion, linking an ingredient, technique or piece of cooking equipment to the Christian faith.
Major Williamson has received requests from other Salvation Army corps about expanding the program across Australia.
Kids in the Kitchen costs $5 per student, per week. For those interested in taking part in the 10-week program, email Major Williamson at cathryn.williamson@aue.salvationarmy.org.