You are here:
Home › News › 2017 › 02 › 24 › Great Ocean Road Walk To Raise Funds For Freedom Partnership
Great Ocean Road walk to raise funds for Freedom Partnership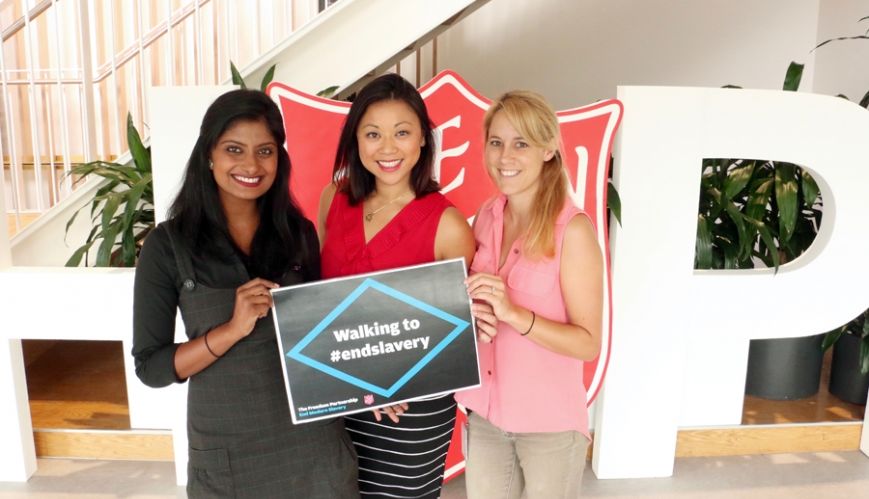 Great Ocean Road walk to raise funds for Freedom Partnership
24 February 2017
Six people will walk the iconic Great Ocean Road, along Victoria's south-west coast, from 24-26 February to raise funds for The Salvation Army's Freedom Partnership to End Modern Slavery.
Across three days, Jenny Stanger, National Director of the Freedom Partnership, and her husband Greg, will join Sydney Hirt, The Freedom Partnership's Social Media Officer, and her fiancé, Dr Jonathan Freeston, to walk 40km from Apollo Bay to the Twelve Apostles. Cyndi Phan and Natalia George from the Army's Human Resources Department in Sydney are also completing the walk.
All proceeds will be donated to The Salvation Army's Trafficking Slavery Safe House in Sydney. This house is Australia's only refuge for victims of modern slavery, slavery-like practices and human trafficking.
"Through my work I continually see how vital the Trafficking and Slavery Safe House is for restoring and empowering the lives of those affected by slavery and exploitation," said Sydney.
"But the work of the Safe House operates entirely on community donations and could not continue without fundraising efforts like this. So taking part in this trek enables me to raise awareness about the work of our safe house and also raise much-needed funds at the same time."
Aside from the occasional bushwalk and charity walkathons, Sydney said she has never completed a trek on this scale. While it will be a challenge, Sydney believes it's important for her to lead by example in helping to bring about change.
"The women and men who are supported through the Freedom Partnership constantly show great resilience in the face of adversity, and their stories of hope continually inspire me to push myself and never give up. That has been a big motivation for me in taking on the challenge of this trek."
Each participant is required to raise $2500. To support Sydney in her trek, go to chuffed.org/fundraiser/great-ocean-walkSydJono.
Sydney will be posting regular updates throughout the walk. To follow the progress of the six trekkers follow @partner4freedom on Facebook, Twitter and Instagram.
Go to endsalvery.salvos.org.au for further information about The SalvationArmy's Freedom Partnership to End Modern Slavery.
A Modern Slavery Act in Australia
In some long-awaited news, the Australian Government last week announced an inquiry into establishing a Modern Slavery Act in Australia.
The Foreign Affairs and Aid Sub-Committee of the Parliament's Joint Standing Committee on Foreign Affairs, Defence and Trade has commenced an inquiry into whether Australia should adopt national legislation to combat modern slavery, comparable to the United Kingdom's Modern Slavery Act 2015.
If adopted, this national legislation will greatly discourage slavery in Australian supply chains.
Others magazine will report on this announcement in greater detail next week.