You are here:
Home › News › 2017 › 03 › 01 › Lifestyle Channel To Feature Army House In 100th Episode
Lifestyle channel to feature Army house in 100th episode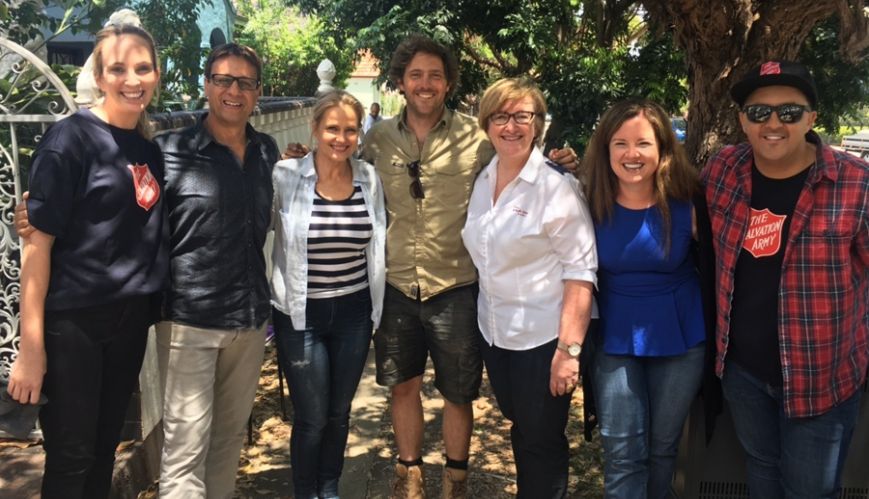 Lifestyle channel to feature Army house in 100th episode
1 March 2017
A Salvation Army property in Petersham is being renovated and then auctioned off as part of the 100th episode of Foxtel's Selling Houses Australia program, which features on the Lifestyle channel.
Selling Houses Australia renovates homes that are unable to sell in the current real estate market. As a way to celebrate 10 seasons on television, Beyond Productions, which produces the lifestyle makeover program, chose to give back to the community by renovating a not-for-profit property.
Renovations and filming for the milestone episode began in mid-November and the episode will air on 1 March, 2017. Alongside construction members and Selling Housing Australia hosts – Andrew Winter, Shaunna Blaze and Charlie Albone – a team of Salvation Army employees and volunteers pitched in and assisted with painting, sanding and gardening as part of the property's makeover.
Major Bob Seymour, former manager of the Army's recovery service, William Booth House, and Illawarra multi-site team member, Captain Robyn Black, will be the first Salvation Army personnel to see the newly renovated house and will feature in the final reveal on the 100th episode. The renovated house will then be auctioned off on 25 February before the episode is aired.
The episode will also feature three stories of individuals whose lives have been transformed through The Salvation Army. Owen will share his story of being homeless as a teenager and how he turned his life around through the help of the Army's youth homelessness centre in Sydney, Oasis Youth Support Network.
The Petersham house has a long history with the Army. It was first purchased by The Salvation Army founder's son, Bramwell Booth, on 2 December, 1920. For a number of years the School for Officer Training college principal resided in this house. After the Petersham training college closed during the Great Depression, this property became home to a succession of Salvation Army officers.
Originally purchased for 1150 pounds, the Army will make a substantial profit from the sale. All proceeds will go towards the work and ministry of The Salvation Army.
Tune into the Lifestyle Channel on 1 March to watch The Salvation Army in the 100th episode of Selling Houses Australia.
NOTE: A number of Salvation Army properties were considered for Selling Houses Australia's 100th episode. The Army's Property Team chose the Petersham house due to their previous plans to sell this property.