Wez's cafe l'artte a big hit
Wez's cafe l'artte a big hit
20 March 2017
Wez Koni started experimenting with coffee art when he got a job at the Macquarie Fields Salvation Army's coffee hub.
By Lauren Martin

Many connoisseurs would advocate coffee as an art form. But Salvation Army worker Wesley Koni has taken the art of coffee to a new level.

Having worked for The Salvation Army's Macquarie Fields Mission for seven years doing general maintenance, Wez jumped at the opportunity to set up a coffee hub outside its thrift store.
He learned how to use the coffee machine and practised percolating the perfect drop. But in each cup of caffeinated goodness, budding artist Wes saw something more.

"I do sketching and life-art and stuff," he says. "I started watching YouTube because I found it interesting to look at coffee art on YouTube.
"It was just something new I hadn't experienced before – doing art on coffee – and i just put my art together with coffee and it just went from there."

With a little toothpick and a large amount of creative flair, Wez began to stun and delight his customers who would order a latte and, within five minutes, be delivered a steaming self-portrait.

"It's good to see a smile on their face, especially when they see the coffee and the drawing of themselves in the coffee," he says.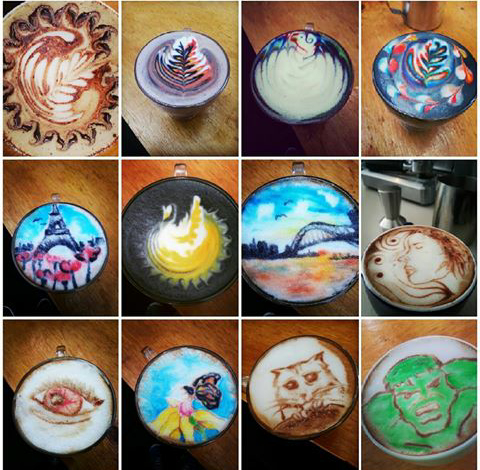 Wez's coffee art brings a smile to the faces of his customers.
Customers have come from far and wide and his coffee-art instagram account, jamrocklatte, has nearly 2000 followers. But the limelight is nothing new for Wez, whose childhood circumstances forced him into the public eye.

Wes was born in the Papua New Guinean highlands and suffered devastating burns when he fell into a fire as a toddler. He was taken to a remote Salvation Army medical clinic where Australian Salvation Army officer Lorraine Mack was working as a nurse. She contacted Melbourne plastic surgeon, Dr Malcolm Linsell, whom she had heard about while reading an article on his work in a recent War Cry magazine article. Dr Linsell took on Wesley's case, which required years of ongoing treatment, during which time Lorraine adopted him. In 2015, the 60 Minutes current affairs television show journeyed with Wez back to the highlands of Papua New Guinea for an emotional reunion with his family.
Despite the publicity, Wez remains humble. "I haven't really changed that much," he says. "I still come to work and I still like doing my work with the community, but I've just found a new hobby."

His dream is to own his own coffee business, perhaps a van so that he can travel around and make people happy with his artistic creations.

"One of the things I wouldn't mind doing is getting a coffee-cart and going out on the streets and making a really good cup of coffee for the people who are unfortunate and homeless."