You are here:
Home › News › 2017 › 03 › 22 › Renown Musician Bill Himes To Conduct Easter Weekend In Brisbane
Renown musician Bill Himes to conduct Easter weekend in Brisbane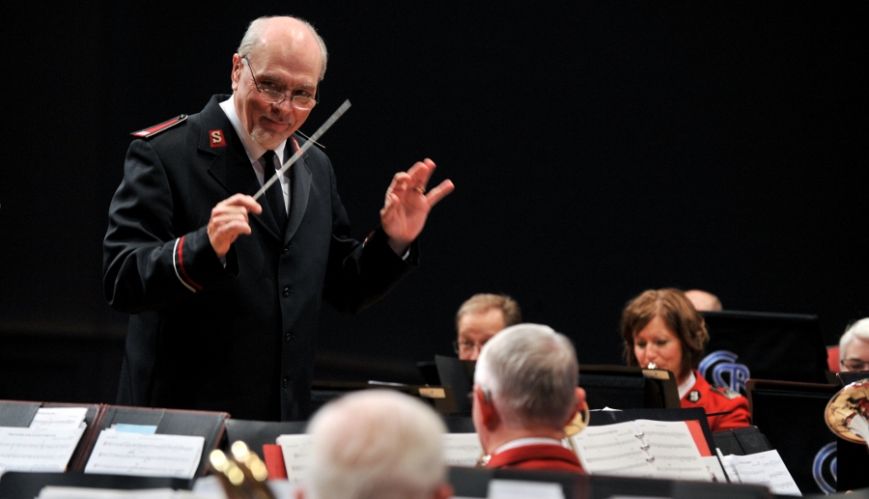 Renown musician Bill Himes to conduct Easter weekend in Brisbane
22 March 2017
By Anne Halliday
One of The Salvation Army's most famous musical pioneers will tour Australia next month, visiting Sydney, Newcastle and Brisbane.

Retired American composer and conductor Bill Himes, along with his wife Linda, a Bible teacher and speaker, will lead workshops with traditional and contemporary bands, and vocal groups, in Newcastle and Sydney from 6-8 April.

Bill, who is best known for his creative energy and passion for mission as the long-serving bandmaster of Chicago Staff Band, and Linda will then head north from 12-16 April to conduct Brisbane City Temple's Easter Weekend.

"Easter is the most significant time of the year we have as Christians, and we are passionate about focusing on the significance of Jesus' death and resurrection," says Chris Brindley, Brisbane City Temple Songster Leader and Territorial Worship Arts Coordinator. "It would be easy to become distracted by holidays or competitions on what would simply be another a long weekend for many. Instead, this is a time that we can come together to strengthen our faith and be inspired on our journey.

"With Linda to give us deep insight into the Word, and Bill as a leading communicator through his music, we are looking forward to an Easter that will grow our faith and understanding of the gospel, and equip us to share further it with others."

Brisbane City Temple, which is organising the Himes' Australian tour, has organised a packed program. The Himes' leadership across the Easter weekend will include Good Friday and Easter Sunday services, a workshop and concert on Easter Saturday and divisional concert on Easter Sunday evening.

"We also see this tour as a rallying point to engage and facilitate discussions around future directions for music in the territory, in both traditional and contemporary formats," says Chris. "Over the past 10 years there has been an emerging desire to bring together diverse forms of musical and creative expression in the Army. None of that was easy but I think there is much more acceptance between perspectives now. People are quicker to see the points of commonality including the desire to bring people together for the purpose of worship. It's a sign of maturity."

Lauded in his own country and around the world by musicians and Salvationist audiences, Bill retired in 2015 after 38 years as Central USA Territorial Music Secretary and Chicago Staff bandmaster – the first non-officer to hold these appointments.

His description as a "pioneer" in Salvation Army music circles is it not just because he composed more than 250 works over this time, including favourites like To the Chief Musician, Jubilance for Cornet and Band, Jericho Revisited, Aspects of Praise, Procession to Covenant and All That I Am or the resources he produced such as Hallelujah Choruses and worship series or even the development of musical training and education. It is Bill Himes' ability to tell stories with music, to make people laugh with his theatrics, to bring integration between the traditional and the contemporary and communicate the Good News of Jesus on the way.

"It would be easy to say he's all about the music," said Chicago Staff Bandsman Ron Shoults, at the time of Bill's retirement. "It couldn't be further from the truth. To be sure, he loves music, and sometimes the band will play a piece because, well, it's just good music. But that doesn't mean it's all about the music – far from it. If I've heard him say it once, I've heard him say it a hundred times, 'Music is just the hook to bring people to a saving knowledge of Jesus Christ.' In my opinion, he's not just a musician, he's an evangelist who uses music as the hook."
 
Bill and Linda will also be visiting New Zealand on 9-11 April.
Tour dates and booking details:
Newcastle Workshop (6 April, 7pm) 0407 746 918
Sydney Congress Hall Concert  (8 April, 7:30pm)  0423 294 202 or trybooking.com/OOOD
Brisbane City Temple Concert (15 April, 7pm) 07 3221 3461 or trybooking.com/OOOF