Reflections from the heart of a cyclone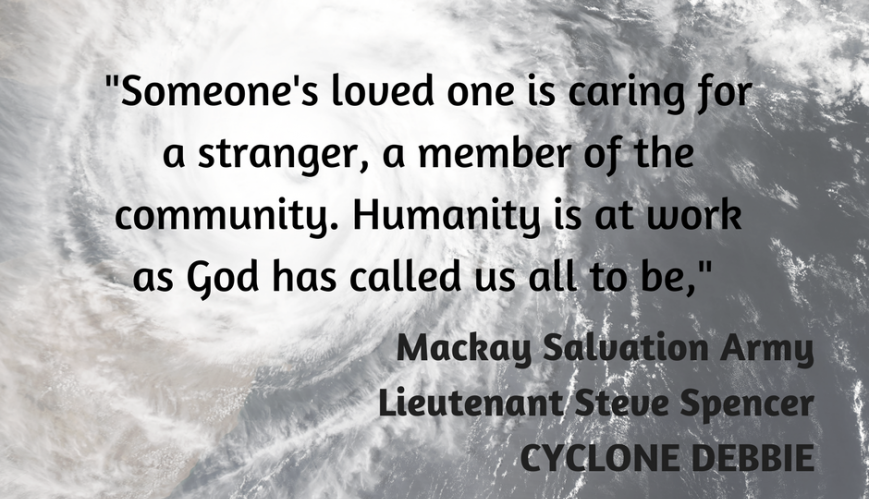 Reflections from the heart of a cyclone
28 March 2017
Scared. Frightened. Apprehensive. It's 3:30am, Tuesday 28 March 2017, and I am experiencing one of the most horrifying and scariest events of my life. I, along with my family and many other residents of Mackay, are bracing to receive Cyclone Debbie.
A category 4 weather system, akin to Cyclone Yasi, which hit North Queensland in 2011, is about to make its way onto land; bringing with her destruction, devastation and, as we have learned of yesterday, death. Although the eye of the storm will pass north of Mackay, meteorologists tell us that the worst part of a cyclone is historically experienced in the southern parts.
From my vantage point, I hear the driving rains being blown into our house and up against the windows. The roaring sound of wind, akin to a freight train swirling around and through the trees. A sound which will no doubt echo in my memory for a long time to come.
It is difficult to put into words what it feels like to experience a cyclone of this magnitude. So many thoughts, feelings and emotions are filling my mind all at once. It is difficult to name them individually. It is a scary place to be. Sleep seems impossible.
As I lay in my bed, I think of those who are less fortunate. The ones who had to evacuate to higher ground, leave town or, worse yet, those who have nowhere to go – the homeless and those who may become homeless.
The emergency responders' sirens blare into the darkened early morning. The sun has not risen. Someone's loved one is caring for a stranger, a member of the community. Humanity at work as God has called us all to be.
I read in Mark's gospel, chapter 4, of an account of Jesus being awakened from his sleep on a boat on a lake and he tells the wind to stop. My prayer is that my faith is strong enough to endure this situation. I believe that God can and will stop the storm again. 
As we near the daylight hours, the impact will become worse. Even as I write, I notice that the winds and rain have intensified. "Father, calm the storm both within me and along our Queensland coastline. Keep us all safe. In the name of Jesus Christ, may the winds calm."
Amen
Steven Spencer is the Corps Officer in Mackay.