Salvo teams ready for Cyclone Debbie aftermath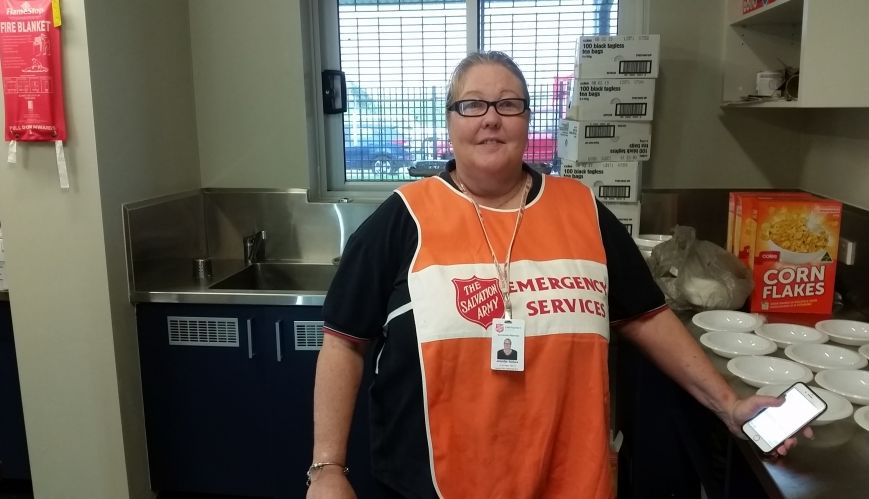 Salvo teams ready for Cyclone Debbie aftermath
28 March 2017
As Cyclone Debbie continues to wreak havoc in North and Central Queensland, The Salvation Army's response is gaining momentum.
Tonight, the Mackay Salvation Army Emergency Services (SAES) team has been serving meals to more than 70 people taking shelter in a local evacuation centre. The crew served breakfast to 63 people there this morning.
Poised ready for the next stage of assistance is Major Peter Sutcliffe, Area Officer for Central Queensland, Lieutenant Chris Ford, Gladstone Corps Officer, and Jarrod Wayman, Gladstone Ministry Assistant, who are waiting in Carmilla, 100km south of Mackay, ready to assist in Mackay as soon as the city is accessible.
"Mackay is experiencing major wind and rain, and we are not yet able to get into the city," Major Sutcliffe said. "Once we can gain access, we have supplies for up to 300 meals and will be able to relieve the Mackay team. It's now waiting and watching to see what local flooding will do."
In Townsville, which has largely avoided the cyclone's impact, teams are working on preparing supplies and volunteers. "We will send these to the Grices in Bowen, and the Spencers in Mackay, who will need support," said Katrina McIntosh, Mission Leader for Ingham, Ayr and Charters Towers.
This afternoon, as Cyclone Debbie reached landfall and battered the North and Central Queensland coasts with winds in excess of 260km/h, the city was in lockdown, with Salvos sheltered in their homes after serving the community earlier in the day.
In Mackay, a small window of time this morning allowed the Salvation Army Emergency Services (SAES) team to prepare breakfast for more than 60 people who had spent the night at the evacuation centre in Mackay Northern Beaches State High School.
"The local council called us out this morning at 7am to prepare breakfast for 63 hungry and tired people who were very glad to see us roll in with food and to have The Salvation Army there," said Lieutenant Steve Spencer, Mackay Corps Officer.
"Our team did an awesome job and responded well, including encouraging and reassuring those in the evacuation shelter who looked tired, dishevelled and anxious. There were many different people there, from all parts of society. Many are alone. Most came with just the shirts on their backs.
"It was a minimal response. The team has now returned home to ride out the cyclone. The noise here is like a freight train going through a built-up area, and this is just the beginning.
"Please pray for the safety of all those in the path of this cyclone."
The SAES team expect to be called out again once the cyclone has passed.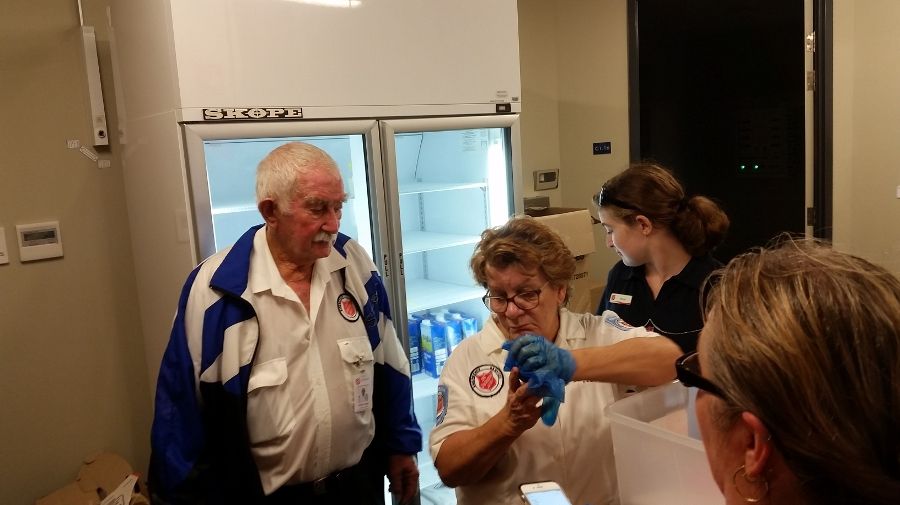 Salvo SAES volunteers in Mackay serve breakfast at the evacuation centre this morning.
Norm Archer, Salvation Army Director of Emergency Services, and Adam Cole, Salvation Army Emergency Services Coordinator, Queensland, have organised an emergency catering unit (ECU), cool room and two support vehicles with a second satellite phone to be relocated to Mackay, but for now are remaining outside the warning zone.
"All SAES teams in Queensland are now on standby and are ready to respond locally or on deployment as required," Norm said. "Trucks (ECUs) and other major equipment are being prepared for deployment if needed.
"But it's going to be well into daylight hours tomorrow before people come out of lockdown and can see the full impact of the cyclone and we will go from there."
Further north in Bowen, Territorial Envoys Stuart and Heidi Grice witnessed huge winds and rain as the cyclone hits.
"The whistle of the wind, combined with the rain, is unbelievably loud," said Heidi. "The trees are bending and we are in lockdown downstairs."
The Grices also expect their SAES team to be called out to evacuation centres once the immediate danger is over.
"If we get called out over the next 24-48 hours, we are ready to provide food assistance at evacuation centres for those people who have lost homes, sustained extensive damage and the like," said Stuart. "Our SAES trailer is packed and ready to go.
"It's likely that the council will call us out. We also have memoranda of agreement with local firies and other agencies who will assist in the aftermath with clean-up. The understanding is there that we will provide meals to their workers.
"We have a limited team of volunteers, but our community gets around each other in times of need and there are people here who will lend a hand if we need the extra help. We would also hope to bring in SAES teams from other areas such as Townsville and Rockhampton.
"The fear of the unknown is the highest issue. People don't know if they will lose their home, car, or be injured. Life is paramount.
"Please pray for the safety of everyone in the community of Bowen, and the smaller, outlying communities who could also become isolated if access becomes an issue."
Others.org.au will post updates to its Facebook page as new information comes to hand. Please continue to pray for the people of Central and North Queensland.