SAES teams on alert as ex-Cyclone Debbie heads south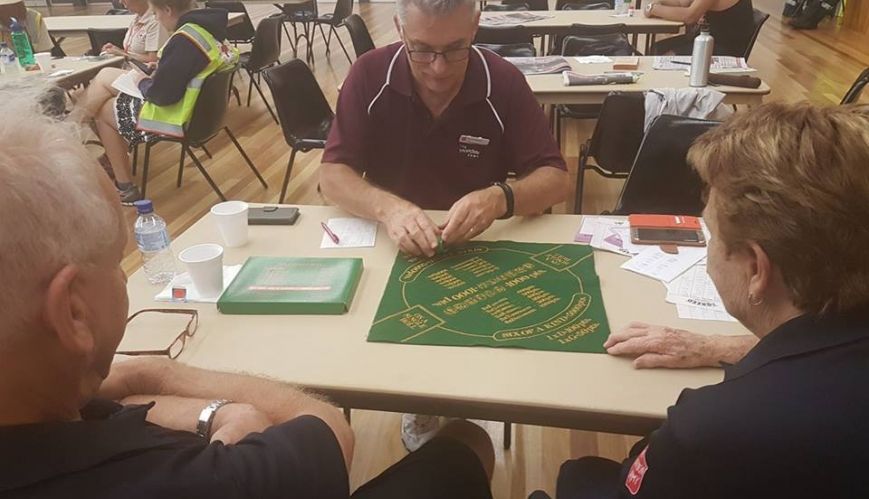 SAES teams on alert as ex-Cyclone Debbie heads south
30 March 2017
Thousands of people in South-East Queensland and Northern NSW are evacuating as torrential rain and winds intensify and river levels rapidly rise. Prepared Salvation Army Emergency Services (SAES) teams around the region are responding in this time of escalating crisis.
In Lismore, Northern NSW, the SAES team has been called to the evacuation centre as people begin to respond to the State Emergency Services call for mandatory evacuation. The worst-hit areas will be in north and south Lismore, low-lying areas, and the CBD.
"The SAES team will be there to serve supper later tonight, and breakfast in the morning," says Major Jennifer Reeves, Lismore Corps Officer. "We don't yet know how many to expect, but it will be a lot!"
The Wilson River, in Lismore, is expected to peak in the early hours of tomorrow morning.
In Tweed Heads, just over the Queensland border, The Salvation Army is preparing to cater at an evacuation centre opening at Banora Point High School. People who have been evacuated from South Murwillumbah, Condong and Tumbulgum will be going to this centre.
"The SAES team is currently setting up their equipment and supplies at the high school," says Major Leanne Elsley, Tweed Heads Corps Officer. "At this stage we won't be needed at the Kingscliff evacuation centre unless further evacuations are made."
The SAES team at Caboolture, north of Brisbane, is serving meals at the local evacuation centre. "At the moment we're mainly feeding the emergency services workers, but we do have four people in here who are stranded with nowhere else to go," says Caboolture Salvation Army officer, Major Bruce Ellicott. "We're not expecting a lot of people through until tomorrow; it depends what rain we get in the next few hours. There's a river that runs through the town and if it goes over it will cut the town in half and then people will be stranded."
At Brisbane Streetlevel Mission, the doors were open wide from 3pm for those sleeping rough. "Streetlevel is still closed for normal activities, but if you are sleeping rough, Streetlevel is open for you," says Catherine Philpot, Assistant Team Leader. "We are providing a space for rough sleepers to be safe and out of the weather for as long as needed."
Central Queensland and Northern NSW Salvation Army Emergency Services crews remain on alert this afternoon with river and wind levels expected to peak later this evening.
In Northern Queensland a Salvation Army Emergency Services (SAES) crew of 15 (pictured below) have left Townsville, with vehicles and food supplies for 500 people, heading south to Bowen and Prosperine.
Torrential rain, flooding, and extensive damage continue to provide challenges for emergency teams working to help local residents.
Bowen is experiencing particularly tough conditions, with no running water, power or access to key emergency services.
Natalee O'Brien, Territorial Social Program Co-Director, is with the team, and will be making assessments in the area. She said two evacuation centres in Bowen have been flooded, requiring alternate accommodation for the evacuees.
"We are doing the best we can to get as close as we can to support the people on the ground," Natalie said.
Due to road blockages, local authorities are now exploring SAES teams into the Bowen and Airlie Beach areas by air, as well as evacuating those stranded on nearby islands.
In Townsville Lieutenant Bronwyn Lithgow, Corps Officer at Townsville Faithworks reported that 160 people unable to return to their homes were being cared for at the RSL evacuation centre in the city. 
South of Bowen, Major Peter Sutcliffe and his team, also trying to reach Prosperine, have been turned back to Mackay due to road blockages. The Mackay SAES are continuing to cater at the evacuation centre just out of the city.
Further south, the Brisbane CBD has been evacuated, with fears of flooding in the city and surrounding areas. Evacuation centres have been opened on the Gold Coast, and at Kingscliff, south of Tweed Heads, on the NSW border. 
The Salvation Army Emergency Services (SAES) team in Mackay were called on at 6.30 this morning to provide catering for evacuees who were rescued by helicopter from low lying areas last night. They were brought to an evacuation centre at the Rugby League Club at Walkerston, just outside Mackay (pictured below).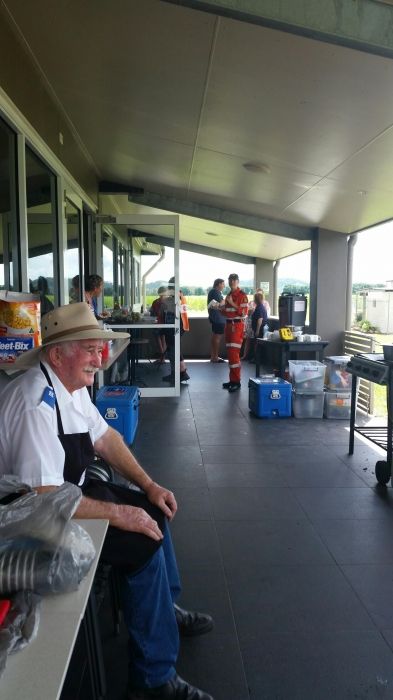 "We gave them a hot breakfast, with cereal and juice, and then the families were taken home by family and friends in the town," said Lieutenant Lydia Spencer, Mackay Corps Officer.
"Damage to the corps building hasn't been extensive, although we are yet to do a full check on it. The front area was flooded so there will be damage to carpets and furniture, as well as awnings torn off," adds Lieutenant Steve Spencer.
Mackay is still experiencing heavy rain, flash flooding and threats of further floodings as local and district river levels continue to rise.

In Bowen, The Salvation Army is working with other agencies with the goal of catering for people's basic needs.
"There are people who haven't eaten for a couple of days, who have run out of supplies and who have no roofs on their homes, so we need to get to them as soon as possible," said Stuart Grice, Bowen Corps Officer.
Other SAES teams across Queensland are also on standby, waiting for deployment. 
Flooding is expected in Bundamba and Ipswich, south-west of Brisbane, despite early sandbagging efforts. SAES teams are preparing to serve evacuees tonight.
"Our SAES team has just been activated to serve dinner tonight at the Ipswich Evacuation Centre," said Emma Johnson, the Bundamba Corps Officer. "We are partnering with Ipswich Corps SAES and will take turns doing shifts for however long the activation lasts."

Emma said sandbagging at the corps and family store is already underway and will hopefully protect against the expected localised flooding and free them to care for the community's needs.

"I have text-messaged everyone in the corps and they are all turning up to help. We are obtaining extra sandbags and delivering those to people in low-lying areas who can't get access to the sandbags themselves but need them.

"We're not sure what's going to happen but we're very prepared. We've done this kind of thing before. There's a lot of experience in this area that we draw from. Everyone's pitching in to help.

In Bundaberg, Peter Evans, SAES Corps Coordinator, said they were ready for what comes in the next few hours.

"We are all stocked up and prepared," he said. "We're ready to rock and roll and go wherever we are needed – locally or up north to support the cyclone relief efforts there.

"The wind has really, really picked up and the rain is starting to get heavier and heavier here. We are watching this weather and expecting heavy rainfalls and 90km/hr wind gusts.

"We could get localised flash flooding and minor flood levels on the lower Burnett River."

Lieutenant Kaylene Ford, the Gladstone Corps Officer, said local waters (pictured below) were already rising near to her home.
"I've never seen this much water in my two years here. We live two houses up from a creek and normally you can't even see the water, but it is 50 to 100 metres across at the moment."

"Gladstone Corps is on alert. The corps will become an evacuation centre if it's required, if people get stuck in the city. The road between Gladstone and Rockhampton is cut."
Read our other Cyclone Debbie coverage or follow us on Facebook
Donate to The Salvation Army's recovery efforts by calling 13 SALVOS (13 72 58) or online at salvos.org.au. You can also make a donation at any local Woolworth's checkout or Westpac branch. Or simply Text "HELP" to 1999 2769 to donate $5 per sms. Visit salvos.org.au or call 13SALVOS for full details.