You are here:
Home › News › 2017 › 03 › 31 › Saes Teams Find Airlie Beach Residents In Good Spirits Despite Cyclone Devastation
SAES teams find Airlie Beach residents in good spirits despite cyclone devastation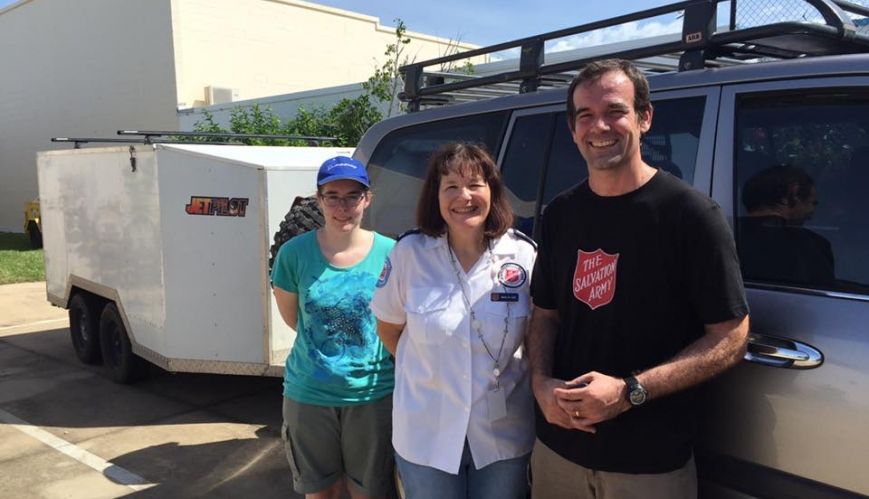 SAES teams find Airlie Beach residents in good spirits despite cyclone devastation
31 March 2017
By Simone Worthing

The damage to northern Queensland is enormous in the wake of Cyclone Debbie. The devastation is painfully real and the clean-up will be massive and a long-term one.
However, Major Beth Twivey (pictured below), currently in the disaster zone of Airlie Beach, says local residents are facing what lies ahead with resilience, courage and hope.
"Having [also] seen Bowen, Airlie Beach and Prosperine, Airlie is the most affected," said Major Twivey, North Queensland Area Officer. "Although in Bowen roofs are off, trees uprooted and most fences down, most people can stay in their homes. Houses built to cyclone standards have made all the difference. Airlie has been very badly impacted with most homes and businesses flooded as well.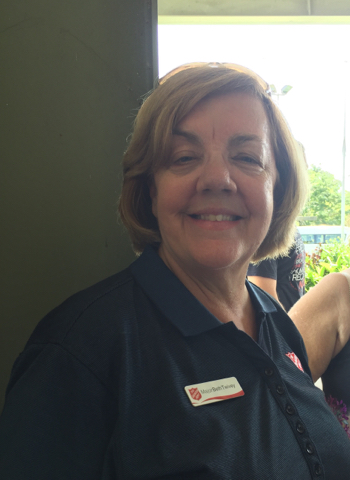 "The locals though, seem in good spirits. There are kids at the skate park. I was talking to one mum, asking her what's it's been like, and she was very upbeat. She told me that they've been through things like this before and, although they know it will be unpleasant, they don't get overly anxious.

"She also said that, although Cyclone Debbie took a long while to come and stayed for hours, she was never frightened for her life or for her kids. She said one of the worst things was that the kids wanted to go outside and she couldn't let them! North Queenslanders are resilient. I also spoke to a couple of tradies and they said that's how they roll up here; it's the reality of living in one of the most beautiful parts of the world.

"It's a beautiful day in Airlie Beach today and, despite everything that has happened and the devastation here, there is not a feeling of doom and gloom."

Major Twivey is leading the 15-strong Salvation Army Emergency Services (SAES) team which made it through to Bowen from Townsville last night. The crew had been packed and ready to travel since Cyclone Debbie hit, but closed roads, flooding, damage and debris had prevented them leaving Townsville.

Bowen Corps Leaders, Envoys Stuart and Heidi Grice, met the team and took them to the evacuation centre at the Bowen High School auditorium. They cooked dinner for the small number of people who were there, and the team bunkered down on the floor for the night. The town is still without power and water.

"The team provided breakfast at the evacuation centre," said Major Twivey. "Some of the team then left [to attend to other evacuation centres], with four members staying with Envoy Heidi to serve lunch and possibly dinner, and to be there for people coming in needing water, food hampers, or somewhere to sit for a while."

Envoy Stuart escorted the rest of the team to Cannonvale, Prosperine and Airlie Beach – all within 30 minutes of each other. Cannonvale is about 4km from Airlie Beach. An SAES team from the south has also arrived to serve at the evacuation centres there.

Last night in Townsville, Major David Twivey headed up a team that fed 420 people who'd been evacuated from nearby islands in the Whitsundays. They were fed at the evacuation centre at RSL Stadium by the SAES, before going to accommodation or returning home.

In Bundamba and Ipswich, west of Brisbane, the SAES team has been stood down from the evacuation centre. The Bundamba Corps building was also spared any damage from water that spilled over the bridge at the adjacent Bundamba Creek.
Read more on the SAES' work during Cyclone Debbie.
Donate to The Salvation Army's recovery efforts by calling 13 SALVOS (13 72 58) or online at salvos.org.au. You can also make a donation at any local Woolworth's checkout or Westpac branch. Or simply Text "HELP" to 1999 2769 to donate $5 per sms. Visit salvos.org.au or call 13SALVOS for full details.