You are here:
Home › News › 2017 › 06 › 19 › Australian Public Answers Doorknock Appeal With 6 Million
Australian public answers doorknock appeal with $6 million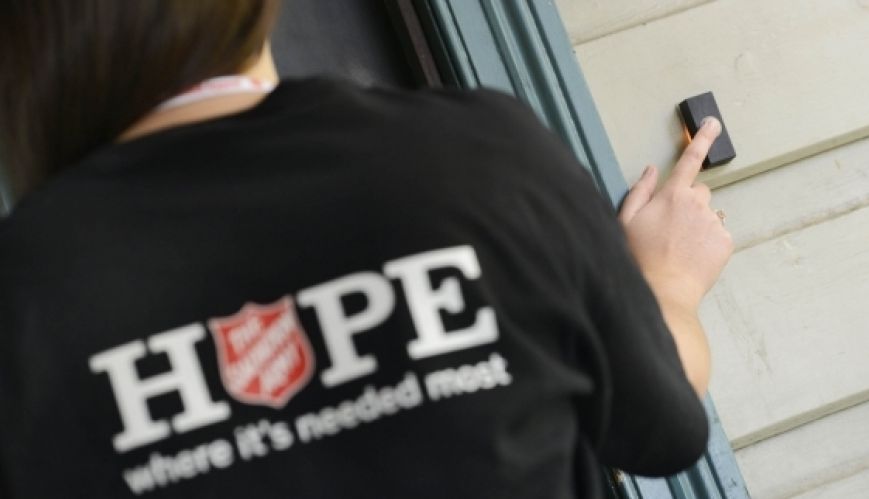 Australian public answers doorknock appeal with $6 million
19 June 2017
By Anne Halliday
The annual Red Shield Appeal Doorknock, held over the weekend of 27-28 May, has raised more than $6 million with the help of more than 70,000 collectors knocking on doors around the country.

Adding to the success of this year's appeal has been the use of 400 electronic Donation Tap machines, set up at community locations around Australia, which raised $55,000.
 
"It certainly enabled us to access donors who we wouldn't have got otherwise," said Territorial Community Fundraising Director Andrew Hill.

Andrew said the devastation of Cyclone Debbie in Queensland and flooding in Northern NSW had impacted this year's doorknock tally, which will fall short of the $8 million target. However, he said the Red Shield Appeal was not just about getting donations, citing the highlight from this year's appeal was a story of personal connection told to him by a collector.
 
"A local team met for prayer before the doorknock and prayed specifically for the opportunity to start conversations with those they met. At the first house one collector visited, the door was opened by an older man, who responded to his "how are you today?" by saying he wasn't doing that well as he wife was dying of cancer.

"He invited the collector in to meet his wife and as the conversation unfolded, the older man asked the collector to say a prayer "to the big fella" for them. The collector was also able, with the permission of the family, to pass on their details to the local corps for pastoral follow-up.

"I hear all the time from corps that we want to reach our community. This is the one time of the year when Australians say to the Salvos – come to our door. And if we go with the intention of connection, the money will come."

The doorknock is part of the wider Red Shield Appeal, which closes on 30 June. While final figures are not yet available, the appeal is edging towards its $73 million national goal.
 
Funds from the Red Shield Appeal go towards various Salvation Army services, including drug and alcohol recovery services, chaplaincy, homelessness and domestic violence refuge services.
The Donation Point Tap devices used during the Red Shield Appeal were provided through the financial support of Community Sector Banking and Bendigo bank.