You are here:
Home › News › 2017 › 07 › 04 › Sydney Congress Hall Looks To History To Reinvent Its Future
Sydney Congress Hall looks to history to reinvent its future
Sydney Congress Hall looks to history to reinvent its future
4 July 2017
By Lauren Martin

When many people think of Sydney Congress Hall, three things come to mind – the brass band, the timbrel brigade and the songsters. The corps has a rich 135-year tradition of being quintessentially "Salvo" – a congregation of many uniforms, an outstanding band, songster and timbrel brigade and Sundays packed with meetings, a luncheon and various section rehearsals and then ... more meetings.

Outreach has always been a big part of the corps, with food deliveries to Sydney's homeless population, integration with William Booth House Recovery Services on a Sunday, band open-airs in the city and many other forms of ministry. Over the years, Sydney Congress Hall has birthed many God-led ministries, with several pioneers calling the corps home. Long-term soldier and Order of the Founder recipient, Alan Staines (OAM), for example, began Salvo Care Line as a soldier of the corps many years ago.

The leadership team at Sydney Congress Hall believes now is the time for the corps to step even further into its calling to minister to the people of the inner-city.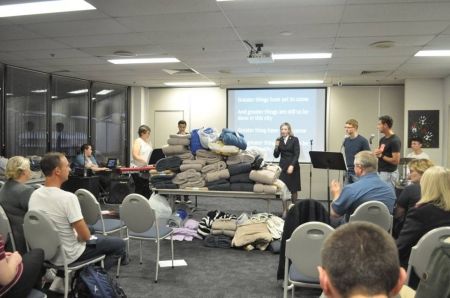 "God honours The Salvation Army when we engage with the earthy mission that he called our Army into," says Corps Officer, Major Bruce Harmer. "He empowers us when we get back to that space and extend the hand of grace, love and hope to a wonderful but needy community.
"I think that for Sydney Congress Hall it's time for us to take our rich tradition, our rich history reaching back to the late 1800s when Congress Hall was established ... and to just build on that history and become once again a beacon of light in a city that needs and responds so well to the love, compassion and hope our inner-city corps offers in abundance."

After eight years under the leadership of the soon-to-be National Secretary for Mission (Program), Lieutenant-Colonel Lyn Edge, and Director of the School for Christian Studies (National College), Lieutenant-Colonel Terry Grey, many in the corps feel like they have the solid foundation of missional teaching underfoot and now's the time to step into the new opportunities that God is opening up.

"I think it's a good opportunity now to put some of those things into place and to further the actions of those missional views," says Sydney Congress Hall Young People's leader Jordan O'Brien. "We want to be able to extend on what we already do and to serve our city in the greatest possible way we can."

Last year was a big year for Sydney Congress Hall. The Australia Eastern Territory Headquarters moved out of the Elizabeth St building it shared with Congress Hall for 90 years, leaving the corps with diminished revenue from its Level 4 café and catering business. The corps also took over the old Salvationist Supplies shop that fronted Elizabeth Street and found that God had plans for this premises as a Family Store. "A lady came into the store and said, 'Do you have any groups during the week for small children or for parents of small children?'" says Lieut Carolyn O'Brien, Associate Corps Officer. "We said 'No we don't, but we'll look into it'".

Within weeks a mid-week playgroup had started that now has upwards of 70 parents and carers attending with their children. "Our Family Store has just been amazing," says Lieut O'Brien. "We're getting to know the community better. We are finding out what is happening and what needs there are in our community."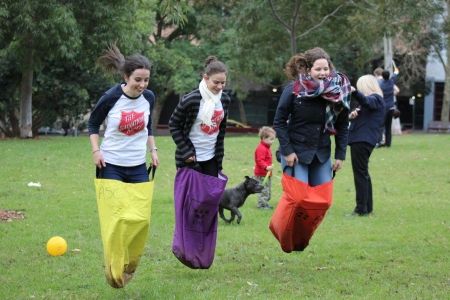 The corps is now conducting a Community Needs Analysis in order to ensure that they are on the right track with how they are serving the community, and to better plan targeted mission into the community. Through this process, it's been encouraging for the corps to find that many of its existing missional activities and programs are responding to direct needs in the community, and that the corps' enhanced ministry expressions are very much "on the right track".

"The communities that we get to work with are threefold," says Major Harmer. "We have the business community (people who work in the city on a daily basis), we have the visiting community (tourists and other people who just pop into town from the suburbs) and the residential community (people living in the city.) We're really looking for opportunities to engage with those three communities."

While that investigation is underway, the corps is strengthening existing mission and ministries. Its youth and young adults age group has grown exponentially over the past few months, with young people passionate about mission and social justice.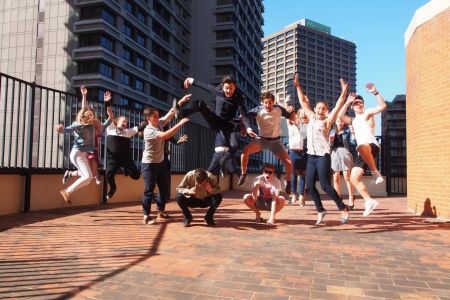 Its long-term connection with nearby William Booth House Recovery Services Centre has expanded, with the launch in 2016 of HOPE Chapel on Wednesday nights. Members of the corps share a meal with participants from William Booth House, people from the community, and people experiencing homelessness, then worship together afterwards. The Wednesday night outreach has been bolstered with volunteers from HOPE Chapel who head out after the meeting into the inner-city streets and parks to distribute meals to people sleeping rough.

"We're excited to be partnering with Crystal Meth Anonymous who will be starting their weekly meeting at the corps in July," says Major Harmer. "There are plans to offer more community-based weekday and weeknight initiatives in our building, which will help build community and opportunity to develop transformational relationships.

"There are suggestions and ministry opportunities opening up for us that clearly are God directed and our plan is to follow where he leads."

There's also excitement that the vacant floors of the old Territorial Headquarters building (the building has 10 floors) have been leased to an international college, with many ministry opportunities sure to open up.

"Although the college is a long way from moving into our building, we're preparing a welcome gift for each of the 500 students and staff members, which will be given to them before they arrive," says Major Harmer. "We see such potential for real transformational ministry to these students in practical ways as diverse as providing a homework space with free internet, to supporting them in practical ways around their accommodation and ability to live sustainably in the city."

It seems that much is changing. But is it really much of a change of mission for Sydney Congress Hall?

"We're really just strengthening our mission again," says Lieut O'Brien. "The different sections of the corps, such as band, timbrels and songsters will be used in new evangelical ways as missional opportunities are explored."

Major Harmer adds, "God has a real plan for Congress Hall and we've just got to follow his plan. "Our mission is not really changing, our missional methods, our missional pathways are, however, changing to match the needs of our contemporary inner-city community.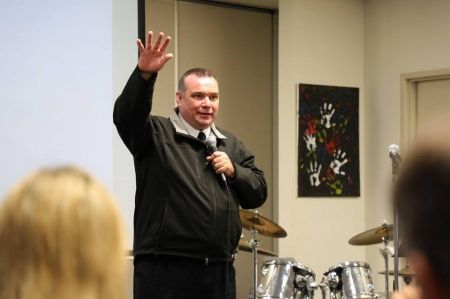 "If we want to be a voice speaking life and hope and love into our contemporary inner-city community, we will need to reshape ourselves and prepare for real and lasting transformational ministry."

Several weeks ago, Sydney Congress Hall invited Majors Brendan (pictured right) and Sandra Nottle from Melbourne's 614 Mission to visit. They attended the young people's Blanket Banquet, a yearly blanket drive for Sydney's homeless, and took part in discussions about missional opportunities that Sydney Congress Hall has ahead of them.

"They were really encouraged by what's happening and felt that we were heading in the right direction," says Major Harmer. "Brendan and Sandra are keen to partner with us moving forward and share from their wealth of experience in inner-city ministry. We couldn't ask for more God-centred and missionally-driven people to stand beside us.

"The future looks amazing, the opportunities are endless, and we're up for the challenges that are ahead to engage in transformational and lasting missional initiatives."

It's a feeling echoed among many of the corps' young people. "We've got some really missional-minded young people at the corps and I think generally there is a great sense of excitement about what we can do and how we can use our facilities and our position in the city to be able to do the most for the Kingdom," says Jordan. "We're excited to get out there in the streets!"