You are here:
Home › News › 2017 › 07 › 04 › Unique Promotion For Armys Work In Finland Features High Profile Duo
Unique promotion for Army's work in Finland features high-profile duo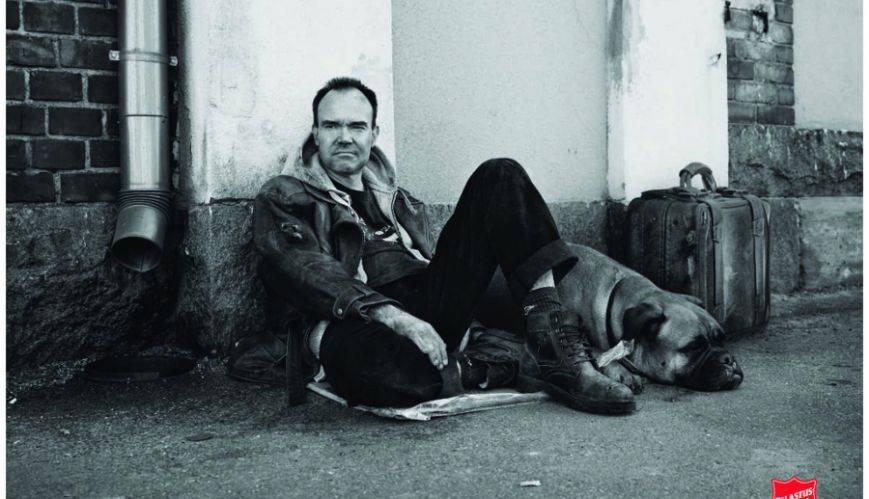 Unique promotion for Army's work in Finland features high-profile duo
4 July 2017
Report by IHQ Communications

A new Salvation Army fundraising campaign in Finland has captured the public's imagination through an innovative "alternative reality" approach.

Tarja Halonen, the former Finnish President (pictured below), and Peter Vesterbacka, Rovio's Ex-Mighty Eagle, the entrepreneur behind numerous mobile gaming phenomena, have been photographed in evocative, monochromatic "what if?" portraits that picture these very successful people as being apparently destitute and on the streets. The Salvation Army's message is that anyone can be affected by unexpected events which can lead to poverty.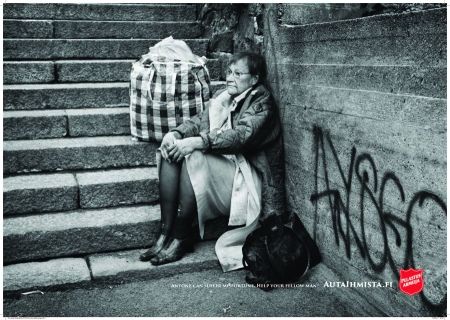 Events such as accidents, illness, unemployment, assaults or the death of a loved one can start devastating chain reactions in a person's life. The Salvation Army's campaign seeks to highlight that poverty "can happen to any of us", and that the international church and charity is here to help.

Speaking about the adverts, both participants emphasise the importance of helping others. "It is vital to help your fellow man," said Tarja Halonen, explaining her rationale for taking part in the campaign: "This is human rights work on a daily basis."

Peter Vesterbacka added: "By being a part of this Salvation Army campaign, I want to emphasise how important it is to care for everyone. Leaving nobody behind is the very essence of Finnishness."

Head of Marketing and Corporate Relations for The Salvation Army in Finland, Anne Fredriksson, said: "We are delighted that Tarja Halonen and Peter Vesterbacka wanted to be a part of our campaign in such a personal and thought-provoking way."

Reaction to the campaign on social media has been supportive in Finland and beyond, with comments such as:

Veera Juvonen @VeeraJuvonen
Former Finnish president @TarjaHalonen poses for the Salvation army to show, that anyone's luck may turn around.

Alternative reality that could have been yours – impressive people taking part in the Fin Salvation Army campaign for the poor. #humanity

Just imagine #TheresaMay doing this: #Finnish ex-president @TarjaHalonen poses as homeless person for @SalvArmyIHQhttp://itim.smh.re/AG

The campaign also includes a hard-hitting "Sliding Doors"-style video.