Westpac book honours long partnership with Salvos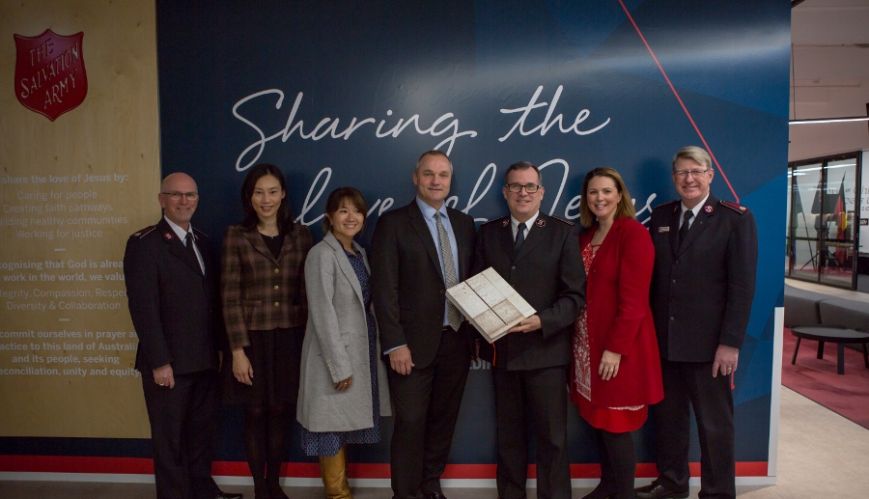 Westpac book honours long partnership with Salvos
12 July 2017
By Anne Halliday

The 137-year partnership between Westpac and The Salvation Army in Australia has been honoured in a recent book presentation at Australia Eastern Territory headquarters in Sydney.

Celebrating the 200-year history of the bank, a bound copy of History of Westpac in Australia was presented to The Salvation Army's National Commander, Commissioner Floyd Tidd, symbolising the continuous partnership between the two organisations since 1880.

"Westpac and The Salvation Army have similar values and that is very important to us," said Andrew McDonald, General Manager, Corporate and Institutional Banking.

"We take very seriously the longevity of our relationship because it's not just about us as a bank. It's about us helping people and communities to prosper and grow. We would not exist without those who were with us when we started out, like The Salvation Army."

Commissioner Tidd said it was Westpac's focus on communities that made it a valued corporate partner.

"It means there is a mutuality in the way we build together. We grew up together and we continue to walk alongside others. The Salvation Army is, in real terms, a small organisation, but our impact is increased because of partners like Westpac and the people inside their organisation who support us."

The book (pictured below, right), which will be on permanent display at territorial headquarters in Sydney, tracks the bank's history from its establishment in the fledgling convict colony as the Bank of New South Wales. Commissioner Tidd noted that, in an unplanned moment of synchronicity, Westpac presented the Army with the 152nd printed copy. It is 152 years since The Salvation Army came into existence.
Just 200 copies, signed by Brian Hartzer, Westpac CEO, and Lindsay Maxsted, board chairman, were printed for key Westpac partners, including The Salvation Army. A paperback version of the history will be available for Westpac customers and staff.

Westpac is both The Salvation Army's banking partner as well as an active collaborator in The Salvation Army's Red Shield and Christmas Appeals.

During this year's Red Shield Appeal Doorknock weekend in May, 90 Westpac branches opened nationwide on the Sunday to count and bank the funds raised. About 300 Westpac staff volunteered their time processing donations as well as assisting with doorknocking.

"It's easy to rally our staff around causes," said Andrew. "It's part of our culture."

Since 1999, Westpac's Matching Gifts program has raised $1.4 million through staff donations (which were matched by the Westpac Group).