You are here:
Home › News › 2017 › 09 › 06 › New Scholarship For Women Carries On General Burrows Leadership Legacy
New scholarship for women carries on General Burrows' leadership legacy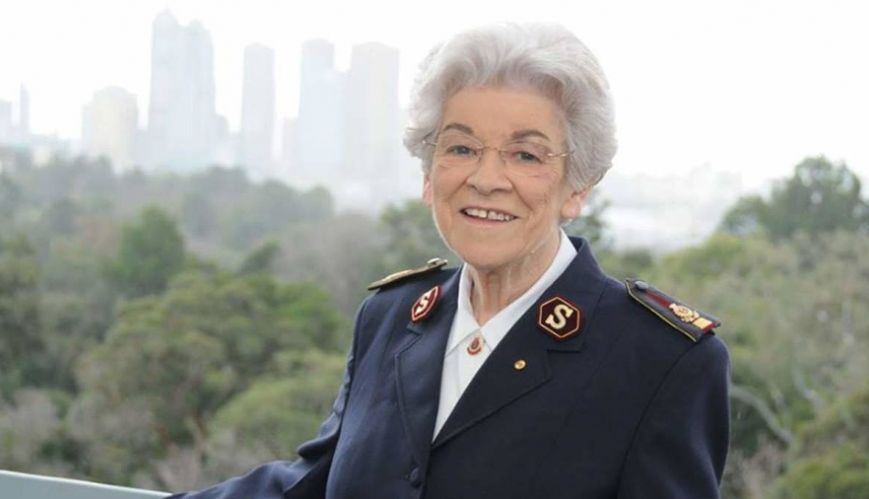 New scholarship for women carries on General Burrows' leadership legacy
6 September 2017
By Jessica Morris

General Eva Burrows was pivotal in shaping and raising up female Salvationists for leadership, and a new scholarship in her name is providing an emerging generation of Australian women with the opportunity to become influential leaders.

The General Eva Burrows Scholarship will be awarded to one Australian female Salvationist employee or volunteer and up to two African soldiers or officers (male or female).

"This is the perpetuation of the Eva Burrows legacy which was of a great influence to Salvation Army mission, but also to women in leadership positions," said Major Jim Weymouth, former Director of the Catherine Booth College School for Learning and Development.

"She exemplified commitment and was driven to achieve, and, in an Australian context, we want to create further opportunities for women to emerge as leaders."

The General Eva Burrows Scholarship is governed by Catherine Booth College, and has been kickstarted by funding from General Burrows' estate, as well as contributions of $100,000 each from the Australia Southern and Australia Eastern territories. International territories and divisions are also being invited to contribute.

The scholarship is a landmark opportunity for women, given the new Gender Equity Plan that has been implemented by the Australia One initiative.
 
"Women are seriously under-represented in senior leadership in The Salvation Army, so this is an opportunity to be a part of change," Major Weymouth said.

The scholarship will provide one female Australian delegate with up to $25,000 for study at Catherine Booth College or an alternative institution. Applicants must have carried out substantial paid or unpaid work on the frontlines of The Salvation Army in the previous two years. Officers, soldiers, employees and volunteers (minimum age 25 at time of application) are all welcome to apply.

A $25,000 scholarship is also available to one or two African officers or soldiers (men and women), who will study at Catherine Booth College for up to two semesters.

Funding will cover recipients' living and travel expenses. They will be required to see a mentor from Catherine Booth College regularly, submit an individual report every three months and conclude their time with a final report addressing their learning achievements and how this will be applied in everyday life.

"As a representative of Eva's family, I was surprised and honoured by the invitation to be involved in keeping the memory of Eva alive in this way," said General Burrow's niece and scholarship panel member Jane Southwell.

"This is especially important for young women as the scholarship includes the appointment of a mentor. Eva herself acknowledged how vital mentoring was in her own development as a leader, and it was one way in which she made a significant contribution to benefit others during her life."

Over the course of General Burrows' 42 years of officership, she championed the education and leadership of young women, being appointed as the Principal of The Howard Institute in Rhodesia (now Zimbabwe).

She was later appointed as Vice-principal of London's International College for Officers and was promoted to Principal before returning to Australia for her appointment as the Territorial Commander of the Australia Southern Territory in 1982. She was appointed as the 13th General of The Salvation Army in 1986 until her retirement in 1993. She was the Army's second female General.

General Burrows continued serving the community through an inner-city Melbourne corps until her promotion to glory in March 2015.

"Establishing this scholarship is a wonderful way we can not only honour a much-respected leader in Australia and internationally, but also continue her work and passion for education for education and social justice," said Commissioners Floyd and Tracey Tidd in their commendation remarks.

Applications for the General Eva Burrows Scholarship close on 15 September. Applications are available HERE or contact Jim.Weymouth@aus.salvationarmy.org for more information.