You are here:
Home › News › 2017 › 09 › 22 › Country Victoria Inspires Major Nottle To Keep Walking The Walk
Country Victoria inspires Major Nottle to keep walking the walk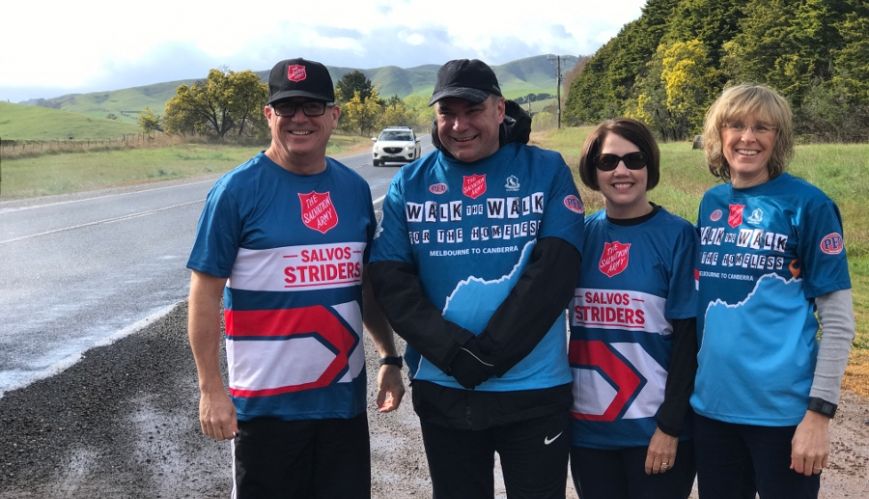 Country Victoria inspires Major Nottle to keep walking the walk
22 September 2017
Salvation Army officer Major Brendan Nottle is more than 200km into his 700km walk to Canberra's Parliament House where he will call for a national bipartisan policy to end homelessness. His resolve has already been bolstered by the stories of people in regional and rural towns across Victoria.
Now in day 14 of his 40-day walk, support has come in all shapes and forms for Major Nottle and his changing guard of walkers. 
In Yea, the local fire truck followed the group out of town in celebration of their 100km milestone. In Mansfield Shire, mayors, CEOs, councillors and primary school staff and students spoke to him about the lack of crisis accommodation in the area. And when he reaches Wangaratta today, he will meet with service providers, the mayor and councillors before speaking at a rotary barbecue.
It sounds exhausting, but Major Nottle is a man on a mission, and he knows these stories must be told when he reaches Parliament House on 16 October.
"It is just a powerful reminder that we need to be presenting a strong case for a national plan, which picks upon those macro issues – so issues around housing affordability, the distinct lack of housing for people and lack of supports to keep them in housing," Major Nottle said.
While Major Nottle works with the homeless community daily as part of he and his wife Sandra's appointment as the Corps Officers of Melbourne's Project 614 Corps, this experience has given him greater insight into the micro issues that often foreshadow homelessness in remote and rural areas.
The issues that have particularly come to light are a lack of crisis accommodation due to domestic violence, public housing, and support after trauma.
Major Nottle said community leaders, volunteers and teachers who are at the coalface see the consequences of this every day and are ill-equipped to support families and children through crisis.
"Teachers or coaches often don't have the support they need to get people into the sort of services that can help them through these issues. If those services are well resourced, they're potentially going to end a young person's homelessness before it even starts," he said.
While Major Nottle will present these stories on his arrival at Parliament House, he has also had the opportunity to share them with key policymakers during the walk.
On day one he had breakfast with the Victorian Premier, Daniel Andrews, and walked with the Federal Opposition leader, Bill Shorten. Victoria Police's Deputy Police Commissioner, Andrew Crisp, has also joined him for a leg, as well as local MPs, various sponsors, and key community members.
"I've been talking with them about the purpose of the walk, about what we've seen on the ground, and really hearing their feedback," Major Nottle said.
"Essentially, they're [saying], 'we're over the issue of homelessness', not 'we're tired of hearing about it', but 'well, it's ridiculous that homelessness not only exists, but is actually getting worse in a country so well resourced like Australia'." 
Numerous members of The Salvation Army have also laced up their sneakers, most notably Commissioners Floyd and Tracey Tidd, and members of the National Cabinet including Lieut-Colonels Winsome and Kelvin Merrett (pictured with Brendan, right), who stopped by the iconic sign of Bonnie Doon from the 1997 movie, The Castle, for a quick photo (pictured below). 
Support has also come from local corps, who have greeted the band of walkers with open arms, given them a feed and even travelled to meet Major Nottle and join him for up to 20km stints to the next town.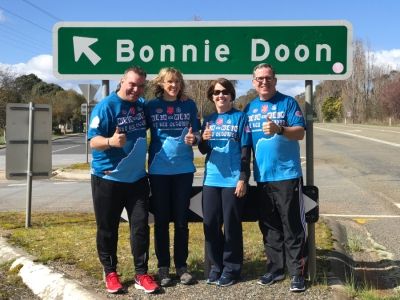 Major Nottle said he had been inspired by the passion and commitment of Salvation Army officers, soldiers, employees and volunteers who work with people experiencing homelessness and its surrounding issues. 
"These are people that are actually trying to change policy, they're people who are advocating on behalf of people who really are genuinely voiceless. And I've been frankly inspired and definitely encouraged by this," he said.
The national response to the 40-day campaign has been "great", he said, and compared it to the social justice issues addressed by The Salvation Army in the past.
"Historically, addressing social justice issues has been innate to The Salvation Army, and the public recognise us for that. This is what we should be doing, and it's been great to have the support of national leadership on this walk." 
With more than 450km still to go, Major Nottle is feeling the wear and tear of the walk on his body, and at the end of every day he stretches and steps into a bucket of ice.
However, his resolve to finish remains steely, and he is determined to share all he has learned with the Federal Government when he arrives at Parliament House. He will be meeting with the Lord Mayor of Canberra and is positive about his impending reception with members of the Federal Government.
"I think that the walk has been one part of many that are coming together to encourage our national leaders to come up with that national plan," he said.
"People are genuinely supportive and encouraging of the idea of walking to Canberra because we need a solution. We need a response from our federal leaders that will come up with a well thought out, well resourced bi-partisan long-term national plan to end homelessness."
Major Nottle and his team are asking Salvos to #walkthewalk and unite in asking the Federal Government to form a national bipartisan plan to end homelessness in Australia. You can sign the petition and consider donating by visiting walkthewalk.org.au.
Stay up to date with Major Nottle's walk by watching the Nottle Tracker at http://bit.ly/spotbrendan.