A prayer and a cuppa make an elderly farmer's day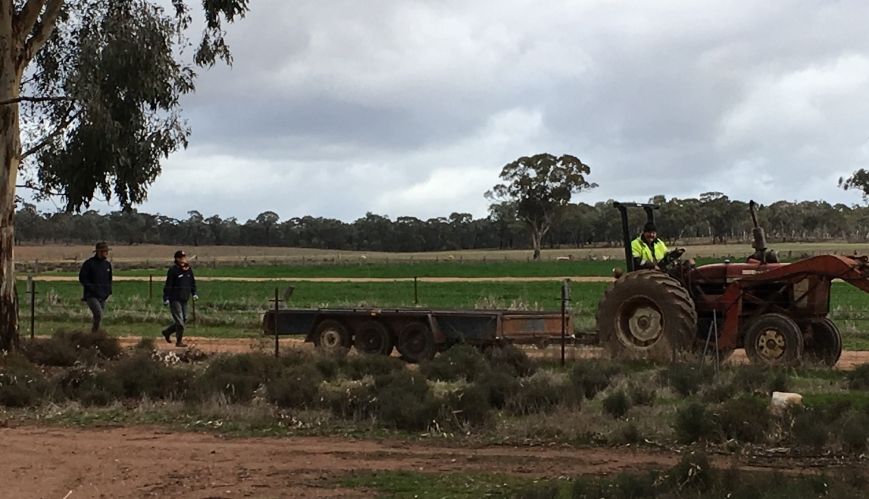 A prayer and a cuppa make an elderly farmer's day
10 October 2017
"We went with the intention of working on the farm for Maurice and did some of that, but we realised pretty quickly that he just wanted to sit down and talk with people."
So said Peter Martin, first-year cadet, who recently spent some time with Maurice Winter, an elderly man who attended the now-closed West Wyalong Corps, and lives alone on a farm outside the town.
Fellow first-year cadets Andrea Martin and Charlie Jung, as well as Lieutenant JiSook Wunderlich, Residential Manager at the School for Officer training, were also on the team that went to Maurice's farm. The visit was part of the cadets' mission trip with the Wagga Wagga Corps, 450km south-west of Sydney.
Maurice lives on 1600 hectares with 3500 sheep as well as cattle and pigs. His beloved wife, June, recently went into a nursing home in Griffith, 150km away. Every second Sunday, Maurice drives into Griffith to visit June, and attends the Griffith Corps.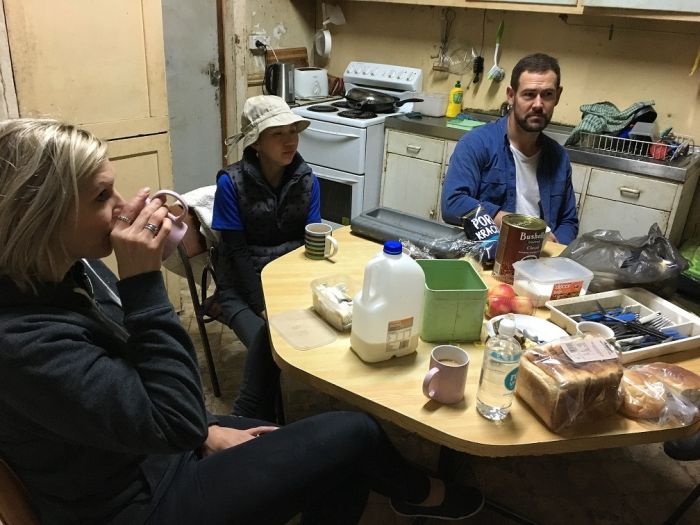 A cuppa and prayer together with the cadets was the highlight of the day for elderly farmer, Maurice.
"The farm is challenging for Maurice now and quite a few jobs aren't getting done," said Captain Bindy Lupis, Wagga Wagga Corps Officer, with Captain Marco Lupis.
"We wanted to help Maurice, as well as give the team some exposure to rural life, so they went out to do a little blitz and gave him a hand. I was really impressed with how the team just got in and got their hands dirty, a beautiful example of servant leadership. They also got a chance to have a cuppa and a chat with him and do devotions with him and pray. It was a real boost for him spiritually as well as practically.
"In another connection with the Wagga Wagga Corps, when Maurice had a heart attack a few years ago, Marco visited him in hospital."
Since the West Wyalong Corps closed, Maurice has tried a few other churches "but none of them feel like home, like The Salvation Army did," he says.
During their visit, Peter and the team helped Maurice feed his cattle, giving him a break from opening six gates and climbing up and down from the tractor each time. They also helped with some heavy pruning and unfinished jobs around the yard.
"Maurice, though, just wanted talk to us," Peter said. "It showed me that the support we think we're giving people isn't always what is best for them. It's about listening to people, hearing and identifying their needs and being willing to support that.
"I'm glad that we could support him in that way, and that he could talk to us as guys, and with the ladies as well."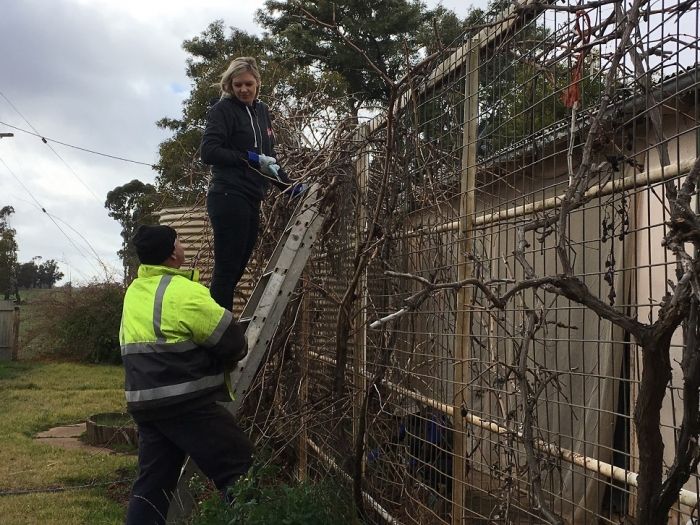 The cadets also did some heavy pruning for Maurice and carted heavy branches away.
Maurice enjoyed having the team come out and to have "someone to talk to".
"It was lovely to have them and I really appreciated what they did," Maurice said. "I especially liked having a cuppa and a prayer together and would be happy to have them back any time.
"It's a bit hard for me on the farm, but I'm a Christian and read my Bible every night and know God will get me through."
Captain Jisook said that she and the cadets wanted to help the community during their time in Wagga Wagga, particularly people in isolated areas.
"We were blown away to see Maurice and how faithful he was, regardless of his circumstances," she said. "It showed us that people need people, and the need for us, as Christians, to visit and listen to others, is ever so great."
Major Gavin Watts, Manager, Dooralong Transformation Centre on the NSW Central Coast, is planning to take a team out to visit and support Maurice early next year.