You are here:
Home › News › 2017 › 10 › 10 › The General Challenges Worldwide Army To Keep Mobilising
The General challenges worldwide Army to keep mobilising
The General challenges worldwide Army to keep mobilising
10 October 2017
"Go forward!" was the strong message from General André Cox to Salvationists and friends who gathered at Regent Hall Corps in London for The Whole World Mobilising Celebration Day on 8 October.
The event, held in the heart of the city, recognised the many ways in which people around the world have responded to the General's call to leave their halls and find creative ways to meet needs in and take the gospel message to their communities.
The day of praise and celebration included participation from the corps sections, ensembles from the United Kingdom and many International Headquarters officers and employees.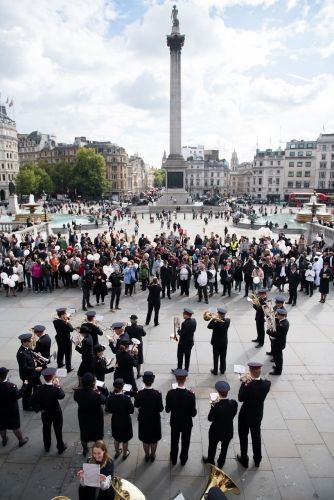 The open-air meeting at Trafalgar Square.
In the Sunday morning meeting, Commissioner Brian Peddle, Chief of the Staff, led a call to worship and reminded listeners that loving God included loving people and that no one was beyond the reach of God.
Commissioner Rosalie Peddle, who oversees the initiative, spoke of Whole World Mobilising flags being carried in territories where Christianity is threatened or along hot, dusty roads, and how lives had been transformed through the campaign.
Commissioner Silvia Cox, World President of Women's Ministries, said that no one could have imagined how the vision of a mobilised Army would have captured the hearts of Salvationists around the world as they have discovered the importance of going back out to the streets. She prayed that this would continue to the glory of God.
In the afternoon, traffic was brought to a standstill on Regent Street, as Salvationists of all ages and nationalities marched to Trafalgar Square for an open-air meeting. Hundreds of people stopped to listen. As conversations were shared, copies of the leaflet "Who is this Jesus anyway?" were distributed and the young people handed out red shield balloons.
Arriving back at Regent Hall, the marchers launched into the celebration meeting, which was led by Ester Ellen Nelson, an Icelandic Salvationist who is project manager for The Whole World Mobilising.
Children gave out white Salvation Army balloons to those who stopped in Trafalgar Square to listen to the open-air meeting.
The General laid down a challenge for all Salvationists. "The call is to go," he said, "to go out into the world, not remaining hidden in our halls".
Setting out his objective that emphasis on mobilising should not end in 2018, he concluded, "Salvation Army, it is time to go forward!"
For the full version of this article, go to salvationarmy.org
Photos of the event are available to download from the IHQ Flickr stream: sar.my/mobphotos.
The three sessions can be watched at sar.my/tv and on the "Mobilising" blog or via facebook.com/mobilising