You are here:
Home › News › 2017 › 10 › 17 › Politicians Follow Brendans Lead In Homelessness Prevention
Politicians follow Brendan's lead in homelessness prevention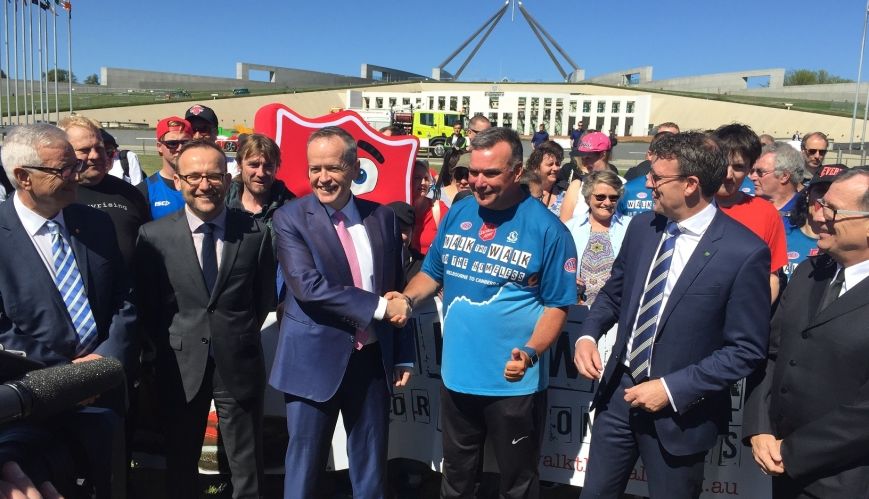 Politicians follow Brendan's lead in homelessness prevention
17 October 2017
Major Brendan Nottle's 703km Walk the Walk may be over, but his fight to end homelessness has only just begun. The Melbourne-based Salvation Army officer is calling on the federal politicians of all persuasions to create a national plan that can be enacted across the country.
Labor has vowed to take up a national homelessness strategy to the next election in response to Major Nottle's 40-day walk from Melbourne to Canberra.
Major Nottle completed the last kilometre of his journey yesterday morning with Federal Opposition Leader Bill Shorten and was also joined by Minister for Human Services Alan Tudge, Assistant Minister to the Treasurer Michael Sukkar, Shadow Minister for Housing & Homelessness Doug Cameron, and Federal Member for Melbourne Adam Bandt.
Their conversation signalled the beginning of a week of important meetings with numerous politicians, including Prime Minister Malcolm Turnbull and Minister for Social Services Christian Porter.
"We really want to see a serious commitment made to establish that national plan, and the first port of call is meeting with politicians and discussing what needs to be included in the national plan," said Major Nottle.
"Ultimately we want to see a plan put in place that addresses the lack of affordable housing and early intervention and prevention strategies for all communities across the country."
Major Nottle was encouraged by the conversations between MPs, citing this as an important step in forming a national strategy.
"It was a good starting point to have people from different political persuasions, having a civil conversation around the issue of homelessness," he said.
Mr Shorten was able to have conversation with supporters who were walking with Major Nottle, many of whom came from Melbourne's 614 corps.
They voiced their excitement and hope around the leadership of national politicians, prompting Mr Shorten to recount parts of his experience with them and Brendan in his speech at the end of the walk.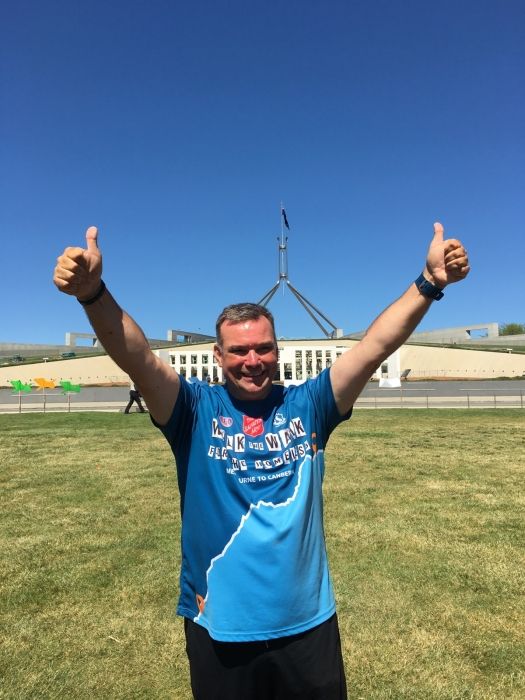 Major Brendan Nottle reaches Parliament House after 40 days and 703 kilometres.
"Housing isn't something you take for granted," he said to Ten's Eyewitness News.
"Brendan wants to restore faith. He wants to demonstrate that the system isn't broken and he's put a challenge on us in politics to demonstrate that politics isn't broken in this country."
During his speech, he promised Major Nottle that the Labor Party would implement a national homelessness strategy in response to his campaign.
"I promise Brendan Nottle that Labor will take up a national homelessness strategy to the next election, because that's what Brendan and, more importantly, homeless Australians expect from their Parliament," he said.
Commissioner Floyd Tidd was also present at the event after walking with Major Nottle earlier this month. He spoke to the crowd saying: "We are gathered here today because we would agree together that a person's right to have a roof over their heads is a fundamental human right. But for 100,000 Australians currently experiencing homelessness, that is a right that is not a lived reality.
"Walking 700km is an incredible demonstration of commitment to the forgotten people in our society who face some of the most complex issues and challenges every day.
"Brendan, you are an inspiration to The Salvation Army and to all Australians. You have reminded us and inspired us and challenged us all that there are steps that can be taken and must be taken by each and every one of us, walking together to address this critical issue."
The Australian public has thrown their support behind Major Nottle's Walk the Walk, prompting coverage of the event on TV and radio across the country.
The public donated more than $120,000 to the 614 Corps' outreach work with the homeless community, and Major Nottle says this is evidence that the public still respects the Salvos.
"There is a tremendous learning in the walk for me that the Army is still respected in the community. In recent years, we've lost our confidence a bit around going public on issues and being listened to. But I think the walk proved to me that the community still want to hear from us," he said.
"Sometimes it's tempting to focus on promoting our brand. Other times we tend to focus on fundraising. But I think we need to look at our past and be reminded that when we focus on the issues that are most important to our community, the community actually say, 'That's the Army that we want,' and they get on board."
The support he also received from unions – particularly the United Firefighters Union and CFMEU – also gave him confidence that the Army should further partner with organisations in the future.
"I think we need to look to the trade unions and see that in a lot of cases, they are the people that The Salvation Army actually should be working with. I think there's a lot of synergy between us and unions," said Major Nottle.
One might expect Major Nottle to put his feet up after his long journey – 18 months in the making – but he is adamant that there is still work to be done to put an end to national homelessness.
"The walk had to happen because I think that helped draw attention to the issue," he said. "But I think the really critical work is happening at the moment, and will continue on after this week because most politicians are making some real positive sounds about their willingness to support the idea of a national plan.
"But we've got to make sure their talk turns to action."
You can sign Major Nottle's petition for a national and nonpartisan strategy to end homelessness at signforthehomeless.com.au/