You are here:
Home › News › 2017 › 11 › 03 › Salvation Army Learns And Contributes At Justice Conference
Salvation Army learns and contributes at Justice Conference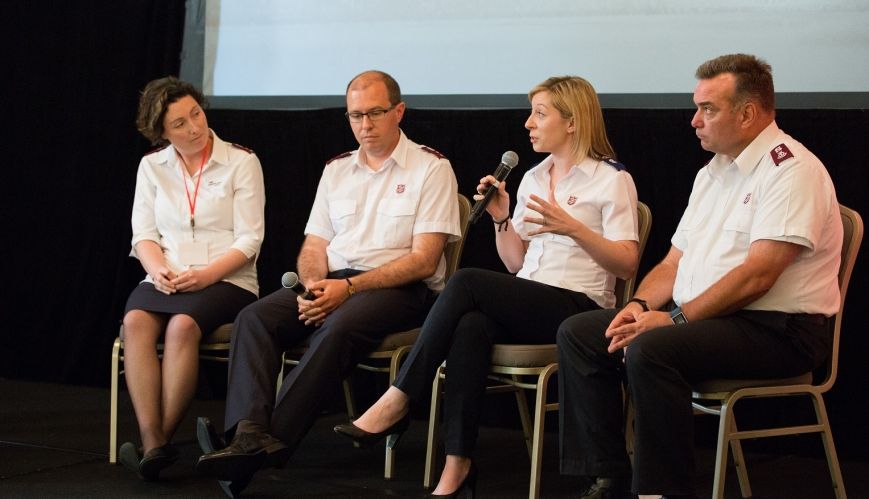 Salvation Army learns and contributes at Justice Conference
3 November 2017
Delegates from both Australian territories of The Salvation Army attended the annual Justice Conference in Melbourne from 27-28 October, with the theme this year of "Love thy Neighbour".
The Justice Conference is a vital global platform for the faith and justice community, bringing together world-class speakers and artists into gatherings designed to motivate and support emerging works of justice around the world.
Speakers this year included Major Brendan Nottle, Captain Gen Petersen, Captain Peter Hobbs and Casey O'Brien Machado (from The Salvation Army), Melinda Tankard-Reist (advocate for women and girls), Dr Michael Frost (author and missiologist), Lisa Sharon Harper (speaker, writer and activist), and many more.
Casey, Australia Eastern Territory Social Justice Coordinator, and Matt Cairns, who works in the territory's Social Justice Department, attended the conference, with 11 sponsored delegates. An additional 10 Eastern Territory Salvos also attended.
"The sponsored delegates included people who are connected to The Salvation Army, who are engaged in ministry, have a heart for justice and could benefit from the conference and the space it provides to reflect on that," Casey said.
"We hope that the wider Salvation Army will benefit from what these delegates have learned and will share when they get home."
Those who made up the Australia Southern Territory contingent included Amanda Merrett, Assistant to the Social Justice Coordinator, divisional social justice coordinators, and other interested delegates.
"The Justice Conference confirmed and solidified what we are teaching throughout our social justice departments," Casey said. "It was encouraging to hear a lot of what we teach and practise coming back to us. We are definitely contributors in this space and have much to offer in our practical and theological response to injustice. We, The Salvation Army, has much to learn, but also much to contribute!"
Amanda said that, with social justice being an integral part of The Salvation Army's vision statement and mission values, the conference was a "well-timed event".
"With a narrative of justice in all our faith communities, departments and social centres, social justice will be naturally flowing in and out of everything we do," she said.
Under the "Love thy Neighbour" theme, speakers at the conference and the electives offered, unpacked what justice looks like in everyday life on a personal and corporate level.
Bold justice
Major Nottle, Corps Officer of Project 614 in Melbourne, spoke on a "Glimpse of Justice", sharing the work he and his team do with the homeless community in Melbourne's CBD. He also spoke about his recent 700km walk to Canberra to raise awareness of homelessness, and his meetings with politicians there, including Prime Minister Malcolm Turnbull.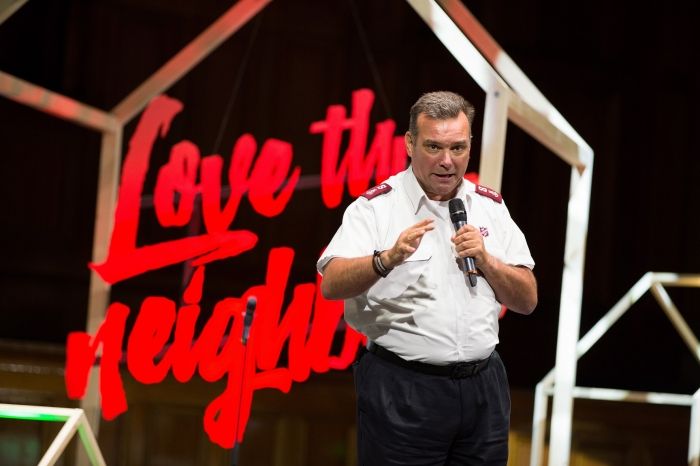 Major Brendan Nottle speaks on "A Glimpse of Justice" during the conference. Photo Jacob Dyer.
"You don't need to be big to have a great impact and bring about change – but you need to be bold," he said. "Bold in your faith in Jesus. Bold in your imagination. And bold in your action."
As a panel, Major Nottle, Captain Peterson, Captain Hobbs and Casey led the Salvo-instigated elective "Social Justice and our Communities", which explored how one person can make a difference in the world, and how to determine which social justice issues to engage in.
"Our participation in the conference confirmed that the Army has a lot of wisdom and knowledge in this space because we have been doing practical justice for such a long time, and have something to share," Casey said.
Amanda agreed. "Our panellists provided delegates with a link between practitioners and policy," she said. "They can draw on the experience The Salvation Army has in Australia because we've been doing this for over 135 years, and (can show people practically) how to encourage a faith community to engage with their neighbours."
During the conference, the Eastern Territory Social Justice Department called all Salvation Army delegates to meet and encourage each other and provide a contact point for future resources and support.
"This was an opportunity for us to lead a discussion with the delegates to debrief on what we had been hearing at the conference and what it means for us in our Salvation Army context," Casey said. "I was so encouraged by how keen the delegates were to get back to their local communities and engage in social justice there."
On the Sunday after the conference, staff from the Eastern Territory's Social Justice Department spent time with the Southern Territory's JUSTSalvos staff, as well as divisional and regional social justice coordinators to share ideas, encourage each other in the justice space, and discuss ways of working more effectively together.
"People from our faith communities are engaged in and are passionate about social justice and want to see that justice in their local areas and beyond," Amanda said. "It was encouraging to see so many delegates, who already have a wealth of knowledge, inspired by the content of the conference and wanting to know more."
Greater challenge
For Casey, the conference provided an opportunity for delegates to "move beyond the basics social justice theology, and to push themselves further".
She said the conference gave delegates the space to challenge themselves and ask God, "What comes next?".
"We want to contribute now to the coming of God's Kingdom and to understand what God is asking from us. We feel challenged and compelled to do more, and to put this knowledge into practice through The Salvation Army."
Matthew Barkmeyer, a Queensland delegate, agreed. "The justice conference definitely opened my eyes to new ways of looking at scripture and society around me," he said. "The speakers were incredible and each had something different and impactful to speak about. The electives gave me a practical sense of what I can do and how I can approach social justice in my own community."
Lieutenant Belinda Cassie, an Australia Eastern chaplain with Inner City Homelessness Services, said the Social Justice Conference was an opportunity for all Christians to familiarise themselves with some of today's issues and how we can engage in them.
"It's a space to be reminded of the theology that underpins justice, the 'why' surrounding the 'what'," she said. "It is an incredible time of sharing and fellowshipping with the wider church, and networking with other Salvationists. You walk away feeling as if you've found your tribe, so to speak.
"I am so incredibly thankful for the opportunity to be part of the Justice Conference. It was an amazing experience, I've come away enriched in knowledge and with a reignited passion for what is possible when justice and our mission combine. I would recommend that if you can possibly make it happen, go to Conference 2018."
Delegates from both Australian Territories attended the annual Justice Conference in Melbourne last weekend.
Abby Wells, the Senior AOD Case Worker (Detox) at the William Booth House Recovery Services Centre in Sydney, said, "The Justice Conference was enriching from a day-to-day perspective as well as being at a Christian-based conference with surrounding like- minded people.
"Some of the key components that I took away was the over-arching theme 'Love Thy Neighbour' and self-care.
"I will definitely be attending next year and have already encouraged peers from William Booth House to attend as I believe it is relevant and beneficial to what we do here every day."
Hannah Robinson, who has a passion for people persecuted for their faith, said, "I wasn't sure what I'd discover at the Justice Conference. My motivation was simple, I want to see justice done and hearts won on this earth, and this was their mission too." 
And from Matt Cairns: "The Justice Conference always provides a rich offering of great key note speakers and valuable elective workshops. Both local and international speakers unpacked the theme 'Love thy neighbour' in a way that was challenging and helpful to my ministry and Ccorps life.
"Gathering with so many fellow Christians from so many denominations, all to explore how to be better at loving our neighbour and seeing God's justice come here on earth as it is in heaven, was an amazing experience and one I'd recommend highly."
For more information on the Social Justice Conference, go to thejusticeconference.com.au/