New building for Box Hill's growing ministry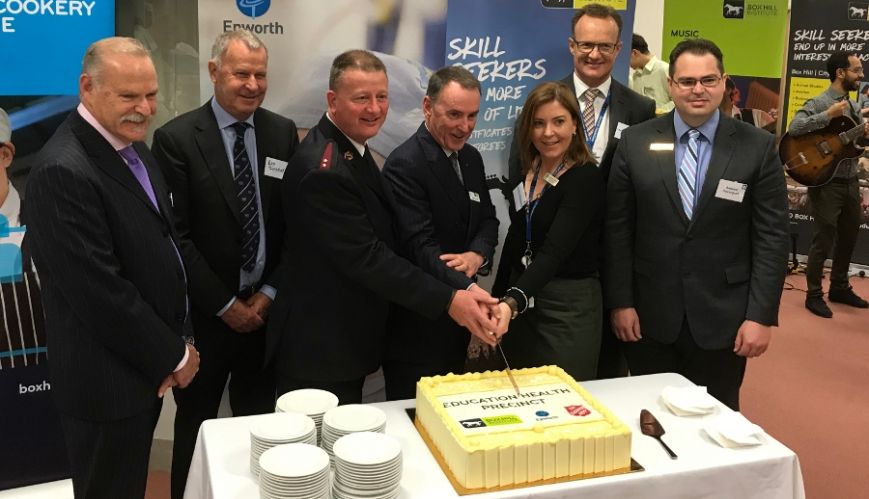 New building for Box Hill's growing ministry
15 November 2017
By Lauren Martin and Jessica Morris

A significant agreement between Melbourne's Box Hill Institute, Epworth Eastern Health Care and The Salvation Army will enable Box Hill Corps to move to a new purpose-built facility, just metres away from the site of its original 1891 hall.

After three years of negotiations, it was only recently the three parties signed the agreement. As well as the new Box Hill Corps building, it will allow for Epworth Eastern to be expanded and Box Hill Institute to develop a state-of-the-art nurse training facility to supply the hospital's nursing requirements.

"Box Hill Corps has had a significant presence in our community for the past 126 years," said the Corps Officer, Captain Kevin Lumb. "We're looking forward to the opportunity to have a purpose-built facility that caters not just for mission and ministry today but looking into the future. And the new site is in a more prominent position, offering us a greater profile and sense of presence in the community."

The new site at 1000 Whitehorse Road, Box Hill, is right next door to Town Hall and only metres from the site of the original Salvation Army corps, which was situated at 1020 Whitehorse Road. Just up the road is Box Hill Central which is the hub of public transport and Box Hill community life.

"We're in the very early stages of design and design concepts," Captain Lumb said. "We are looking to have a number of functional rooms to be used in a multi-purpose sense, an increased capacity to better accommodate Doorways as well as other new corps-based social programs. At the front, we're looking to have a café that has indoor and outdoor seating to have prominence at the street level."

Box Hill is currently Melbourne's fastest growing suburb outside of the CBD. The Box Hill Salvation Army has also been growing. It is a thriving corps community, making the most of outreach connections through English conversation classes, Mainly Music, and a craft group and Companion Club, alongside their flourishing children's ministry (FunHub) and youth ministry FaWM (Fearfully and Wonderfully Made.) It is an open door to new families, youth, young adults and the multicultural community surrounding Box Hill.

It's hoped that the new corps building will be opened by 2020.
Read more about Box Hill Corps.