Salvation Army addiction centre opens in Scotland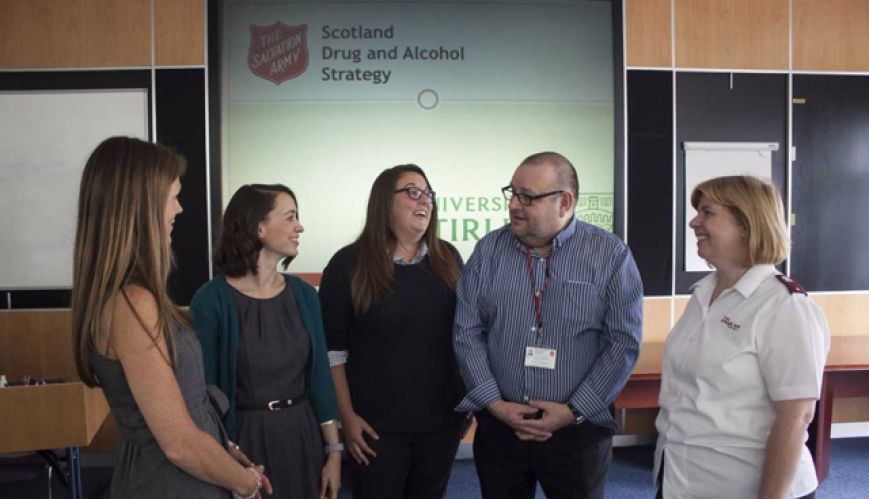 Salvation Army addiction centre opens in Scotland
24 November 2017
The Salvation Army has broken new ground by creating an addiction research centre on the campus of a Scottish university.
The partnership with the Faculty of Social Sciences at the University of Stirling is the first of its kind for The Salvation Army and aims to prevent substance-use problems and reduce harms for actual individuals, their families and communities.
The centre is the third phase of The Salvation Army's Scotland Drug and Alcohol Strategy, which was launched in 2013 and has already seen well-trained support workers positioned in four key towns around Scotland: Greenock, Falkirk, Aberdeen and Stirling.
The goal of the centre is to provide research and knowledge exchange on substance use and relevant interventions, particularly as they relate to The Salvation Army's services; training for frontline Salvation Army workers through short courses and workshops; and education through accredited university programs.
"As a church and charity, The Salvation Army has a proven track record of evidence-based social programs through our work with vulnerable people experiencing homelessness," said Secretary for Scotland Lieutenant-Colonel Carol Bailey.
"This research partnership will take our strategy in Scotland a step further. We can provide a strong voice on intervention strategies to protect health, families and futures."
The centre will initially focus on the interconnected issues of homelessness and substance use, and physical and mental health. This phase will involve examining research evidence on the views of people who are homeless on what they consider to be effective treatments for drug and alcohol problems.
Additionally, centre staff will host events in Glasgow to bring together a diverse group of professionals working in social services, policy and academia to discuss policy and practice change in relation to health, homelessness and substance use.
Future areas of work will include developing a program of research on drug and alcohol use, young people and families.
"We have a fighting spirit to reach the whole person even when they don't believe in themselves," said Mitch Menagh, Director of Homelessness Services for the United Kingdom and Republic of Ireland Territory.
"The Salvation Army's unique position to create evidence-based research will demonstrate the value of our community intervention program and create a pathway of education and training to ensure we remain pioneers of this vital area of service provision."
The full version of this article first appeared in the New Frontier Chronicle on 21 November 2017 – newfrontierchronicle.org