You are here:
Home › News › 2017 › 12 › 05 › New Book Helps Families Affected By Parental Imprisonment
New book helps families affected by parental imprisonment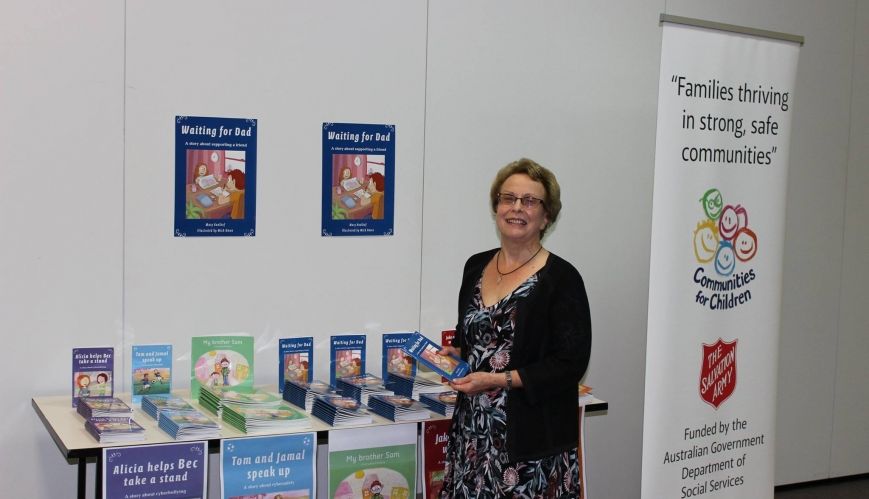 New book helps families affected by parental imprisonment
5 December 2017
The imprisonment of a family member or close friend can be distressing for a child. It is not something that should cause stigmatisation or shame, but can be hard to navigate.
The Salvation Army Communities for Children (CfC) in South East Tasmania last week launched their latest children's resource, the book Waiting for Dad, by local author Mary Koolhof. This book aims to help remove the stigma, shame and isolation associated with parental imprisonment.
The book also encourages children to discuss their feelings with someone they trust. It conveys the message that friends can be a powerful support for anyone who is experiencing any kind of family difficulty.
Resources available for families, and contact details, are available at the back of the book.
Waiting for Dad is the latest in the CfC series, which also includes titles focused on bullying, staying safe and having fun, cyberbullying and making decisions (photographed above). Its target audience is nine to 12-year-olds.
Guests for the launch included Mary Koolhof, teacher and writer who has been involved in many programs supporting children and young people in Tasmania; Rosalie Martin, the Tasmanian Australian of the Year 2017, who is a criminologist and speech pathologist; Stacey Milbourne, Manager, CfC, South East Tasmania; Major Brad Watson, Divisional Public Relations Secretary; children from East Derwent Primary School and St Paul's Primary School; and representatives from the Federal Department of Social Services and Tasmanian Department of Corrections.
"In working across our CfC areas, we'd identified some children in the 6-12 age group who were disengaging, and one of the contributing factors in this was having a close family member in prison," Stacey said.
"As a result, we have engaged a community partner, the ONESIMUS Foundation, to deliver 'Hidden Sentence' awareness training – called such because when someone goes to prison, their family serves a hidden sentence of their own.
"Our CfC programs provide free access to that training for all professionals whose work brings them into contact with families affected by parental imprisonment within the CfC areas.
"Across our CfC areas, this new book, as with the other social issues books, will help open the conversation between adult and child, help children to see how a friend can help with the problem, and how they can identify someone they can talk to and confide in."
Stacey Milbourne, above, speaks at the book launch in South East Tasmania last week.
The Salvation Army in the South East of Tasmania has been a facilitating partner with CfC since 2006.
Communities for Children aims to improve the development, health and wellbeing of children up to the age of 12, and their families, through innovative early-intervention and prevention programs.
Communities for Children provides support for parents and children to improve child development, child safety and family functioning.
"We promote social inclusion, ensuring families are connected to local communities," Stacey said. "Activities and resources focus on supporting parents to raise children who are confident individuals with the capacity to reach their full potential."
Waiting for Dad is free to all children who reside within the CfC area in South East Tasmania.
To order a book, for the cost of $5 including postage, email Jo East at jo.east@aus.salvationarmy.org
The PDF version can also be downloaded here.