Coke adds fizz to Salvos' Christmas message of hope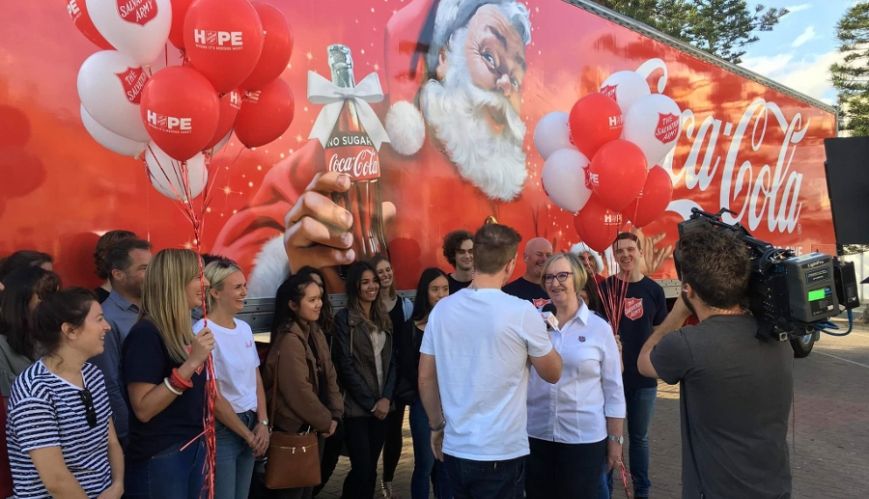 Coke adds fizz to Salvos' Christmas message of hope
13 December 2017
By Lauren Martin

The Salvation Army's Christmas Appeal has again focused on "hope" this year, with partnerships with celebrity champions and major corporations like Coca-Cola helping to spread Christmas cheer throughout the country. 
A 20-metre Coca-Cola Christmas truck has been busy touring eastern Australia, stopping at Tamworth, Townsville and Mount Isa to bless communities alongside The Salvation Army. In Tamworth, ARIA award-winning Australian singer and Salvation Army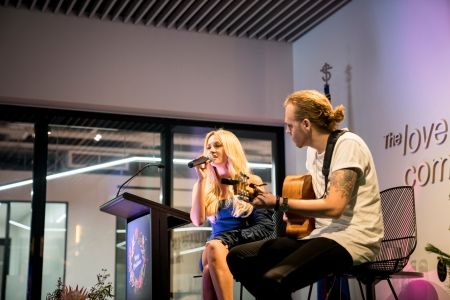 Christmas ambassador, Samantha Jade, performed a concert (pcitured right) in conjunction with the Coca-Cola Christmas truck tour.

On each of its stops, Coca-Cola partnered with local Salvation Army Corps to create special events for each of the towns, this included a night of music in Tamworth, a feast on the beach in Townsville and a cinema under the stars in Mount Isa.

At the end of the tour, Coca-Cola will arrive in Sydney with a truckload of Christmas surprises to distribute at Woolworths Carols In The Domain on 17 December.

Australian model, TV presenter and entrepreneur, Jennifer Hawkins (pictured right) has also partnered with The Salvation Army, helping to create a "Choose Hope" tote bag, which is being used by many corps and centres to pack Christmas goodies into for distribution to individuals and families doing it tough. (The bag is also available for purchase at selected Salvos Stores and online at salvos.org.au/choosehope.)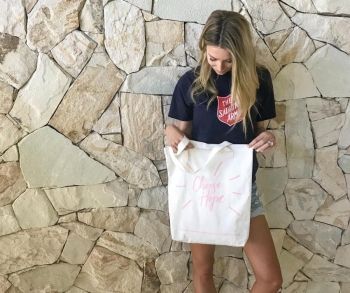 The Salvation Army says hope is what is desperately needed right now by so many families across Australia. Research to be released today by the Army paints a bleak picture of Christmas for thousands of struggling Australians, revealing there's been an alarming increase in the number of Australian children who won't receive Christmas presents this year.

The research, commissioned through Roy Morgan as part of The Salvation Army's Christmas Appeal, estimates that 1.6 million Australians with children under the age of 10 will not be providing a Christmas present to their children this year. This is an increase of more than one million compared to last year's figures. 

According to The Salvation Army's Major Paul Moulds (pictured right), "people living on marginal incomes and tight budgets are already carefully managing how they spend their money, but with power prices escalating, housing affordability getting worse and more Australians struggling to get enough paid work, it's getting harder and harder for many people to keep their head above water."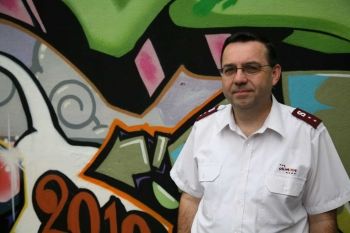 Major Moulds says the Salvos get more calls at Christmas than at any other time of year and that many people feel pain and loneliness at Christmas.

"We encourage everyone to look out for others in their local community and share the hope and joy of Christmas. We see so much poverty and people without hope at The Salvation Army. It hits home even more at Christmas. Fortunate Australians are getting ready for a big time of year. Less fortunate Australians cannot even afford to buy gifts or even afford a get together."

Staff and volunteers at Salvation Army corps and centres across Australia have already begun distributing Christmas hampers and toys to families needing assistance this Christmas. Please keep our frontline workers in your prayers during this incredibly busy time.

To donate and give hope where it's needed most this Christmas, visit salvos.org.au or call 13 SALVOS (13 72 58).