You are here:
Home › News › 2017 › 12 › 20 › Army Guests Discuss City Needs At Royal Dinner In Norway
Army guests discuss city needs at royal dinner in Norway
Army guests discuss city needs at royal dinner in Norway
20 December 2017
Queen Sonja of Norway invited members of The Salvation Army in the capital, Oslo, to join the royal family for Christmas dinner and a viewing of the pre-Christmas collection at the Royal Art Stable on 13 December.
Simen (left) and Grigore ready for the event.
The venue, part of the former Royal Stables that now includes an art gallery, concert hall and museum, had not previously been open to the public.
Members of the Blue Cross, an inter-denominational organisation that works in the treatment and prevention of drug and alcohol addiction, were also invited to the event.
Simen Mørstad (pictured right), Salvation Army Adviser, Migration Centre and EEA – projects, and Grigore represented the Army's Migration Centre in Oslo.
"We dressed up in clothes from Fretex Fashion (similar to Salvos Stores) and with bowties from Fretex Redesign made in Romania," said Simen.
Jarle, a former Salvation Army client who now lives independently, sat with Crown Princess Mette-Marit for part of the evening.
"We spoke about what is needed for those who struggle most in the city," said Jarle. "Some of the things we discussed were several low-threshold projects, detoxification, and follow-up. I was so looking forward to this and it was a once-in-a-lifetime meeting, a special experience, absolutely fabulous!"
Jarle continues to visit Salvation Army services for a chat and occasional meal. "I don't use the services much now, but it's always nice to call in to greet the guys and those who work here," he said.
Tone Grønneberg, a long-term regular at The Salvation Army, was relaxed about meeting Queen Sonja and King Harald. "They are completely natural and relate easily to others," she said.
"Waiters served drinks and canapés. There were several conversations that stirred everyones' emotions, including the royals'. This is one of the biggest events I've ever been a part of. Even the Silver Boys [a well-known Norwegian boys' choir] were there. I have no more words, because I just start crying, and it's typically me – but it's been amazing and beautiful."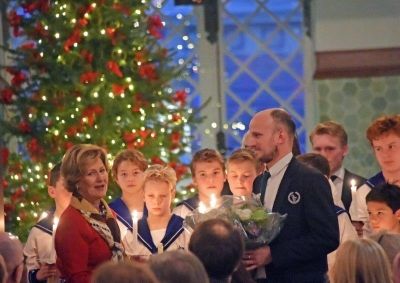 Queen Sonja takes a moment to thank the Silver Boys choir.
Tone appreciates Salvation Army facilities in the city, and sees the value of having someone to talk to and a place to go.
"It's nice to get out and have someone talk to you when you're at home alone so much," she said.
The Salvation Army's Migration Centre in Oslo is for poor migrants living on the streets.
 "Most of them are from Europe, with many Roma (gypsies) from Romania," explained Simen. "We are open five days a week and offer access to sanitary facilities, including showers.
"Counselling is also available and food is served each week. We also strive to include our guests in different activities, such as helping to prepare the Wednesday meal, or offering a knitting club for women to help them get find, or get back to, long-term employment."
The Salvation Army Central Corps (Temple), also opens its doors on extremely cold winter nights.
"When Jack Frost is biting really hard – below -10°C, we make the corps available to those who can't access a shelter," said Simen. "The Migration Centre also runs outreach services twice a week, including once with a special health unit."